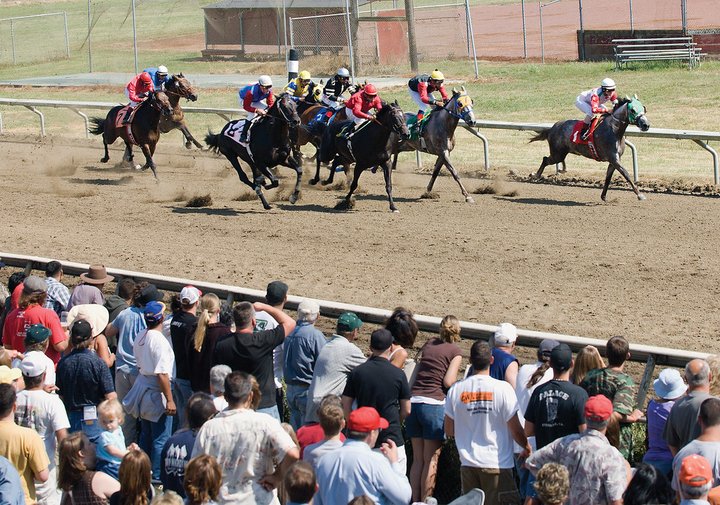 A horse had to be euthanized after an accident at the Humboldt County Fair on Sunday, according to racing publicist Ellis Davis. The jockey, Luis Alberto Godoy, wound up in intensive care with a concussion and a bruised lung.

Godoy, a veteran jockey who escaped a crash uninjured at the Ferndale track in 2015, was riding a four-year-old bay gelding named Bronco Brown when the accident occurred. Rounding the first turn in Sunday's seventh race, Godoy and his horse tumbled over the outside rail, Davis reports.
As of yesterday evening, Godoy was still in the ICU at St. Joseph Hospital. It's not clear what injuries his horse suffered, but evidently they were serious enough to justify his death.
Euthanasia is a regular occurrence at horse racing events. Last year, nearly 10 horses per week, on overage, died at U.S. racetracks.
The Outpost has reached out to the Humboldt County Fair Association for comment but has yet to hear back.
Earlier this year, however, we asked Fair Association General Manager Richard Conway about the risks of just such a tragedy. In an emailed response he downplayed the dangers:
The California fairs have an exemplary record with racing-related catastrophic injuries. The past two years there were no catastrophic injuries on the northern fairs. We employ one of the top trackmen in the country if not the world.

Over the past few years the Humboldt County Fair Association has made several improvements to the racetrack to address the safety and wellbeing of our equine athletes. The riders' and horses' safety is our first concern.

From 2009 thru 2018 there were four equine fatalities at the Humboldt county Fair, one in each of the following years: 2009, 2011, 2014 and 2015.

I do not have data prior to 2009. All of the participants receive two pre-race exams by a licensed veterinarian. We follow the California Horse Racing Boards rules and regulations. Those regulations include medication and riding crops.
When the fair association was applying to conduct this year's races in June, their attorney, Jim Morgan, boasted to the California Horse Racing Board (CHRB) about the safety of Ferndale's racetrack.
"I would think our meet would be sort of a dream for the CHRB as we have not had a breakdown on our track for years," he said. "The community and the management have invested in creating an outer fence, a new inner rail, they widened the turns, they banked the turns, and horse health has been sustained at the Humboldt County Fair."
Here's the press release issued by Davis on Tuesday evening:
Jockey Luis Godoy remains at St. Joseph's Hospital in Eureka, and continues to improve after suffering a bruised lung and concussion in a terrifying riding accident last Sunday at the Humboldt County Fair.

Godoy was aboard Bronco Brown in Sunday's seventh race when horse and rider went over the outside rail coming out of the first turn of a seven furlong event. Bronco Brown had sped to a brief early lead going into the initial bend, but bore out badly around the turn, and despite Godoy trying to keep the horse in, the pair leaped over the outside rail.

Godoy hit the ground hard and was visually shaken up before being attended to by paramedics.

He was taken to Redwood Memorial in Fortuna for initial observation before being transferred to St. Joseph's Hospital.

The rider received several visitors yesterday, including his family from Tracy, and appeared to be improving, even taking a few steps. But he is expected to remain hospitalized — he is in ICU — for the next few days.

A hard-working and well-respected rider, Godoy had won three races already in the six-day Humboldt meet.

Bronco Brown had to be euthanized following Sunday's accident.

Racing will resume Friday (first race post 3:07 p.m.) with Jose Dominguez leading the jockey's race. Dominguez, who is making an auspicious debut at Ferndale, has won six races and compiled 43 points (based on Gunnar Froines system with five points with a win, three for a second, and one for a third).

Following Dominguez are: Christian Aragon, 35 points; five-time champ Hugo Herrera, 33 points; Brandon Boulanger, 30; Godoy and David Martin, 25 each.

Quinn Howey, on pace for a sixth training title in the past seven Humboldt seasons, saddled three winners last Sunday and leads the race with 32 points. Peggy Hanford, boasting four wins in five mixed breed races, stands second with 20 points, followed by Joan Orr Beach (15), Terri Eaton (14) Ron White (12) and Allen Rogers (11).