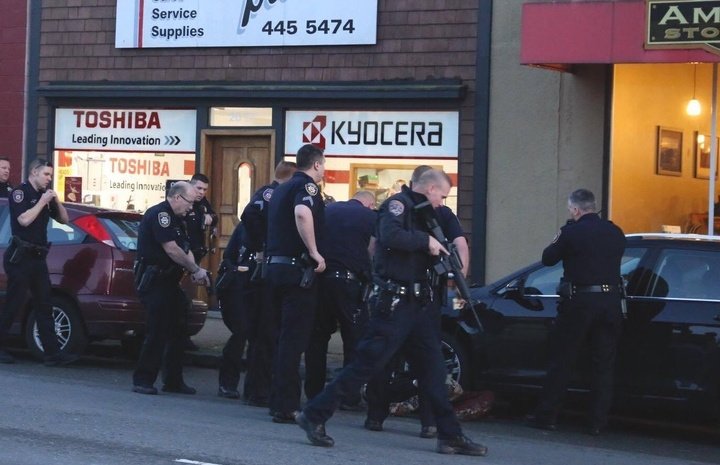 ###
On Monday, Gov. Gavin Newsom signed Assembly Bill 392, which limits when police officers can use deadly force. The main changes in the bill revolve around the words "reasonable" and "necessary." The new bill states that deadly force can only be used when "necessary in defense of human life." The bill goes on to state that officers must evaluate each situation and use "other available resources and techniques if reasonably safe and feasible," hinting at the need for more deescalation techniques.
The bill comes after numerous cases nationwide in which police killed unarmed suspects. On stage with Newsom were family members of victims in unarmed police shootings here in California, including the family of Stephon Clark, an unarmed black man shot and killed by Sacramento Police in his grandmother's backyard.
The Outpost reached out to local agencies to see how the new bill would affect local policing. Chief Steve Watson of the Eureka Police Department said his department already practices numerous deescalation techniques and that EPD was an early adopter of such practices.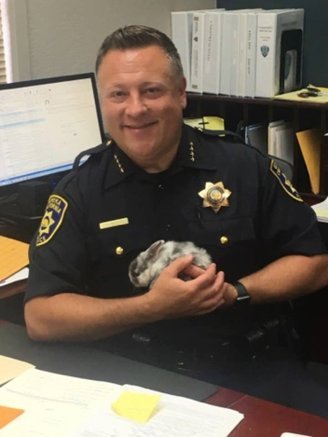 "AB 392 balances public and police expectations," Watson told the Outpost. "In one sense [EPD] is already doing these things. We are really embracing the deescalation techniques and expect officers to act in accordance."
He highlighted an incident that happened just last week, when a woman barricaded herself inside of a home in three-hour standoff with EPD. The incident included nearly two hours of police negotiations with the suspect and ended with officers entering the residence and arresting the suspect without shots being fired, despite a rifle being found on scene. Watson called the incident an "absolute best example" of how police deescalation techniques can be used. [See below. -Ed.]
"The institution of police needs to grow and learn and needs to acknowledge public demands, and California has led the way for the nation," Watson said.
Watson also acknowledged that police agencies do not always get it right and mentioned the tragic incident of Cheri Moore. Moore was killed by EPD officers back in 2006. Moore called the county department of mental health and said she needed medicine and said if her needs were not met she would burn down or blow up her apartment building. Mental health called EPD, who then sent three officers to the scene, followed by a SWAT team shortly later. EPD and SWAT determined there was a flare gun on site and once Moore put the flare gun down, SWAT members stormed the apartment. Moore was ultimately killed in the incident, and according to testimony during a coroner's inquest Moore pointed the flare gun at the officers once they broke down the door and entered her apartment. [See below. -Ed.]
However, Watson said that police get it right much more often than not and that "some groups only focus on select situations."
"I think critics of law enforcement say [unarmed police shootings] are endemic and they exclude all of the other times where deadly force is warranted," Watson said. "It is important to remember that not all situations allow [deescalation]. There are certain situations that officers face where that isn't applicable."
For example, Watson pointed to the case of Clayton Lee Lasinski. Back in December of 2017, Lasinski fled from the police after being pulled over in the parking lot of the Best Western. During the chase Lasinski pointed a .45 caliber handgun at the officers who then returned fire.
Watson said he backs AB 392 after some edits that were made to the bill. He said the original bill seemed to "criminalize officers who make split-second life or death decisions." He said the current bill addresses pressing issues and it is something that law enforcement can embrace, especially if Senate Bill 230 passes. (It's currently stalled out in the Assembly.)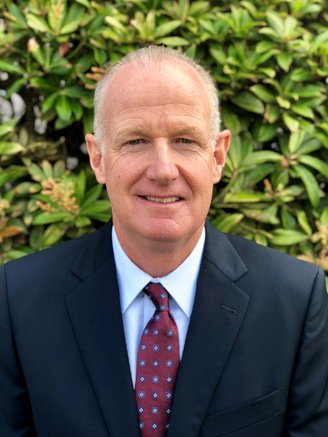 Within SB 230 is language that outlines requirements for mental health training for officers, as well as a requirement that police must "promptly provide, if properly trained, or otherwise promptly procure medical assistance for persons injured in a use of force incident, when reasonable and safe to do so."
However, SB 230 has been called problematic and was "designed to thwart serious reform of police deadly force laws," according to the Sacramento Bee editorial board. SB 230 is currently stuck while it is being debated by the State Assembly Appropriations Committee. Arcata Chief of Police Brian Ahearn said the pushback against the bill is all a part of the democratic process.
"There should be no greater scrutiny on law enforcement than the use of deadly force," Ahearn told the Outpost. "Any legislation and any program that is designed to reduce the use of deadly force and still protect communities is a good thing. AB 292 and SB 230 ensures California continues to be the leader in use-of-force training for law enforcement."
###
CORRECTION/CLARIFICATION: A couple of things. There was apparently a misunderstanding between Chief Watson and our reporter about the incident, last week, with a barricaded subject. It seems that we misheard Watson say that the incident "was the best possible example"; Watson maintains that he said that it "WASN'T the best possible example." The Outpost regrets the error.
In addition, Watson wishes to clarify a couple of points. One: Some readers might have inferred from an earlier draft of a sentence, above, that Watson supported AB 392 before amendments were made to the bill. That is not the case; he supported it only after those amendments were made.
Finally, though Watson did say that modern deescalation techniques could have made a difference in the Cheri Lyn Moore case, he wishes to be on-record as emphasizing the "could" part of that. He writes:
I wasn't intending to use Cheri Moore as an example of getting it wrong/not getting it right in those words (I was careful not to criticize those who were there) but rather as an example of where things ended tragically and where enhanced de-escalation tactics today might have resulted in a better outcome.
-Ed.