A Fields Landing resident whose pickup track crashed into a Humboldt Hill home, killing a man asleep in bed, has been charged with gross vehicular manslaughter, felony drunken driving and hit-and-run.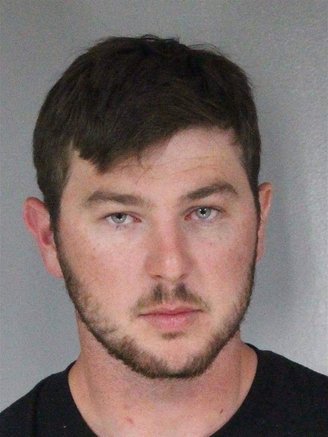 Ryder Dale Stapp, 25, is scheduled to be arraigned tomorrow afternoon on the charges, which were filed last week by the District Attorney's Office. The written complaint lists gross vehicular manslaughter while intoxicated, drunken driving causing injury, fleeing the scene after committing vehicular manslaughter, death or injury to more than one victim and refusing to take a chemical test. Yet the complaint also alleges Stapp was driving with a blood alcohol level of .15 percent or higher.
Stapp, who was celebrating his 25th birthday when his Ford F-250 struck the house the night of June 28, has previous convictions for speeding and hit-and-run property damage and was driving on a suspended license.
He is charged with the death of 64-year-old Robert "Bob" Joseph Beland, who died shortly after the truck crashed through his bedroom wall. Beland's 62-year-old wife, Elizabeth Ann Martin, was treated for her injuries at St. Joseph Hospital. The couple were longtime owners of Humboldt Lock and Safe in Eureka. The business is now closed indefinitely.
Stapp allegedly was driving drunk and speeding when the truck ran off Humboldt Hill Road, traveled through a parking lot and hit the residence. Police said he tried to flee but was held by witnesses.
Stapp was arrested at the scene but posted $175,000 bail about 12 hours later. It remains to be seen whether the prosecution will ask for a bail increase at the arraignment tomorrow. Bail is based partially on the issues of public safety and the likelihood of the defendant fleeing, but also on the maximum sentence that could be imposed.
Fortuna resident Marcia "Marci" Kitchen, who was charged with very similar crimes three years ago, posted bail of $750,000. However the county was using a different bail schedule in 2016.
PREVIOUSLY: