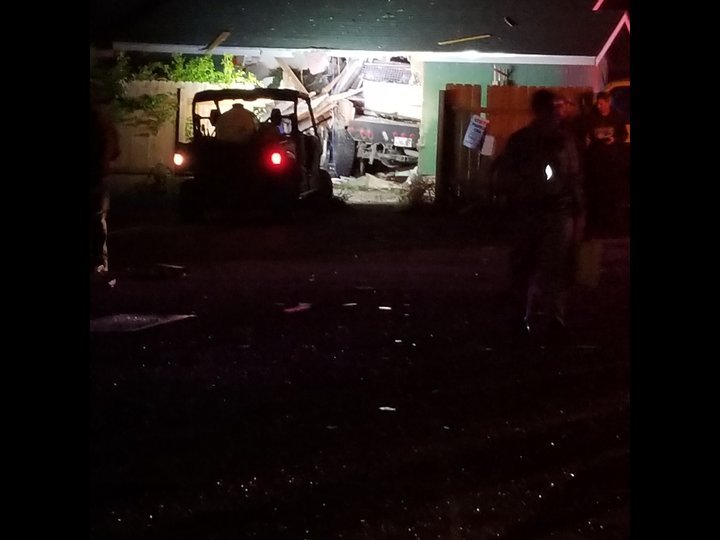 Vehicular manslaughter suspect Ryder Dale Stapp was driving up to 100 mph and with a blood alcohol level nearly three times the legal limit when his truck ran off Humboldt Hill Road and crashed into a house, killing a man asleep in his bed.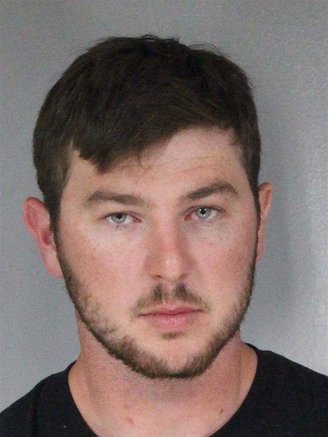 So said Deputy District Attorney Trent Timm, arguing this afternoon that Judge Timothy Canning should raise Stapp's bail and order him into custody. Stapp, 25, stood before a packed courtroom and entered not guilty pleas through his attorney Ben Okin.
Stapp is accused of gross vehicular manslaughter while intoxicated, felony drunken driving, hit-and-run and several other charges in the June 28 death of Eureka businessman Robert "Bob" Beland, who died when Stapp's F-250 pickup truck crashed through his bedroom wall.
Timm, arguing Stapp's bail should be raised from $175,000 to $195,000, said $195,000 is the amount listed on the bail schedule, and the judge must comply with that schedule unless there are unusual circumstances.
Stapp is looking at up to 16 years in prison for his alleged crimes, Timm said.
"This is a serious felony, a strike offense," Timm argued, saying again the judge must follow the bail schedule. The prosecutor noted Stapp has previous convictions for hit-and-run property damage and speeding, and witnesses reported he was driving up to 100 mph down Humboldt Hill Road. On June 28 he was driving on a suspended license.
Timm said that on the night of the fatal crash, Stapp went to Shamus T Bones restaurant "and drank many alcoholic beverages." From there he went to a friend's house on Humboldt Hill.
After the wreck "he tried to jump out the driver's side window," Timm said. Stapp attempted to run but was caught and held by a man Timm described as "a hero."
When an officer requested Stapp submit to a chemical test, "he told the officer to fuck off," Timm told the judge. Officers obtained a warrant and got a blood sample anyway, which revealed a blood alcohol level "of just under three times the legal limit, point 23."
Okin, arguing bail should remain as set, said Stapp didn't know at the time that someone had been killed. Okin said Stapp's family has already had to come up with the original bail, which was a hardship. He said the purpose of bail is to ensure the defendant comes to court and the public is protected.
Stapp appeared for arraignment today and will continue to come to court, Okin argued, saying his client "certainly isn't going to leave (the family) in the lurch by not showing up."
Okin said Stapp is a longtime resident, graduating from local schools and working at Humboldt Redwood Co. for several years. Canning denied the request to raise bail, saying an extra $20,000 "might not do much to ensure public safety."
Timm, returning to his argument that bail must be set according to schedule except for unusual circumstances, asked the judge to list those circumstances.
Canning responded that Stapp had posted the original bail and showed up for court. He has community ties, the judge said, and "a long history of a very established family."
Canning then issued the conditions for Stapp remaining free on bail: He can't possess alcohol, go into places where alcohol is the main item for sale, can't drink alcohol, must submit to chemical testing upon request and can't drive after drinking. Timm persisted, saying the judge had not provided any unusual circumstances.
"Thank you, Mr. Timm," Canning said. "You certainly have remedies to pursue if you wish to do that."
"We will."
The courtroom was jammed today with family members and friends of the 64-year-old Beland, the longtime owner of Humboldt Lock and Safe. One of those present was Beland's wife, Elizabeth Martin, who was in bed next to her husband when the truck hit their house. Martin was treated and released for her injuries.
Stapp's preliminary hearing is scheduled for Oct. 29. He was accompanied to court today by several supporters.
Okin, his attorney, also represented Marcia "Marci" Kitchen on similar charges after Kitchen's Jeep ran over and killed her daughter and another teen-age girl in 2016. Kitchen eventually was represented by the county Conflict Counsel's Office after she could no longer afford to pay Okin and his co-counsel Patrik Griego.
PREVIOUSLY: