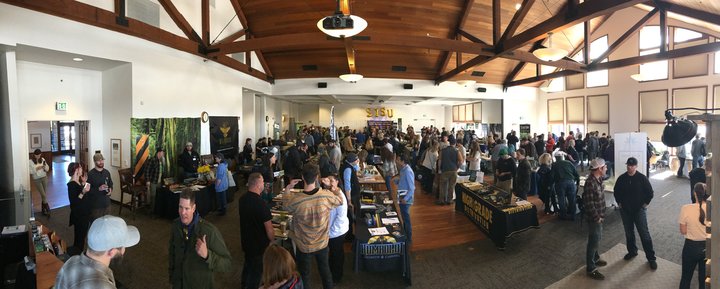 Last Friday, the Humboldt County Growers Alliance (HCGA) hosted another well-attended event at Fortuna's River Lodge. The Seed to Sale Pre-Planting Planning Conference was an HCGA "Member Exclusive," billed as "[a]n opportunity for cultivators to connect with Humboldt manufacturers and branded distributors."
At the event on Friday, HCGA Operations Manager Natalynne Delapp gave me a bit more detail, explaining that the event was all about connecting local "wholesale cultivators" to businesses that can move and process their cannabis.
Wholesale cultivators, Delapp says, are "people who just really want to farm." They don't necessarily want to deal with building brands or doing distribution. "It's hard to have your own brand," she continues. "It's not just a logo, you have to build and market the brand, get it out into the consumer's mind." And that can be costly in terms of both time and money.
The manufacturers and distributors at the Seed to Sale conference are businesses that are well positioned to gain shelf space in retail establishments in our state's most densely populated areas, like San Francisco, Los Angeles and San Diego.
There are a number of operational manufacturing and distribution companies in Eureka, Rio Dell, Arcata and Southern Humboldt. If cultivators can funnel their product directly to these companies, Delapp says, "It's an opportunity to create value-added products out of local cannabis plants right here in Humboldt County." Think edibles, tinctures, balms, salves, relief patches, ounces, eighths and prerolls.
Arcata-based Sisu Extracts was one such manufacturing company at the conference (you may have heard their radio ads targeting local cultivators on one of the Lost Coast Communications stations) and Sisu Sales Coordinator Greg Ivanov told me this event is in fact "a great event to connect with local cultivators."
Ivanov's job with Sisu involves procuring trim and biomass as well as selling distillate to other manufacturers and distribution companies. Sisu sources from all over the state as well as from local farmers, he says, and they're currently working on securing contracts for 2019.
Licensed cultivators can contract with Sisu to hook up any part of their crop for processing — "their whole crop, part of their crop, bottoms or just their trim." Sisu takes seeded material too. By connecting with farmers now, Sisu is ensuring a solid supply of 2019 local biomass.
Another local businessperson on-hand was Chris Anderson, founder and CEO of Redwood Roots, a distribution company based in Southern Humboldt. He also had positive things to say about the event too, literally citing the "super positive vibes." For him, the value of attending such an event comes from engaging in the cannabis brain trust.
"Having an opportunity to be in the room with 200 other people that are going through the same process at the same time… is extremely valuable," Anderson says. For him, every conversation in this kind of setting leads to knowledge gained. Plus, Redwood Roots had a table decked out with their branded packaging and a whole crew sporting caps with their signature subway system-esqe logo.
So, for example, a hypothetical cultivator can earmark their high-grade tops for distribution via a company like Redwood Roots that could move eighths of such flower in their slick branded packaging to retail shops. And the hypothetical cultivator can then earmark the bottoms and trim for a manufacturing company like Sisu that will process the biomass into concentrate that could move downstream to other manufacturers or to distributors.
Local cannabis media maven and advocate Kerry Reynolds praises such advanced planning between cultivators and manufacturers and distributors. By having conversations about the season before it starts, she says, there will be greater success come harvest time.
Reynolds is co-founder of the SoHum Guild, a new local networking and resource center for small farmers. Reynolds underscored the importance of local businesses working together to meet each other's needs. Furthermore, she says, it's good to see everybody out and "becoming more and more professional … talking more about the actual business of quality cannabis rather than getting their license."
Our cannabis community can look forward to HCGA events like the Seed to Sale conference, produced with the intentions of buttressing the local cannabis economy, enabling entrepreneurs to step back from their day-to-day grind and nurturing camaraderie and productive relationships in the regional playing field.
"It's an exciting atmosphere to bring these legal businesses together," Delapp says, "to build relationships that will enable them to succeed and provide for their families, the community and the workforce."
Thus the local cannabis community charges onward, allying together to be a force in the legal market and to find solid ground amid the state's inconstant regulations.