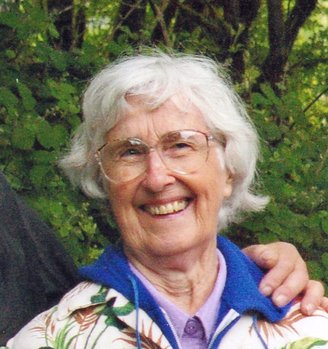 Lillie Mae Lermo passed away Friday, January 25, 2019, in Eureka, CA, at the age of 95. She was able to stay in the home that she and her husband of 61 years, Sam (who passed away in 2007) built together starting in 1989.

Lillie was born May 3, 1923, in Guthrie, Minnesota, the fourth child of John and Lillie Shuhart. Her brother, Harvey, and two sisters, Alberta and Fern, predeceased her; and her surviving sister, Ethel, lives in Oregon.
Before her marriage to Sam, Lillie taught school in a one-room schoolhouse in Minnesota; all 8 grades in the same room. As a mother, she continued to do substitute teaching in Eureka. Children always seemed to radiate towards her.
Lillie is remembered by family and friends as the kindest, most patient, positive, and caring person. Whenever she was frustrated, she would say "fiddlesticks!" Her grandchildren remember her saying "I'm going to paddle you"; but she never did. She was loved and respected by all, and had a very strong faith. She was very active in her church, and taught Sunday School for many years. Lillie truly lived her life the same as her beliefs. She didn't shame others for not doing the same, just listened and encouraged.
Lillie and Sam enjoyed traveling together, and we envision them and their loyal dog, Miss Blue, on an adventure together in heaven.
Lillie is deeply loved and missed by her family and friends. Near the end of her life, she was fortunate to have the care of compassionate caregivers and Hospice of Humboldt.
Lillie is survived by daughter, Judy Millspaugh and husband, Steve; son, Rick Lermo and wife Darylla; daughter, Letha Blair and husband John; and daughter Cindy Hatch and husband Steve. Grandchildren and great-grandchildren: Tamara McFarland, Matt and their children Carlos and Bella Mae; Shelby Lermo, Lisa Henry and their son Calvyn Henry Lærmo; Katie Blair, Mike Bray and their son Austin; Kristin Blair, Justin Kuxhausen and Kristin's sons Cole and Wyatt; Wes Hatch, Hollie and her sons Donovan and Kelsey; Brandon Hatch, Cora and their son Elijah; Michael Blair, Heather and their son Ethan; Jennifer and Daren Kopack and their children Austin, Abby and Annie; Priscylla Fontana and her son Leon; numerous nieces, nephews, great nieces and great nephews.
Friends are invited to attend services at the First Church of the Nazarene, Humboldt & E Streets, Eureka, Monday, February 11, 2019, at 12 Noon; officiating Reverend Steve Berti. There will be a reception at the church, following the services. Private interment will be at Ocean View Cemetery, Eureka.
Arrangements are under the direction of Sanders Funeral Home, Eureka.
###
The obituary above was submitted on behalf of Lillie Lermo's family. The Lost Coast Outpost runs obituaries of Humboldt County residents at no charge. See guidelines here.