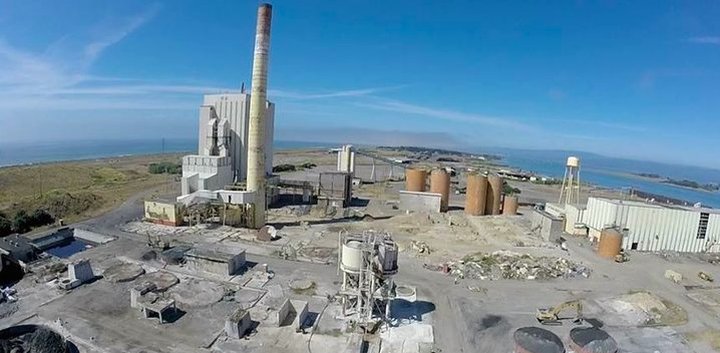 PREVIOUSLY:
###
The following is a press release from Nordic Aquafarms:
Nordic Aquafarms, an international leader in land-based aquaculture, today announced that a subsidiary, California Marine Investments, will on Monday enter into an exclusive option agreement with the Humboldt Bay Harbor District to lease 30 acres on the Samoa peninsula near Eureka in Humboldt County. This will be the company's second land-based aquaculture facility in the US, and its first on the West Coast. According to Nordic Aquafarms´ CEO Bernt-Olav Roettingsnes, the agreement is aligned with the company´s US strategy of building its facilities close to the regional markets it plans to serve.

One year ago, Nordic Aquafarms announced plans to build a land-based salmon farm in Belfast, Maine to serve the East Coast markets. That project is now in the permitting phase and plan to start construction later this year.

"As we did on the East Coast, we conducted a thorough search over the past few months to find the right location for our West Coast expansion," said Nordic Aquafarms´ US President Erik Heim. "This site meets all of our criteria for building a safe, clean, and sustainable fish farm, and we have been welcomed by local authorities who are excited about the many benefits this project can bring to the area."

This unique location greatly simplifies permitting and provides significant infrastructure savings. The location already has an outfall pipe in place, established acces to good fresh- and seawater sources, a substation with power on site and many more benefits. Key permits such as aquaculture licences are also already in place.


Heim said the company is considering raising salmon or steelhead as options for the land-based facility, which will use state-of-the-art recirculating aquaculture system, or RAS, technology. A final decision on which species to raise will be based on market considerations market and further discussions with the local permitting authorities.


Nordic Aquafarms has developed an innovative energy management approach that enables the company to be cost competitive independent of local energy costs. Solar power will among other things be a part of the energy mix in California.


"We will now be situated on both coasts, which fits into our strategy of locating fish farms close to major regional markets," said Commercial Director Marianne Naess. "The Humboldt location will enable us to reach more than 50 million people within a 12-hour drive or less, which reduces the cost and environmental impact of transportation while supplying the market with super-fresh, sustainably raised local fish."


The project is also seen as a good match for Humboldt County. "Humboldt County is a leader in the fisheries industry, and our community recognizes that it must continue to build on these strengths in order to achieve further economic success. This project fits well with that strategy," said Scott Adair, director of economic development for Humboldt County. "Nordic Aquafarms is an innovator within their own industry. Their project will create opportunity to improve local job quality and career potential, add to the overall vibrancy of the community and enhance quality of life for our residents. We are very excited for the potential of this project."

According to Larry Oetker, executive director of the Humboldt Bay Harbor, Recreation and Conservation District, the district has already permitted properties on the Samoa peninsula for aquaculture. "We have been looking for an anchor project that will be a catalyst for attracting and developing an aquaculture cluster," said Oetker. "Nordic Aquafarms and California Marine Investments provide that, and we are pleased to be working with them get this project under way as soon as possible."

Naess said the company has begun engaging in discussions about the project with local authorities and stakeholder groups and looks forward to working closely with them as it moves forward. The company will now execute extensive due diligence and plans to submit permit applications by the Spring of 2020.

About Nordic Aquafarms


Nordic Aquafarms (www.nordicaquafarms.com) is one of the premier investors and developers in land-based aquaculture internationally, with production facilities in Norway (Fredrikstad Seafood) and Denmark (Sashimi Royal and Maximus), and two projects under development in the United States. The company is a trailblazer in the land-based fish farming industry with employees in three countries and well-established financial investors. The company has a strong in-house engineering capability that has enabled significant innovation in RAS development.

Nordic Aquafarms is developing sustainable fish farming practices for the future to deliver super fresh high-quality seafood to regional markets and is committed to a low environmental impact and sustainability in every facet of the business, from setting new standards for clean discharge, to energy efficiency and solar power, to refusing to use GMO or antibiotics in its production.

In January of 2018, Nordic Aquafarms Inc., the company's U.S. subsidiary, announced plans for a land-based salmon farm on the Atlantic Coast in Belfast, Maine, to be built in two to three phases. Construction is expected to start in 2019, with operations commencing in 2020.

In February of 2019, Nordic Aquafarms Inc., announced plans plans to build a land-based fish farm in Humboldt County, Calif., near Eureka, to serve West Coast markets.

Land-based aquaculture


Land-based RAS production is a rapidly emerging method for sustainable production of salmon. It is based on indoor production in a controlled environment using large tanks and water treatment systems. Its benefits include:

the ability to recycle and treat water on site to reduce overall water consumption;

recycling of waste resources and nutrients;

the prevention of sea lice and parasites;

the elimination of fish escape into the sea and co-mingling with wild species;

the application of renewable energy concepts;

a shorter distance to market for a high quality, fresh product, reducing the carbon footprint of air and land transport; and

consistent quality and traceability all year round

Videos depicting the RAS technology that Nordic Aquafarms will use in Maine and California can be seen here seen here.

Demand for fresh seafood


The U.S. today imports more than 90% of its seafood and demand continues to grow. The U.S. and many other countries in the world can never become self-sufficient on wild-caught fish, particularly with the many ecological challenges we are seeing in oceans worldwide, such as pollution and climate change effects.

To meet current demand, much of the fresh fish consumed in the U.S. is air-freighted at a significant cost and with considerable carbon dioxide emissions that contribute to global warming. To achieve growth in domestic supply of fresh local fish in a sustainable, environmentally responsible manner, fish farming is a necessity and we will see much more of it in the coming years. Since sea-pen farming is controversial in the U.S. and wild-catch resources are limited, the many benefits of land-based farming should make our approach widely acceptable and a high priority in the US.