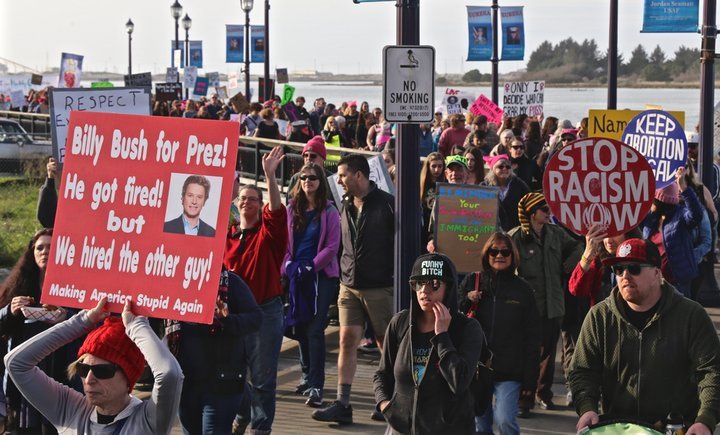 PREVIOUSLY:

Well, that escalated quickly.
The cancellation of Eureka's Women's March — on grounds that the organizing committee found itself "overwhelmingly white" — has been picked up by dozens of media outlets across the country and beyond, often to be held aloft as an example of political correctness run amok. (Most outlets misinterpreted the original statement as referring to the racial makeup of march participants, rather than organizers, for whatever that's worth.)
On Monday the local organizers issued a follow-up statement that further articulates their reasoning, includes an approving quote from the president of the Eureka chapter of the NAACP, and offers links for further reading.
Here's the statement:
The organizers of the Eureka Women's March in Humboldt County, California, are moving the focus towards an event date on March 9th, in conjunction with International Women's Day, to ensure that the people most impacted by systems of oppression have an opportunity to participate in planning. We failed to have the type of collaboration needed to be inclusive of some of the most underrepresented voices in our community, namely, women of color and people who are gender non-conforming.

Our intention with this march is to affect real social change by raising the voices of all women within our community. We recognize the majority of our current leadership team is white, and planning for this event has been centered around our experiences. In recognizing our failure to put enough effort into being more inclusive, we are attempting to make things right by taking this time to create a more balanced leadership team. Our goal moving forward is to ensure the voices of women of color are heard and centered when we come together for the furtherance of the rights and protection of women.

Throughout history, women of color have been proven over and over again to be some of the most vulnerable populations. From the suffering of enslaved Black women in early gynecological experiments, to the current epidemic of Missing and Murdered Indigenous Women across the nation and beyond. Having their voices go unheard can be a matter of life and death, and it is imperative that a safe community is created for everyone.

In response to this decision, President of the Eureka NAACP Chapter, Sharrone Blanck said, "I think it was a great decision to postpone the march because it did not reflect the community the way the organizers see the community. They want to do it right. That means the organizers want to build relationships with the larger community of women so that the march actually reflects the diversity of experiences of women in Humboldt County. The organizers checked themselves. They want to do it right, not just have a march."

We, in Humboldt County, have had many positive changes occur over the last year when we have followed the lead of our Indigenous communities.

2018 started off with the documented lineal descendants of the Tsurai Village in Trinidad, and their supporters, removing a Memorial Lighthouse from an unstable bluff that negatively impacted their village.

The City of Eureka took steps toward their goal of transferring ownership of Tuluwat, a traditional Wiyot village site, back to the Wiyot Tribe. This transfer will be the first in U.S. history that was not prompted by litigation.

In November, the citizens of Humboldt stood with the immigrant community and voted to make our county a sanctuary county. While other counties have become sanctuaries, Humboldt was the first to be voted in by the people and not by council.

Also in November, the citizens of Arcata, a town in Wiyot territory, voted to remove a statue of U.S. President McKinley, who was most notably known for his imperialistic ideals and furtherance of manifest destiny against Indigenous Peoples. We are more powerful when everyone is involved, and that is why we are taking time to reach out to everyone and be more inclusive in our community.

While there have been reasons to celebrate, there is also much work to be done. That includes supporting women like Charmaine Lawson. She is the embodiment of strength. Her son, "DJ" David Josiah Lawson, was murdered during his sophomore year at Humboldt State University 20 months ago, and his murder is still unsolved. Despite these tragic and unjust circumstances, Ms. Lawson has worked to bring tangible resources and hope to those in need within our community in honor of her son and the values he cherished. Coat drives, a scholarship, feeding the houseless, and bringing attention to the safety of students of color in Humboldt County are just a few of her endeavors. The unsolved murder case has been sitting in the Humboldt County District Attorney's Office for nearly two months with no updates on progress to the family. Justice for Josiah!


To learn more about the development of the March 9th event or to join the conversation, go to the [WOMEN'S MARCH EUREKA CAL] Facebook group or email humboldtwomensmarch@gmail.com.

Resources: