PREVIOUSLY:
# # #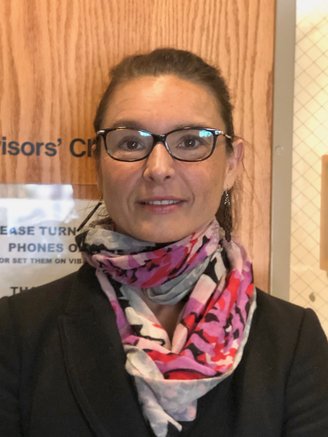 The Humboldt County Board of Supervisors today unanimously appointed environmental planning consultant and HSU lecturer Melanie McCavour to an at-large position on the county Planning Commission, where she'll become the lone woman on the seven-person body.

Considering the disagreement and confusion that followed the premature resignation of former commissioner David Edmonds — not to mention the long list of candidates (16!) for the ensuing vacancy — today's appointment proceedings went remarkably smoothly.
Before the board launched into their deliberations, Board Chair Rex Bohn invited those applicants who'd shown up to approach the lectern and introduce themselves. Coincidentally, it seemed (the first few people on the list weren't present), McCavour was the first one up.
Noting that she has a master's degree in environmental impact assessment, McCavour, who currently serves on the Arcata Planning Commission, said her approach is apolitical and evidence-based.
The application and resume she submitted to the county is both lengthy and impressive. She's done environmental consulting on a wide range of development projects around the globe, from the Chalillo Dam in Belize to hurricane restoration in Mexico and the Turcot freeway interchange in Quebec. She also interned with the United States Department of Agriculture, focusing on global change, environmental assessment and bioenergy, before coming to Humboldt County in 2015.
McCavour's full 17-page application packet is available at the bottom of this post.
Four other applicants also addressed the board, including current Planning Commissioner Ben Shepherd, who has served for five years as the Fifth District representative but recently moved into the First District. His current term is set to expire at the end of the month.
During the public comment period, Tom Wheeler, executive director of the Environmental Protection Information Center (EPIC), urged the board to consider the demographic composition of the Planning Commission, noting that it's currently filled with white men.
"There's nothing wrong with white men," Wheeler said. "I'm one myself." But he said the commission should be more reflective of the community as a whole.
Patrick O'Brien of Willow Creek seconded this call for diversity and asked the board to be attentive to potential conflicts of interest. Hydesville resident Rick French accused the current Planning Commission — and particularly the chair, Bob Morris — of ignoring or hiding conflicts of interest related to their own property holdings.
The board then took turns naming their preferred candidates, and McCavour's name kept popping up. Third District Supervisor Mike Wilson, Second District Supervisor Estelle Fennell and Fourth District Supervisor Virginia Bass all identified her as their first choice while Bohn and Fifth District Supervisor Steve Madrone both included her in their short lists.
Before the vote went down, there was some talk among the board members about the value of diversity. Wilson and Madrone both argued for the importance of diversifying the commission by selecting a woman.
Bass pushed back slightly. "I'll probably get myself in trouble," she said before proceeding. "If I have one more person call and tell me I have to appoint a woman … ," she said, leaving the rest of that sentence unsaid. "I understand the importance of diversity, but it doesn't overshadow qualifications."
Fennell — the only other woman on the board — agreed. "I think that [gender] should not be that much of a deciding factor in this kind of decision," Fennell said. "What's important is experience, what you bring to the table."
She even suggested that ignoring gender would be the more feminist approach. "For decades, or centuries, millennia," she said, being male has been considered a prerequisite to serve in positions of power. "No more should it be."
But Wilson said race, gender and other demographic issues should be a factor. "We talk about diversity of experience, and gender brings with it an experience," he said. The board talks about whether candidates have a background in academics, contracting and planning, but "people also have life experiences" that vary depending on their gender and cultural backgrounds. "We have to at least try" to get a range of those experiences represented in government, Wilson said.
"It's good to hear the guys talking like that," Fennell said.
Several board members expressed appreciation for Shepherd for his service on the commission, though only Bohn listed him among his preferred candidates. Bass made the motion to appoint McCavour, and Fennell seconded it. The vote in her favor was unanimous.
In a brief interview after her appointment, McCavour told the Outpost she's interested in providing for community services, ecosystem services and economic development. She also said that she's noticed a tendency among local scientists to take political stands.
"I think it's been an error on the side of many scientists to become so politicized to the so-called left," McCavour said, "because then it makes it unbelievable when we're trying to present straight evidence."

She feels that in her time on the Arcata Planning Commission she's been able to separate politics from her deliberations regarding the community, economics and environmental planning laws.
McCavour also said she's passionate about the importance of zoning, which is where the major land use decisions are made. Once that's been done, she said, "When you have developments or projects come up on the [specific] parcels, it should be easy because you've already done the hard work."
McCavour will fill one of two at-large positions on the Humboldt County Planning Commission. She's been appointed to serve out the the last two weeks of Edmonds' term (which was scheduled to run through the end of this month) and then a full four-year term.
# # #
DOCUMENT: Melanie McCavour's application packet