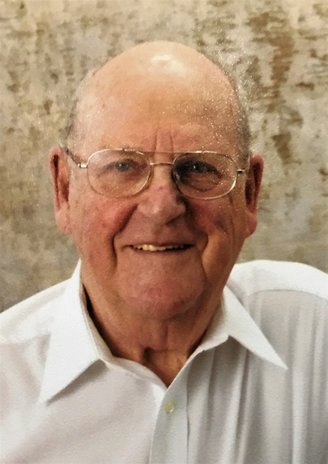 The world lost a special man on December 19, 2018 when Percy "Pete" Ronald Johnson went home to be with the Lord. He was born February 24, 1929 in Hoquiam, Washington. He was proud of his Swedish heritage and was convinced being a logger was the best occupation following in his father's footsteps. He was raised in logging camps on both the Washington and Oregon coasts before moving to the small town of Acme, Washington with his parents and five brothers. He worked in his dad's Blue Mountain logging camp starting at age 13 punking whistles on a steam donkey. Pete graduated from Mt. Baker High School in 1947.

Pete married his high school sweetheart, Beverly Ensign, in 1946 at the age of 17. They were married 72 years. Pete and Bev had three children before relocating to Redway with the logging industry in 1953, where their fourth child was born. When the logging industry died down, Pete operated the Flying A gas station in Redway before becoming an auto parts man. Pete worked in Garberville as a parts man for 27 years. During retirement, Pete and Bev enjoyed traveling in their RVs all around the US. They enjoyed two trips to Sweden visiting his father's homestead and once accompanying Heidi Bowman's (their granddaughter) Marquette basketball team. After returning home, Pete always commented that you couldn't find another place in the world as beautiful as their place on the Eel River in Redway.
After going over what his mom called "Fool's Hill" during his teen years, Pete dedicated the vast majority of his life Living for Jesus — the title of his favorite hymn. This was demonstrated by his love for Christ, his wife, children, grandchildren and those who God brought into his life. There are numerous stories of how Pete helped family and friends. There are also numerous stories about fun times and humorous moments people shared with Pete in their lives.
For over 50 years, if the church doors at Redway Baptist Church were open, Pete and Bev were there! Pete was a deacon, music leader, adult Sunday School teacher and overall leader. Pete and Bev were there when the doors weren't open mowing the lawn, cleaning the building, and decorating for events. Pete performed many weddings and funerals for family and close friends and neighbors. So many memories were created at church potlucks in their patio on the river.
Pete's passion for local sports periodically came with a technical called on his team—especially if his kids or grandkids were in the game! Pete volunteered to coach young basketball and football players in Southern Humboldt in the 1960s. Many of these kids grew up to play for South Fork High School with Pete cheering them on! Pete loved to follow professional and college football and basketball as well. Pete and Bev's home was always open for church visitors after service for a roast beef meal. The guests just needed to understand that the game would be on if they came down to their home during football season!
Pete's life took a turn in August of 2001 after he fell over 20-foot out of a pear tree. This resulted in a brain injury almost claiming his life. The men of the Southern Humboldt community rallied around and took turns staying with Pete overnight for two months while he was healing! Although Pete was never the same, the Lord miraculously gave us 17 more years to enjoy him in this world. His neurologist said it was a miracle.
In 2007 Pete and Bev decided it was time to downsize and moved 50 miles north to Fortuna. In 2013 they added an apartment to their daughter and son-in-law's home and relocated to Gig Harbor, Washington after 60 years in Humboldt County. Pete often commented on how beautiful it was when they drove down Soundview Drive in Gig Harbor. This is where Pete lived out the remainder of his life.
Faith, family and fellowship (plus athletics) were his heartbeat. Mark 8:36 was his favorite verse:
What good is it for someone to gain the whole world, yet forfeit their soul?
Percy was preceded in death by his parents, Julius and Emmie Johnson; brothers, Paul, Delbert, Roy, Chad and Bill Johnson; daughter Wendie Olson; and grandson, Karl Alex Olson. He is survived by his wife, Beverly Johnson; children, Ron (Laura) Johnson, Trudy (Keith) Bowman, Lisa (Jeff) Puckett; son-in-law Evan Olson; grandchildren, Torrie Shear, Tara (Phil) Hyre, Oscar (Cassie) Johnson, Zack (Kristina) Bowman, Jason Bowman, Heidi (Jon) Harris, Brian Olson, Jessica Navedo, Jacob Puckett; great grandchildren, Ashley Shear, Kayla Johnson, Mariah and Sierra Hyre, Jayden, Jasmine and Julius Johnson, Emily, Jordan, Issac and Klarysa Bowman, Timber, Lotus and Lilly Bowman, Hailey, Leah and Jaxson Harris, Karlie and Connor Olson, Marquez and Angelina Navedo, Lily Puckett and one more on the way; great-great grandchildren Kaliyah Hart, Isaiah and Micah Johnson.
There will be a Celebration of Pete's life on Saturday, January 19th at 1 p.m. in the Redway Baptist Church. In lieu of flowers, donations can be made to the Redway Baptist Church, PO Box 556, Redway, CA 95560.
###
The obituary above was submitted on behalf of Pete Johnson's family. The Lost Coast Outpost runs obituaries of Humboldt County residents at no charge. See guidelines here.