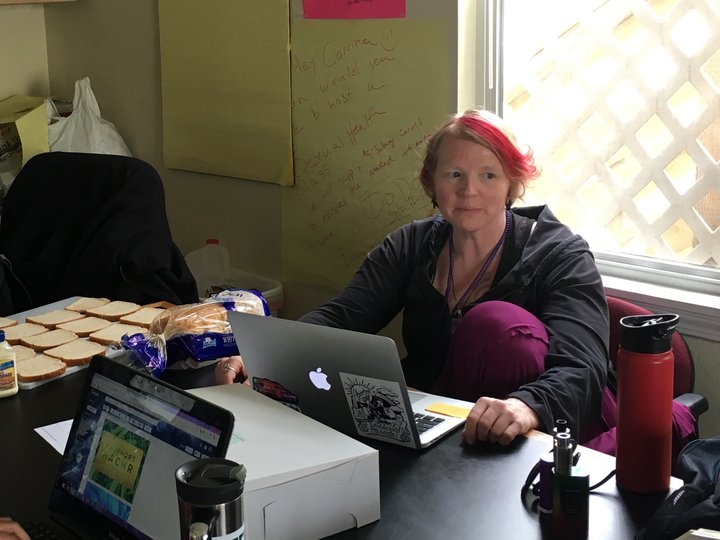 In May of last year (hey! we can officially say "last year" now!) the New York Times published an in-depth look at the opioid epidemic in Eureka. The article featured talks with local officials, drug users and, of course, the Humboldt Area Center for Harm Reduction (HACHR) which operates Eureka's Syringe Exchange Program.
Now, HACHR Executive Director and founder Brandie Wilson is featured on the NYT's "18 Memorable People We Met Across the Country in 2018," posted late last week.
In the feature, reporter Jose A. Del Real discusses the controversy surrounding HACHR and the needle exchange, calling Wilson a "lightning rod in the community." Real also writes that many of the area's "most vulnerable people counted on her for support."
Wilson told the Outpost that she was excited to see she had made the list, which she discovered this morning when someone had sent her the newspaper clipping. (The print version only lists 12 people and Wilson still made the cut.)
But Wilson says she cares less about the personal glory and more about what the attention means for HACHR and the community it is trying to help. Wilson was happy with the initial NYT article and the attention it brought to problems of homelessness and poverty in the area, issues she sees as at the root of the needle problem.
"The article helped elevate our work in harm reduction, helped put a spotlight on the way that we organized here and the way that we value the voices and experiences of people who use drugs," she said.
Wilson also said that the initial article helped bring more support and resources to HACHR and the community. After the article was published HACHR was contacted by Gilead Sciences, which provides "invitation only" funding towards groups that help with Hepatitis C. Wilson was also contacted by Senator Dianne Feinstein, asking what the community needed and how she could help.
On a broader level, Wilson feels that any exposure which keeps people talking about the issues of drug addiction and homelessness is a good thing. "As long as we keep talking about it, solutions will keep coming," she said.
###