PREVIOUSLY:
###
A Los Angeles man charged with robbing and assaulting a Southern Humboldt father and daughter will remain behind bars while his case is pending.

Visiting Judge Elliot L. Daum, acting on the recommendation of the Probation Department, refused to free Franklin Antonio Molina from Humboldt County Correctional Facility on a grant of supervised release. Public Defender Marek Reavis had requested that Molina be evaluated for release, but wasn't surprised when the judge said no.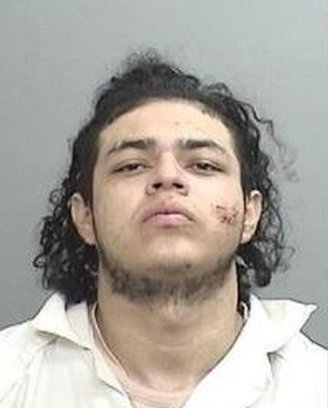 "We certainly understand, given the nature of the charges," Reavis said at a bail hearing Wednesday morning.
Molina, 20, is one of two men suspected of robbing and falsely imprisoning Adam Owen and his daughter, Emmalaya Owen, on Dec. 21 at their home on Sesame Loop Road in the Island Mountain area. Adam Owen told sheriff's investigators two young Hispanic men knocked on their door, duct-taped them and forced him to open safes in the house and garage.
"The male victim and his daughter were both beaten with firearms and then placed in a closet that was barricaded by the suspects to prevent them from escaping," the Sheriff's Office said in a statement.
When Adam Owen was able to get free, he discovered that $30,000 in cash, several firearms, marijuana and his 2016 GMC Denali had been stolen.
Molina was caught on Highway 101 in Mendocino County when officers were able to stall the Denali by using a remote OnStar device. He was arrested only after a long standoff, during which he reportedly made repeated threats to kill officers. He was taken into custody after being shot with a "less lethal round" and bitten by Mendocino County K9 Officer Ruddick.
Molina was treated for minor injuries before being taken to Mendocino County Jail. He was transferred to Humboldt County on Dec. 26.
Molina's alleged accomplice, who was traveling in another vehicle, is still at large and apparently got away with the stolen money, marijuana and guns.
On Wednesday Molina, who requires a Spanish-speaking interpreter, appeared to be amused by the court proceedings. He laughed several times, and once was admonished for chatting with another Spanish-speaking prisoner sitting near him in the jury box.
According to the district attorney's written complaint, Molina is charged with the first-degree residential robbery and false imprisonment of both Adam Owen and Emmalaya Owen. He is accused of assault with with force likely to produce great bodily injury on Adam Owen, kidnap of Adam Owen and carjacking a vehicle from both Adam Owen and Emmalaya Owen.
Molina's preliminary hearing is scheduled for Jan. 9. He is being held on $250,000 bail.
According to the felony complaint, he also uses the names Anthony Franky Orellana, Franklin Orellana and Franklin Molina Orellana.