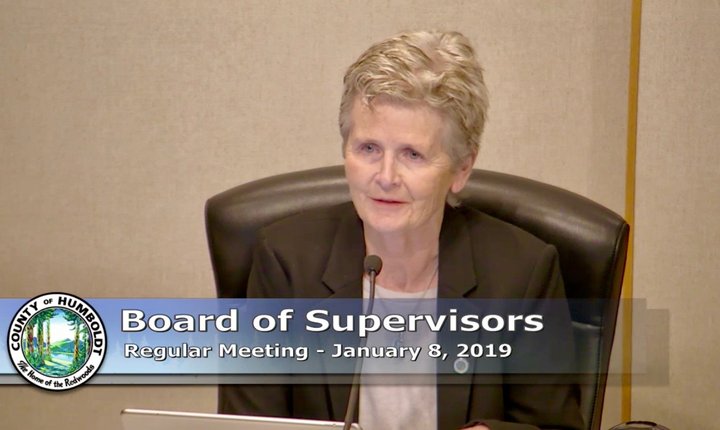 PREVIOUSLY: County Supervisors Set to Give Themselves a Pay Raise, Bumping Their Salaries to More Than $97,000 per Year
###
The Humboldt County Board of Supervisors today approved an ordinance that will boost their annual salaries by nearly $10,000 over the next two years, with two-percent wage increases this year and next plus an adjustment in their work hours (on paper, anyway) from 37.5 to 40 per week.
Their pay will go from $87,427 to $95,121 this year and then jump up to $97,023 starting in January 2020.
Fourth District Supervisor Virginia Bass was not in attendance at today's meeting; she's in Washington, D.C. as part of her duties as president of the California State Association of Counties.
Fifth District Supervisor Steve Madrone, in his first meeting since being elected, voted against the pay bump, arguing that In-Home Supportive Services (IHSS) workers should get a raise first.
"I have made a decision that I will not take a pay raise, even if it's approved by this board," Madrone said. IHSS workers, who help elderly and disabled residents and are contracted through the county Department of Health and Human Services, deserve more than minimum wage, he said, and he vowed not to take a higher salary until they get their own raise. [UPDATE: Madrone later said that he would accept the raise but donate the extra income directly to IHSS workers.]
During public comment on the matter, ever-present microphone fan Kent Sawatzky took an aggressive, even threatening tone as he called on the board to follow Madrone's lead. "To me this is shame, shame, shame," Sawatzky said, warning the supes that accepting the raise before giving one to IHSS workers would be "the worst karma."
Fresh off taking credit for getting former Supervisor Ryan Sundberg voted out of office, Sawatzky declared, "This is a political decision that will end people's careers." A few seconds later he identified the stakes: "I could come here every single meeting and make someone's life a living hell if they want to do this totally unbelievable thing."
Two other public speakers also addressed the board on the issue. Vernon Price, an advocate for the homeless, invoked the Old Testament town of Lo-debar, "a place of nothing," as he beseeched the board to raise the pay for peer coaches, part-time workers who help clients receiving social or health and human services. And Vivian Denniston, an IHSS worker wearing a purple Service Employees International Union t-shirt, said she wouldn't deny the supervisors a raise but would love one for herself and her colleagues.
When the matter came back to the board, Second District Supervisor Estelle Fennell articulated a defense of the proposed raises. "This is a job, a very tough job, and to me this is a question of fairness and equity," she said.
Last year, the county negotiated new contracts with five separate bargaining units, giving the vast majority of county employees the same four percent pay bump. Supervisors put their own pay raises off until all others had been finalized. The other elected officials and department heads all got raises, though none of them "have to sit in the hot seat [and] hear people give us grief," Fennell said.
"I don't take kindly at all to bullying and threats. It just doesn't work for me."
-Supervisor Estelle Fennell
As for Sawatzky's comments, Fennell fired back with gusto. "I don't take kindly at all to bullying and threats," she said. "It just doesn't work for me." She invited the prolific commenter to "bring it on" and then made a motion to approve the ordinance, saying it's only fair.
Third District Supervisor Mike Wilson seconded the motion, though he called the process of publicly giving himself and his colleagues a raise "super uncomfortable and weird."
Describing the position of county supervisor as "a very all-encompassing job," Wilson said it should be analyzed similarly to department head positions, and the compensation should be based on community expectations about experience, workload and the hours required to do the job.
The new salary numbers aren't out of line with what other county supervisors in the state earn, Wilson said. He sympathizes — and empathizes — with Madrone's support for IHSS workers and may well donate his extra income, too, though he declined to make a commitment during the meeting.
Finally, Wilson reiterated that it's a tough job that requires more than 40 hours per week. "Again, not complaining," he said. "For people who do this and like it, it's very rewarding. I encourage people to seek out public service in this way."
First District Supervisor and board chair Rex Bohn, who had stated publicly that he intends to turn down the raise, personally, voted for it nonetheless. "I don't think there's anyone here who doesn't earn it," he said.
The motion passed three votes to one.