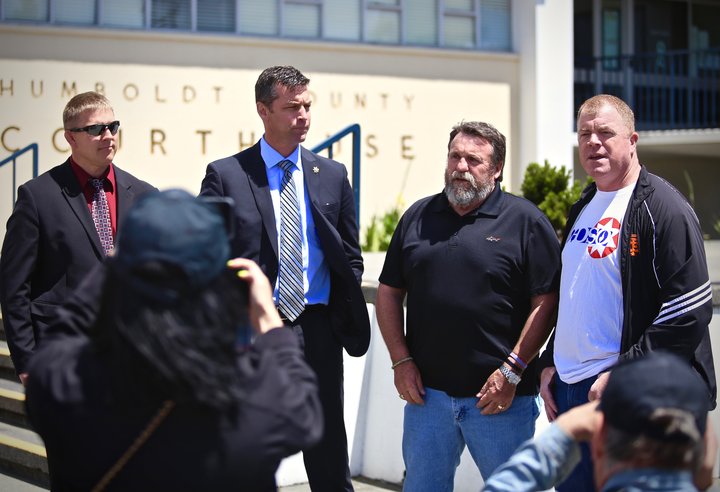 A handful of supporters of Humboldt County First District Supervisor Rex Bohn gathered in front of the courthouse this afternoon for the announcement that their candidate — who is running for his third four-year term in 2020 — has secured the endorsement of a major local law enforcement group.
Jamie Barney, president of the Humboldt Deputy Sheriff's Organization, provided Bohn his association's seal of approval and spoke briefly about Bohn's commitment to public safety.
"In the past he's been a strong supporter of law enforcement, a strong supporter of maintaining the quality deputies that we have on the streets," Barney said. "I think in the next four years he's going to continue to do the same."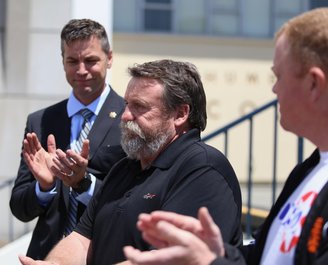 Also in attendance was Humboldt County Sheriff William Honsal who gave personal testimony about his working relationship with Bohn.
"Rex Bohn has been a friend of law enforcement," Honsal said. "He has been nothing but supportive and there's not one more supervisor in this county that works harder than Rex Bohn. He's the guy that always answers his phone, he's always responsive, he's there for the community, he listens and he's always there to try and make something better."
The candidate himself said that he was "humbled and honored" by the endorsement and boasted of the county's hiring more deputies under his watch before speaking of his affinity for the community he calls home.
"As you guys all well know, I love Humboldt," Bohn said. "I'm going to run one more term. And I enjoy serving the people of Humboldt County. I know not everybody agrees with me all the time but I'm up to the challenge of discussing our differences."
Bohn won his supervisorial seat by a commanding margin in 2012 and ran uncontested in 2016. At current he has one stated 2020 opponent: 18-year-old Elias Garcia-Munguia, who filed paperwork to run following previous candidate Allen McCloskey's decision to end his campaign.
Humboldt County first district voters head to the polls in March 2020. If no candidate secures more than 50 percent of the vote the race extends to the November ballot.