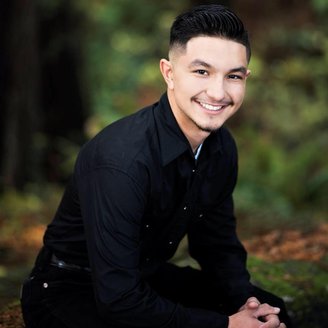 Earlier this morning the Outpost received a Facebook message from Elias Garcia-Munguia, who told us he plans to run for the position of Humboldt County supervisor in the First District. That will pit him against incumbent Supervisor Rex Bohn.

Garcia-Munguia, who will turn 19 in July, said he's a graduate of Eureka High School, currently working his way through finals week during his first year at College of the Redwoods.
We've scheduled a brief phone interview with him later today [UPDATE: The interview is below], but for now here's the campaign announcement message he sent us:
I, Elias A. Garcia-Munguia, am reaching out to you today because I am running for County Supervisor for the First District.

The reason is because I feel like our County is being misrepresented by local politicians. Our crime rate is on the rise and we don't have enough law enforcement to combat the crime rate.

I also think it is time to let the Youth have a voice, after being on the TSC (Transportation Safety Committee) for Eureka. I found that being a Representative of Eureka High School, gave the broad [sic] a view from my peers and the way they should vote.

I felt as if anyone who is between the age of 18-30 has been left out of local issues. So, It's Time for a Change, as I debuted my campaign on Monday, May 6th, 2019.

The youth of our County needs a Voice and I plan on not only giving the youth a voice but giving everyone a voice.

A Supervisor or any local office you shouldn't be thinking about what's best for you. You should be thinking about what's best for our people and I assure you that's what I will do if am am Elected for First District Supervisor in March of 2020. @GarciaForSupervisor
# # #
UPDATE: 1:22 p.m.:
We spoke with Garcia on the phone a short while ago, and he said he's been interested in politics ever since he was little. (He also said he usually just uses the single last name rather than they hyphenated version, which includes his mom's maiden name.)
Garcia is about to finish up his first year at College of the Redwoods, where he has begun his pursuit of a bachelor's degree in business management with a minor in political science.
"The reason I'm running," he said, "is my cousin's husband, Allen [McCloskey], had dropped out and I've always wanted to pursue a higher office than my representativecy [sic] on the [Eureka Transportation Safety] Committee."
McCloskey, you may recall, dropped out of the race for this same supervisor seat last month following an Outpost investigation into allegations of fraud, embezzlement and perjury in his past.
Garcia said that after participating in student government and then serving on Eureka's Transportation Safety Committee during his junior year of high school he's been considering a run for public office.
"I wanted to get started on the Eureka City Council, but right now this one [the supervisor position] seemed better because it was more expanded countywide." Garcia said he is more familiar with the county than many others because of the landscape business he manages for his father.
His dad owns the company, but Garcia said he's been managing it for the last three years after his father was injured.
"Currently I'm the one running the business, but I don't receive the money," he said, explaining that he hands the money over to his dad. His familiarity with the county has come from traveling outside Eureka to do yard work, he said.
Asked if his politics are similar to those of McCloskey, a progressive Democrat and union representative, Garcia said he aligns on some issues but differs on others.
"I find he was a really good person to pursue this office," Garcia said. "I just didn't find the reason he dropped out was such a good reason. I think he could have possibly come back from that."
Asked what he thinks are the most important issues facing the county, Garcia said he's focused on crime and "the needle issue."
"I personally have come across needles in the yards and alleyways of the people I work for," he said. "I know that our county decided to hand out needles to those that need it. Although that seemed like a good idea to reduce the AIDS and the HIV, I don't think they should just be given the needles."

The Humboldt County Department of Health and Human Services operates a Syringe Services Program, which includes disposal kiosks at various locations in Eureka. The Humboldt Area Center for Harm Reduction (HACHR) also operates a needle-exchange program in Eureka. It has been authorized by both the city and the state.
Garcia said he thinks the county's program should be modified but not discontinued. "I think [needles] should be returned to the place they were given out," he said.
Asked if there are any other issues where he differs from Bohn, Garcia replied, "At the moment, no. As I progress I will probably come up with more issues that need to be addressed."
Garcia has yet to set a date for an official public campaign launch event but said he does plan to hold one within the next month or so.