PREVIOUSLY

Former county building inspector Patrick "Pat" McTigue, suspected of bribery and persuading people to invest in a nonexistent marijuana-delivery business, will stand trial on all charges.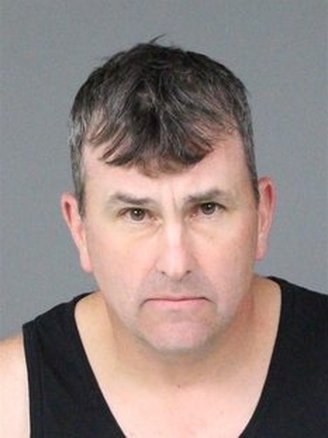 This morning, after McTigue's preliminary hearing concluded, Judge Timothy Canning ruled there was enough evidence to hold McTigue to answer on six felony counts of soliciting a bribe, three felony counts of grand theft and one felony count of attempting to dissuade a witness. Deputy District Attorney Adrian Kamada told the judge he also will add a fourth count of grand theft and one charge of possession of marijuana for sale.
Nine witnesses testified during the more than day-long hearing, beginning with a Weott couple who were scammed out of $50,000.
Richard and Lacey Amaral were on a first-name basis with McTigue, who was their building inspector when they constructed a new home and then a garage. In May of 2017, McTigue dropped by their home with a business proposition. He told Richard Amaral he had purchased the old train station in Sacramento and was refurbishing it as headquarters for a marijuana-delivery business called "Simply Humboldt Grown."
"He wanted me to invest," said Amaral, a carpenter. "He told me he already had $400,000 invested."
McTigue initially asked for $100,000 and told Amaral he would own one-quarter of the business. A couple of days later he called and said "Man, I need the money right now," Amaral recalled. McTigue said he needed $50,000 immediately to pay workers who were installing solar roof panels and other energy-saving equipment on the building.
"I gave him $50,000," Amaral testified.
"You gave him $50,000 in cash?" prosecutor Kamada asked.
"Yes, Sir."
Amaral and McTigue both signed a handwritten contract that day which Amaral still has. McTigue never returned to their home again, even for needed building inspections.
Lacey Amaral wasn't home when her husband made the deal with McTigue, but she was present when he came by to pick up the cash.
"He said he was in the process of opening and establishing a marijuana delivery business in Sacramento, and it was completely legal and permitted," Lacey testified." For their investment, the Amarals would be part owners of a business "that in a couple of years would be worth millions."
McTigue told the Amarals he would be back in a few days to sign a formal contract. That never happened.
Lacey said they made "multiple phone calls," over many months, only to have McTigue brush them off. Once he told them he wasn't going to talk about the subject because he was at his mother's death bed and "she had already died twice."
Lacey began doing some online research on Simply Humboldt Grown. McTigue's name popped up, along with an address at 2200 L St. in Sacramento. But the business at 2200 L Street was the office of a marriage and family therapist named Angie. McTigue had described his business as "a very large, commercial building in a prime location."
In December 2017 the Amarals contacted a lawyer. He sent McTigue a "demand letter" in March 2018, and McTigue agreed to pay them $500 a month. He reportedly stopped paying in January of this year.
During cross-examination, defense attorney Neal Sanders wondered why the Amarals weren't more suspicious of a deal that seemed so rushed.
"(McTigue) seemed extremely trustworthy," Lacey responded. "He's the county's inspector. We trusted him — that's why."
At one point the couple arranged to meet McTigue at a restaurant in Fortuna, hoping he would sign a more formal contract. Instead he got into an angry confrontation with Richard in the parking lot.
"He wanted to hit my husband," Lacey said.
Testimony during the hearing confirmed there were no permits issued to McTigue or Simply Humboldt Grown. During at least one transaction, with Fortuna businessman Lloyd Julien and his partner Manny Mearas, McTigue was on medical leave and not working for the county. He went out on leave in July 2017 and didn't return when the leave expired a year later.
It was in January 2018 that McTigue visited a potential grow site on Highway 36. Julien and Mearas had some questions about a county permit for a cannabis farm.
"We didn't know the process," Julien testified yesterday. "We got word that he helped people get through the process easier."
Julien said McTigue visited on a Saturday morning, arriving in his own pickup truck. He was packing a pistol, which at one point he put away after saying "I guess I don't need this."
"When I seen a gun I thought there was something wrong here," Julien recalled.
McTigue said he would walk the partners through the permit process.
"Did he tell you he would fast-track the permit?" Kamada asked.
"Yes. He wanted $2,000 that day … He said he charged different people different rates. He led us to believe we were getting a deal. We hadn't even broke ground. We were just trying to break ground to get greenhouses up."
Julien said obtaining a permit was "a slow process and he said he could expedite the process."
McTigue told the men he wanted $1,000 from each of them.
"At that point I backed out," Julien said. But Mearas thought McTigue's help was worth the money and handed him $2,000 in cash.
McTigue told him he'd get back to them. That was the last they heard from McTigue.
"He wouldn't answer our calls," Julien said.
Another Fortuna businessman allegedly scammed was Jeremy Kurtz, owner of a water company in the city. Kurtz also was applying for a permit to grow marijuana. In Spring 2017 the process had stalled. McTigue, visiting Kurtz's business, offered to look over his paperwork and help him restart the application process.
Kurtz had already paid his permit fee, he said, but McTigue advised him to give him some money for future use.
"He said I would have other payments to make in the future and I could just give him the money. I declined."
The next time McTigue dropped by, he wanted water.
"He said he was purchasing water to take to St. Jude's Children's Hospital, which turned out to be a completely fabricated story," Kurtz said. He gave McTigue the water, which he said was worth about $1,100.
"Then I received a text from someone down south saying McTigue claimed he owned the CBD water business and was offering people a job."
In regards to the planned marijuana grow at his home, Kurtz changed his mind. He said he had been receiving threatening texts from McTigue, "more threats than I can shake a stick at."
Kurtz was afraid he might end up losing his property because of McTigue's affiliation with the county.
Alleged victim James Alves, a contractor who said he owns "a couple of cannabis farms," was not scammed. But he testified he gave McTigue about $10,000 worth of cannabis "edibles," which McTigue loaded in an ice chest and said he would sell in Sacramento, where he had his marijuana delivery business.
"He said it was a licensed delivery service he was expanding, and he wanted to feature Humboldt products," Alves said. McTigue left with the ice chest and "never showed up again, except one time he brought me a bag of trim material. He said it was a show of faith."
When Alves contacted McTigue, at first he came up with a variety of excuses for not paying for the edibles. Then he just stopped responding.
Alves said he himself was not operating legally at the time, so there wasn't much he could do about the theft.
"We just figured Pat wasn't going to pay us," Alves said under cross-examination by Sanders.
A couple of the alleged victims have known McTigue since childhood. One is Jesse Genaro, who owns a clothing store in Fortuna and also grows marijuana.
"I was working on getting a cannabis permit," Genaro testified yesterday. In October 2017 he gave McTigue $50,000 as an investment in Simply Humboldt Grown. He said McTigue also promised he could save him about $80,000 on greenhouses and water tanks. That interested Genaro more than McTigue's claim that he could fast-track the permitting process.
McTigue told Genaro he already had "a couple of million" invested in the Sacramento business.
"He said in six months I could get my money back."
Then, McTigue disappeared.
"I contacted him a hundred times," Genaro said. "(Asking) where he was, where the greenhouses were."
Finally, he was able to get greenhouses after McTigue told the dealer he would pay for them. Genaro estimated the structures were worth up to $40,000. McTigue made some sort of down payment and Genaro owes the balance.
McTigue never helped him buy water tanks, nor did he provide assistance with building permits. Genaro finally decided to complain. He and others went to the county and the sheriff.
"The final straw for me was seeing him on Saturdays acting as a building inspector, taking money and saying he was going to fast-track the permits."
District Attorney's Investigator Alan Aubuchon testified in place of alleged victim Timothy Roscoe, who is out of state. Aubuchon said Roscoe spoke with McTigue "numerous times regarding cannabis permits. He had known him since childhood."
Roscoe gave McTigue three checks totaling $27,000. The money was partly an investment in McTigue's imaginary marijuana delivery service, and partly an alleged bribe for smoothing over the permit process.
In an interview with law enforcement in January, Roscoe said his main interest was investing in the company, and he didn't consider the money a bribe. In a later interview, he said "fast-tracking was what helped him make that decision to invest."
The final count against McTigue, attempting to dissuade a witness, stems partly from a post made on McTigue's Facebook page after criminal charges were filed. It read "I hope all the rats, J.G., J.K. and T.R., I hope you all know what's coming to you."
Also, in a tape-recorded interview played in court today, Roscoe said he and McTigue have passed each other driving on the street "and three or four times he has made a motion like a pistol going off at me."
McTigue was arrested in Old Town on May 29. The following day a warrant was served at his residence on Redwood Drive in Fortuna, where officers found bags of marijuana believed to be packaged for sale.
McTigue, 48, remains out of custody. Judge Canning set his arraignment for July 25.