A Eureka man was arraigned on murder and weapons charges today for the death of Bernhard "Ben" Bertain, who died on Christmas Day after being struck with a skateboard while trying to intervene in a fight in Burre Center.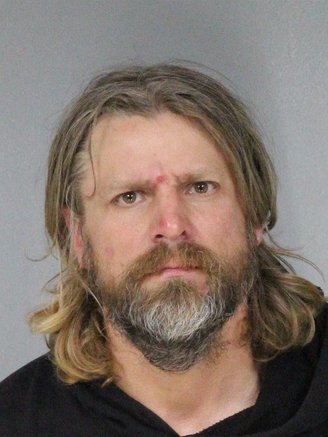 Deputy Public Defender Brie Bennett entered not guilty pleas on behalf of 46-year-old Jason Ryan Barnes, accused of murder with the special allegation of use of a deadly weapon. Barnes also is charged with assaulting another person during the fracas on Dec. 22, 2018.
Bertain, although he initially refused medical treatment and did not want to speak with police, died three days later at Queen of the Valley Hospital in Napa.
This afternoon visiting Judge Marjorie Carter, at the request of Deputy District Attorney Roger Rees, ruled Barnes will be held without bail. His preliminary hearing was scheduled for July 29.
Barnes has been in Humboldt County Correctional Facility since June 26, when he was booked on unrelated charges. He is now clean-shaven and has short gray hair.
According to the Eureka Police Department, Barnes and a woman were arguing heatedly in Burre Center, with the confrontation serious enough that Shaelawn Jansen Morrow, an employee of a business, came outside and stood between Barnes and the woman. Barnes also is charged with assaulting Jansen Morrow with a skateboard.
Police said Bertain had been watching from his pickup truck, and he got out and stood next to Jansen Morrow. As Bertain and Jansen Morrow were trying to persuade Barnes to leave, he allegedly struck Bertain with the edge of his skateboard and fled.
The 58-year-old Bertain apparently did not believe he was seriously injured at the time, but three days later he called for an ambulance because he was having trouble breathing. He was taken to Mad River Community Hospital and then transferred to the Napa hospital where he died.
Some of Bertain's family members attended the arraignment today and spoke privately with prosecutor Rees afterward.