Braving the cold water ocean water, over 60 kids between the ages of eight and 16 hit the beach today to complete their final day of the North Coast Junior Lifeguard program.

Starting at 10 a.m. at the Trinidad Harbor, the ambitious youngsters had to complete a series of physical challenges before graduating from the two-week program.

First, the junior guards were asked to complete the "Iron Person" competition, which consists of running up to the top of Trinidad Head and back, followed immediately by an open swim to the end of the pier and back (approximately 600 yards total.) Participants then grab a surfboard and paddled out and back to the shore(about 800 yards). This was all completed consecutively, without any time to rest.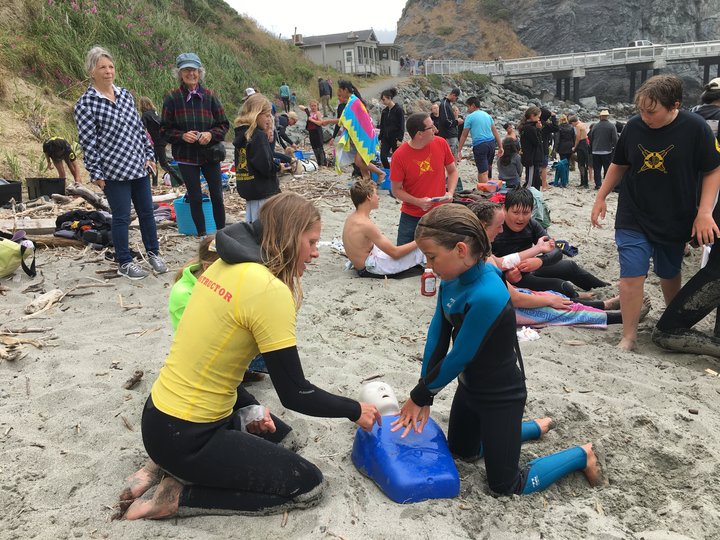 After a short break, the junior guards then completed a "mock rescue" — swimming from the shore out to a victim (played by one of their teachers). Following the rescue exercise, each child was then directed to a station to perform either CPR or some type of first aid on another "victim."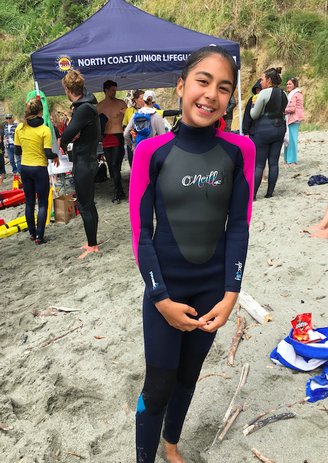 "It was hard," 11-year-old Gabby Cavinta told the Outpost of today's challenges. "But it was the best experience I've had. It was super, super fun."
Cavinta said this was her first year in the Junior Lifeguard program and that she will definitely be coming back. Not only did Cavinta have fun during her two weeks in the program, she also learned a lot. She said she definitely recommends the program to other kids.

"You get to learn how to be water safe so you can feel way more comfortable in the water," she said.

State Park Ranger and Aquatic Supervisor Keven Harder told the Outpost that he is really proud of the kids, and that he's happy to report that this was the largest group the program has had since starting four years ago.

Harder was especially excited to have some of his own seasonal State Park lifeguards training the kids this year. Previously, Harder had to recruit volunteers from outside of the area to staff the program. This year, six new local lifeguards were able to be teachers and three of them are Junior Lifeguard graduates themselves.

During the program, Harder said, he and the other teachers take notice of the 15- and 16-year-old students who are strong and show promise. If they are interested, they can then complete the state certifications and return teach the next group of junior lifeguards.

"We've now reached the point of creating our own local guards," Harder said. "New kids are taking over the helm and doing a great job."

The next Junior Lifeguard session begins July 29. A new, one-week program has also been added this year, beginning August 5 in Crescent City. You can find more program information here.