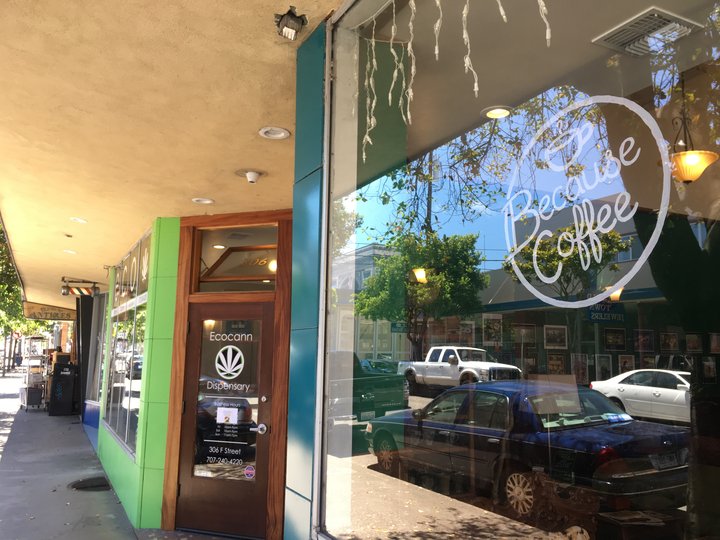 If you are one of the loyal patrons who loves the funky decor of Because Coffee in Old Town Eureka, you'll be sad to know that it will soon be closing its doors and will likely be replaced by a cannabis smoking lounge.
Owner Katie Hennessy confirmed with the Outpost last week that Because is being forced to leave the building. This Saturday — July's Arts Alive — will be the cafe's last day of operation. Hennessy is not happy about having to leave this spot, where she expected to remain for decades.

"I'm having a hard time accepting that this is the last weekend," Hennessy said. "It's kind of surreal."
Ecocann — the cannabis dispensary located directly next door to the coffee shop — is slated to take over the space. The plan, Company Manager Ray Markland told the Outpost, is to turn it into a space for legally smoking cannabis.
Markland said that the business has been interested in opening a smoking lounge for years. This finally became a possibility earlier this year when the Eureka City Council passed an ordinance allowing cannabis smoking lounges in the city. Ecocann submitted a proposal and is one of the businesses that has been approved for the application process.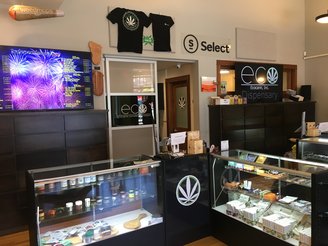 "We really appreciate city staff and local government for helping us move forward," Markland said, adding how pleased he is that the City of Eureka has been so responsive when it comes to embracing cannabis legalization. "We feel this is a positive move for cannabis and City of Eureka."
If Ecocann is granted an on-site consumption permit by the city, then it very well may be the first business in Eureka to open a cannabis smoking lounge. Markland says taking over the space next door is ideal because it allows for the smoking lounge to be adjoined to the dispensary, but separate. This helps ensure that employees in the dispensary area are not consistently exposed to the smoke — something required by Eureka's ordinance.
Markland says the plan is to have a pass-through window joining the two spaces. When someone purchases cannabis at the Ecocann dispensary and wishes to smoke it on-site, the employees will transport the product to the smoking lounge side for them. This will help to ensure people do not bring in outside, black-market cannabis, Markland said.
There are some other aspects of the building that make it ideal for a smoking lounge, Markland said. Locals may remember when the building was home to S & K Cardroom — a longtime poker house that, until smoking was completely banned in businesses, allowed smoking. Markland said that the building is fitted with vents that will help with the smoke, something that may not be available in newer buildings.
When asked about displacing the business next door, Markland said that it is certainly not ideal. "We respect local business," he said.
After exploring many other spaces, including the old Mazzotti's space across the street, Markland said that taking over the coffee shop was the most feasible option. Markland added that Ecocann is planning to help fund Hennessy's transition and that when she finds another space, they will advertise the new location in their business.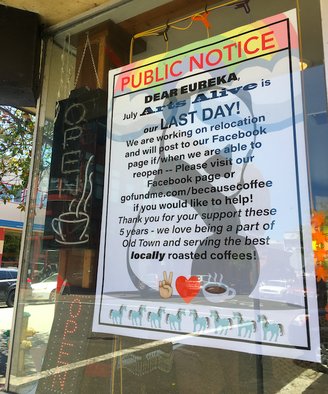 Hennessy did confirm that she and the Ecocann owners are negotiating on relocation funds, and she hopes they can settle on something that she will feel comfortable with. She told the Outpost that is is difficult to find anything in her price range and that many of the spaces available would need a lot of improvements.
Eureka Development Services Director Rob Holmlund also said that the city is trying to give as much help as it can and that he has been trying to help Hennessy identify some relocation options.
As much as Holmlund is happy to see cannabis businesses thrive, he wants to be sure that the legal cannabis industry is helping enhance other local businesses, rather than compete with them.
"It certainly never was the intention to have businesses displaced," he told the Outpost.
If you want to help Hennessy relocate, you can contribute to the Because Coffee Gofundme page.