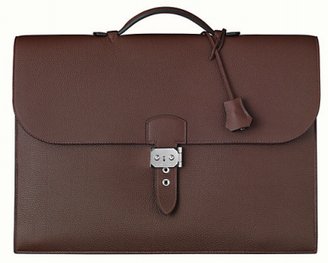 An elderly former investment banker is offering a $10,000 reward for the return of precious letters and old photographs contained in a briefcase that went missing from his room at Eureka's Carter House Inn on Sunday morning.

Michel David-Weill, the 86-year-old scion of a powerful French family of investment bankers, had traveled to Humboldt County so he could see the redwoods, said Karen Ledet, an employee of his who's now helping to search for his lost belongings.
The briefcase contained business papers, his French passport, his green card and an envelope containing $5,000 in cash, but none of that really matters to him, Ledet said. All he cares about are the old family photos and some letters from his parents that were also in the case.
"His brother died in a concentration camp right before the war ended," Ledet said, "so these items cannot be replaced."
A former chairman and chief executive of Wall Street investment firm Lazard Fréres, David-Weill was once among the world's most powerful financiers, the subject of profiles in Vanity Fair, Forbes and Institutional Investor.
When World War II broke out, David-Weill's father was in New York City on business, Ledet said. Just a child at the time, David-Weill remained behind in occupied France with his mother and younger sister. At age 11, during the last year of Nazi occupation, he hid with his mother and younger sister in the French village of Béduer, according to the 2008 book The Last Tycoons: The Secret History of Lazard Fréres & Co.

Ledet said her employer is not interested in pressing charges and just hopes that "if anybody has a conscience" they will return his personal belongings. The reward poster, reproduced below, notes that these items are "very sentimental."
Ledet asks anyone who finds the photos and/or letters to call her at 631-681-3899, and no questions will be asked. An alternate number, if she doesn't answer, is 631-737-4430.