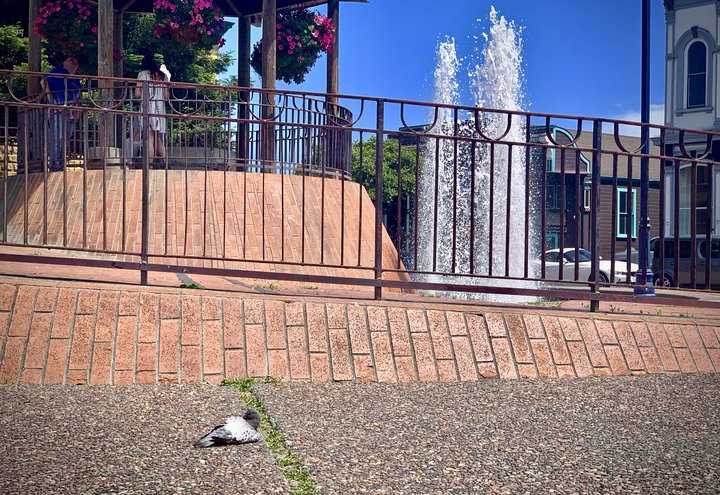 PREVIOUSLY:
###
The heat continues to be unquestionably on. For Humboldtians keeping score, our local National Weather Service crew is tweeting up a storm today listing various facts, records and advisements pertaining to yesterday and today's record breaking Humboldt heat.
For starters, yesterday's high of 85° at the NWS shop on Woodley Island topped the previous June 11 record by a whopping 16°! Congrats to us?
As far as today? The previous June 12 coastal record was a paltry 68°. We blew by that mark by 9 a.m. this morning. Nothing to be alarmed about!
Well, whatever! (Try to) stay cool, Humboldt! And now to the aforementioned NWS tweets:
It's official! Yesterday's high temperature checked in at 85° on Woodley Island in Eureka. In addition to tying the June monthly record, this also beats the daily record of just 69°…by a full 16°. The previous record was first set in 1897, & tied only once again in 1936. #CAWx https://t.co/pcKamcdYGd

— NWS Eureka (@NWSEureka) June 12, 2019
A heat advisory is in effect today from 11 am to 7 pm for interior valleys including Hoopa, Weaverville, and Ukiah…where afternoon temperatures will range from 90 to 102. Warm temperatures in the 70s are likely along the coast. #CAwx pic.twitter.com/j8pjQ2Jfrr

— NWS Eureka (@NWSEureka) June 12, 2019
And while we're talking about temperatures…the record high for today is a precarious 68°. It is almost certain that we will break that record, and likely within the hour. As of 8:00 AM it is already 66°, which already ties the 2nd warmest June 12. #CAwx

— NWS Eureka (@NWSEureka) June 12, 2019
Well…that didn't take long. One hour later, it's now 71 degrees and we've broken another daily high temperature record. By how much remains to be seen! #CAwx https://t.co/bbryrzRB0C

— NWS Eureka (@NWSEureka) June 12, 2019