PREVIOUSLY:
###
There'll be a changing of the guard in Hoopa tomorrow, as newly elected tribal chairman Byron Nelson Jr. takes over from Ryan Jackson, who has served in the position since 2015.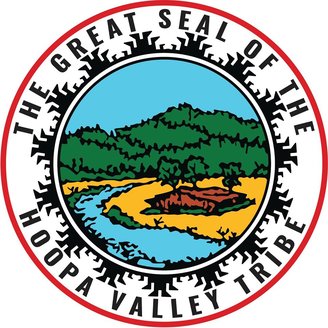 Speaking with the Outpost this morning, Nelson said that he wants to see more "follow-through" on various tribal project — particularly, economic development issues.
"I'll be a hands-on type of a chairman," Nelson said. "The council really can't do it on their own. The chairman has a lot of authority to drive these things, and that's what I plan on doing."
He'll presumably remain skeptical of one particular economic development initiative, though — as we reported last month, Nelson is not a fan of opening up the valley to cannabis cultivation. And in this election, at least, tribal members seemed to back him up: They narrowly voted down an initiative that would have removed all marijuana-specific language in the tribal code, leaving the crop to be regulated as all other agriculture is and cannabis businesses to be regulated no differently than other business.
Nelson told the Outpost he would work to put another initiative on the ballot to reverse the controversial 2018 vote that legalized cannabis on the reservation. "It seems like the majority of the people really don't want it at all," Nelson said.
Full results from the Hoopa Valley Tribal Election Office can be found below. There will be a swearing-in ceremony tomorrow at 11 a.m. in the Hoopa Neighborhood Facility Gym. Details available at this link.
###
| CHAIRMAN | Local | Absentee | Total |
| --- | --- | --- | --- |
| Ryan Jackson | 290 | 96 | 386 |
| Byron Nelson Jr. | 384 | 115 | 499 |
| No vote | 9 | 7 | 16 |
| Soctish/Chenone District | Local | Absentee | Total |
| --- | --- | --- | --- |
| Arnold "Deacon" Ferris | 246 | 91 | 337 |
| Joe Davis | 426 | 119 | 545 |
| No vote | 11 | 8 | 19 |
| Agency Field | Local | Absentee | Total |
| --- | --- | --- | --- |
| Oscar "Tyke" Billings | 442 | 119 | 541 |
| Virgil G. Doolittle | 244 | 92 | 336 |
| No vote | 17 | 7 | 24 |
| Bald Hill District | Local | Absentee | Total |
| --- | --- | --- | --- |
| Leonard Masten Jr. | 258 | 77 | 335 |
| Darcy A. Baldy-Miller | 406 | 135 | 541 |
| No vote | 19 | 6 | 25 |
| Hostler/Matilton Distict | Local | Absentee | Total |
| --- | --- | --- | --- |
| Leilani Pole | 452 | 151 | 603 |
| No vote | 231 | 67 | 298 |
| Election Board | Local | Absentee | Total |
| --- | --- | --- | --- |
| Marla Jackson | 379 | 130 | 509 |
| No vote | 304 | 88 | 392 |
| Alternate Election Board | Local | Absentee | Total |
| --- | --- | --- | --- |
| Manuel Mattz | 533 | 175 | 708 |
| No vote | 150 | 43 | 193 |
| Title 34: Cultivation Ordinance | Local | Absentee | Total |
| --- | --- | --- | --- |
| Yes | 266 | 106 | 372 |
| No | 292 | 94 | 386 |
| No vote | 125 | 18 | 143 |