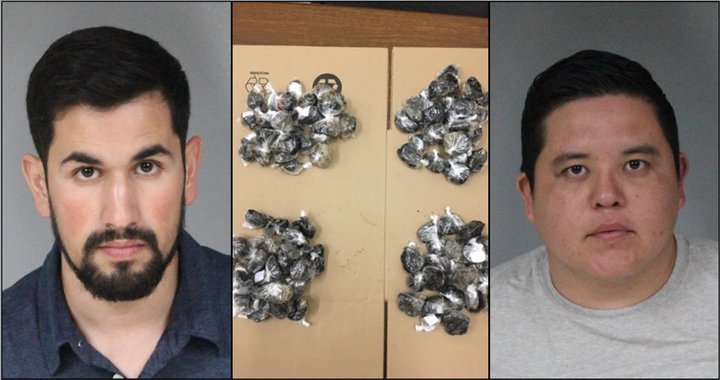 Two Mexican nationals were held to answer today on four felony charges filed after they were arrested in February during the largest one-time heroin seizure in Humboldt County history.

Judge Kaleb Cockrum, after hearing the preliminary hearing testimony of Drug Task Force Agent Jack Bernstein, ruled there was enough evidence to warrant a trial for Adrian Carlos Cota-Alonso, 28, and Edgar Barragan-Castano, 25. Both have been in Humboldt County Correctional Facility since they were pulled over Feb. 10 on Hookton Road in the Loleta area. Agents found the packaged-for-sale heroin in a false compartment in the Ford sedan they were in.
PREVIOUSLY:
Outside of court, Bernstein said heroin sells for between $70 and $75 per gram. Using the $70 figure and doing the math, the drugs would have a street value of nearly $390,000.
Bernstein, under questioning by Deputy District Attorney Adrian Kamada, said he obtained a warrant Feb. 5 to place an electronic tracking device on the Ford sedan.
"It had been identified as involved in narcotics sales," Bernstein said. He said he didn't recall who the registered owner was, but it was neither of the defendants.
Bernstein said he attached the tracking device the evening of Feb. 5 while the car was in Eureka. On Feb. 9, the Ford left town.
"The vehicle traveled south, left Humboldt County and traveled all the way to Merced," the agent testified. In Merced, the car was at Motel Six overnight and also went to a couple of residential addresses in that city.
The following day, the Ford headed back north. By the time it crossed the Humboldt County line about 4:30 p.m., the Drug Task Force had it under physical surveillance. The car exited Highway 101 onto Hookton Road, and two sheriff's deputies in a marked patrol car pulled it over. Task Force agents were right behind them.
"Before anyone exited the vehicle we were there," Bernstein said.
Cota-Alonso was driving, he said, and Barragan-Castano was in the front passenger seat. Each man was carrying about $3,000 in cash, but at first no drugs could be found in the car. Then agents spotted something slightly irregular in the back seat.
"We noticed a slight imperfection in the fabric," he recalled. When the material was pulled back, they saw Saran-wrapped packages stained red with transmission fluid. Bernstein said the secret compartment had a mechanical arm and a latch and was designed to be opened electronically. Officers had to tear up the seat to remove it.
"We had to force it open and remove the contents," he said.
The contents turned out to be four gallon-sized Ziploc freezer bags. Three of the bags contained 20 two-ounce packages of heroin and six one-ounce packages. The fourth contained 20 two-ounce packages of heroin and seven one-ounce packages.
Black-tar heroin has "a distinct odor of vinegar," the agent said, and the compartment also contained fabric softener and laundry detergent.
"They are common odor maskers," Bernstein said, used to prevent a police dog from sniffing out the contraband.
Asked whether the men were carrying identification, he said both were carrying IDs from Sonora Mexico.
Back at Drug Task Force headquarters, a device called "TruNarc" was used to test the seized material. The device shoots a laser beam through the suspected drugs.
"We received positive results for heroin," Bernstein said.
Defense attorney Christina Allbright, representing Cota-Alonso, brought out that the Ford sedan was not under physical surveillance while out of the county.
"We don't have evidence who actually put that contraband in the vehicle?" she asked Bernstein.
"No."
The agent also acknowledged the secret compartment would not have been visible to the car's driver.
Attorney Victor Campos, defending Barragan-Castano, confirmed it is not illegal to possess cash, fabric softener, laundry detergent and transmission fluid. He also questioned the accuracy of the tracking device and the laser machine. Bernstein said the tracking devices are replaced regularly and the laser device is a "$35,000 to $40,000 machine" that has proven accurate.
Cockrum held both men to answer on felony charges of transportation of heroin from a non-contiguous county, sale and transportation of heroin, possession of heroin for sale and using a false compartment to conceal drugs. There are special allegations of possession of more than 12.25 grams of heroin and possession exceeding 4 kilograms by weight.
If convicted of all charges, they could be sentenced to 14 years in state peison.
Cota-Alonso and Barragan-Castano listened to the proceedings through headphones with the aid of two Spanish interpreters.
Arraignment is scheduled for July 11.