The inmate who walked away from a Sheriff's Office work crew on the Hikshari Trail yesterday was taken into custody in midtown Eureka about an hour ago.
Corey James Allmon fled from Eureka Police Department officers near the intersection of Clark and D streets on foot. Officers caught up with him and held him at taserpoint until he could be taken into custody, according to scanner traffic at the time.
Press release from the Humboldt County Sheriff's Office: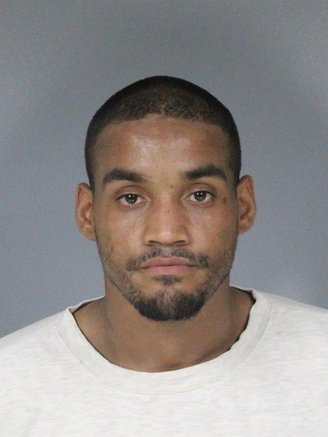 On June 4, 2019, at about 10:25 a.m., a citizen reported to a Eureka Police Department (EPD) officer that wanted Humboldt County Correctional Facility work crew inmate Corey James Allmon, 25, was seen running near D and Clark Streets.

After a brief foot pursuit, Allmon was taken into custody by EPD officers in an alley to the rear of the 1200 block of C Street.

Allmon was booked into the Humboldt County Correctional Facility on his original charge of violation of mandatory supervision, in addition to fresh charges of escape, resisting arrest and violation of probation.

The Humboldt County Sheriff's Office would like to thank the observant citizen who reported Allmon's whereabouts to law enforcement and the Eureka Police Department for their help returning Allmon to the Correctional Facility.