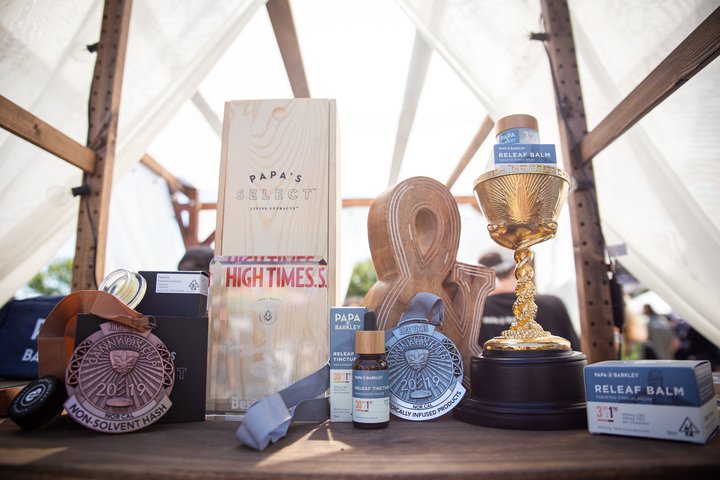 ###
The 2019 NorCal Cannabis Cup took place over the weekend in Santa Rosa, and a few of Humboldt's finest took home top awards.

Honeydew Farms, located in the Mattole Valley, won third place in the "Sungrown Flower" category for their "Sundae Driver" strain. The Humboldt Cure, located in Garberville, took home first place for their "Mix Pen" product in the Vape Pen category and second place for their "Punch Berries Live Sauce" for the Indica Concentrates category.
The Humboldt company that took home the most awards was Papa & Barkley, which won first, second and third place awards. Papa & Barkley uses the "highest-quality sun-grown cannabis" from Humboldt County, and won top honors in the Topical division for their "Topical Relief Balm." It also placed second in the Infused Products category for their Releaf tinctures and placed third in the Nonsolvent category for their Papaya Live Resin. Guy Rocourt, one of the founders of Papa & Barkley, said the wins represent the dedication of his company.
"It's important to us because we honor California cannabis culture," Rocourt said in an interview with the Outpost. "This is how we used to do it and this is how we are going to do it. It's been a hard game to the road of compliance and we are a real company. I'm super proud to say that our products are some of the best to put on your body."
This year's wins are not the most the company has taken home, however they are especially important because of the stiff NorCal competition, Rocourt said. Rocourt feels that it is the "TLC" the employees give to the handcrafted products are why they stand out.
"The blend team does everything by hand," Rocourt said. "We are still paddling ice water hash by hand and our products have a great pungent smell. Our mission statement is unlocking the power of the plant to improve people's lives and there are a lot of people that need help."
Papa & Barkley got started in 2015 when founder and CEO Adam Grossman wanted something to help his ailing father's back pain. The "Barkley" part of the company is named after Grossman's father's faithful pitbull.
"We are humbled and thrilled to be selected as winners of the High Times NorCal Cannabis Cup, in three categories," Grossman said. "Our mission is real, and being validated by our peers is super-empowering to our team, the Papa & Barkley community, and our Humboldt community."