Warning: This story contains graphic descriptions of the physical and sexual abuse of children.

###
PREVIOUSLY:
###
His head barely visible above the witness stand, the youngest alleged victim of Cory Jordan Fisher Sr. testified today that Fisher "almost" touched his genitals while they were watching a movie while lying in bed.

"We were watching the movie and he was lying next to me and he asked me if my area was hard," 12-year-old John Doe Three testified under questioning by Deputy District Attorney Stacey Eads. He explained that his area meant his PP.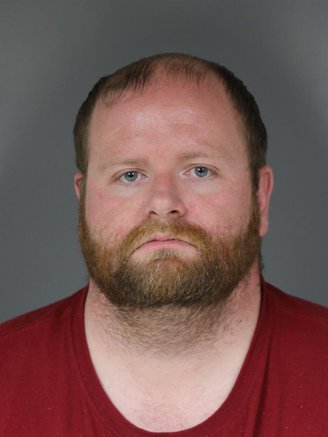 "He tried to touch me there," Doe Three said. "He tried to touch me in my genital area … he touched my area, almost, and I told him to stop."
In an interview with an investigator shortly after the molestation accusations were made in summer 2017, Doe Three said Fisher had touched his penis. Today he said Fisher was rubbing his upper thigh "close to my area."
Eads didn't confront him about the contradiction, but asked whether his memory might have been better when he was interviewed.
"Not really," he said.
Asked why he was uncomfortable about being touched during the movie, he said "I don't think it's right for (someone) to touch you there."
Fisher cried during some of the boy's testimony, including when Doe Three recalled this incident:
"I don't know what I did, but he grabbed me and threw me like against the hallway and I landed on my back and couldn't breathe at all."
He thought he was about 11 years old at the time.
Like the two older brothers who testified before him, Doe Three avoided looking at Fisher in the courtroom.
Asked if he saw Fisher, he said "Yes" without looking. Asked where, he said "Over there" without looking.
His older brothers, one now 23 and one 20, testified to years of physical and sexual abuse by Fisher. The alleged acts include forced masturbation, oral copulation and sodomy. They also recounted many incidents of being physically injured.
Asked if he had ever seen Fisher hurt his brothers, Doe Three said yes. He especially remembered an incident with his oldest brother.
"I don't know what (the brother) did, but he was very violent to John Doe One."
Doe Three said Fisher "got mad and was controlling," and the violence he witnessed was "scary."
As to the incident while watching the movie, he said he told his mother about it "a week or so" after it happened. Although he didn't recall this today, he previously told investigators his mother told him that if it ever happened again, he should tell her and she would make Fisher "go away."
When his mother learned her two oldest sons had been molested she called Doe Three, who was staying with his grandfather in Oregon, and asked him to write a letter about what had happened to him. All three boys wrote and signed declarations, which were attached to the divorce papers that Angela Fisher filed.
Earlier today, Deputy Conflict Counsel David Lee cross-examined John Doe Two about his account of the abuse he suffered. Doe Two said he had wanted many times to tell his mother about it, and he almost told a high school counselor who called him in because his grades were poor and he was falling asleep in class.
"So you had an opportunity (to tell the story)," Lee said.
"I kept thinking of what the defendant told me," Doe Two responded. "That nobody would believe me."
Lee has focused much of his questioning on the physical abuse, perhaps laying the groundwork for an argument that Doe One and Doe Two hated Fisher enough to make up stories about sexual assault.
Testimony was expected to continue Tuesday morning before Judge Timothy Canning. Fisher also is accused sexually abusing three jail inmates while he worked in the facility as a correctional officer.