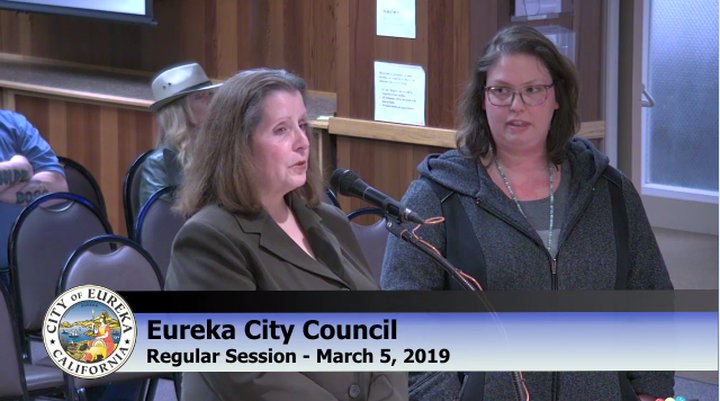 PREVIOUSLY:
###
The Syringe Advisory Committee delivered its first report to the Eureka City Council at Tuesday night's meeting. The primary suggestion the committee had was for the city to utilize an app to report and address needle litter throughout the City.
Committee member Judy Sousa gave the presentation about the app, called SeeClickFix. Sousa explained that it can be used to report needle litter sightings, as well as potholes, code violations or other public safety hazards. Community members use the app to report these issues directly to the City of Eureka.
In regards to needle litter, Sousa said this will provide accurate information about where the problem areas are in Eureka. "This will take out a lot of perceptions about syringe litter and replace it with factual data," she said.
Committee member Dr. Donald Baird — Humboldt County's public health officer — was meant to present to the council as well but was not present, much to Sousa's confusion. HACHR Board member Rachel Waldman jumped in to help provide some additional information in his place, saying that Baird had offered to connect with Partnership Health Plan to discuss collaboration and funding on syringe cleanups and disposal.
Several councilmembers said they thought the SeeClickFix app was a good suggestion. Coucilmember Kim Bergel said she thought the app could be useful for addressing many issue in the city, not only needle litter.
Bergel also thanked the committee members for working together to address these issues. "I just want to say I really appreciate how much the tone has changed," she said. "We're able to work and talk more respectfully to each other instead of pointing fingers and yelling across the room."
You can view a full video of the meeting here.