Cesar "the no drama llama" and his handler Larry McCool in action.
Humboldt County is known for embracing the weird. So when you hear that a longtime Humboldt resident is working as a social media director for a politically active celebrity llama, you might think that sounds like a perfectly reasonable profession.

Living with a medical disability, McKinleyville High School graduate Ariel Knox has spent years volunteering her time where possible. While in Humboldt County, she was heavily involved with Perverted Justice, a foundation aimed at exposing predators soliciting sex from minors over the internet. With Knox's help, the group aided in the arrest and conviction of former Loleta School teacher Ronald Vernon, who in 2005 pleaded guilty to trying to seduce a person over the internet who he believed was a 13-year-old girl from Eureka.
But after moving from Humboldt to Oregon, Knox found herself a bit lost.
"I moved up here and had just been kicking around for a while, not finding anything," she told the Outpost.
Then, in September, she met retired llama rancher and fellow political activist Larry McCool while supporting a candidate for commissioner of Marion County, Oregon. The two started talking, and soon after, the idea for Cesar "the no drama llama" was born.
"I saw the opportunity to help some progressive candidates and causes," Knox said. "We just looked at it as a way to take [the llama] to things and draw a crowd.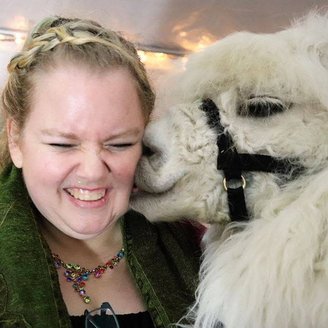 Cesar's political contributions started small, like drawing people to voter registration booths. But his fame grew when Oregon Gov. Kate Brown posed for a photo with him at her campaign rally in October.
"It's just grown into a beautiful thing," Knox said. "We're putting good out into the world and it's all very hippie, very Humboldt."
But after a few splashes in the local media, Knox found herself fielding questions from media giants like the New York Post, the Oregonian, the Daily Mail and Fox News, when a photo of Caesar riding a Portland transit line went viral last week.
The photo was shared by readers all over the world, and sparked a good-natured debate in Portland about what animals should be allowed on public transit. Portland transportation officials even weighed in with this poem.

"Llama Llama on the train
Trying to escape the rain
But llamas aren't allowed on MAX
No matter how good your llama acts," TriMet wrote of social media.
Llama Llama on the train
Trying to escape the rain
But llamas aren't allowed on MAX
No matter how good your llama acts pic.twitter.com/eDPQjqnbxn

— TriMet (@trimet) February 26, 2019
The famous photo as shared by Portland Trimet.
Llama owner Larry McCool told the Outpost that he and Caesar were on their way to a wizard convention when the photo was taken, and that he didn't mean to make a scene or break TriMet's service-animals-only policy.
"We had to park with truck and trailer quite a ways away because there's nowhere to park," McCool said. "We had about 10 or 15 blocks to walk, so we thought, 'let's get on the Max train and go down to the convention,' never thinking that it was going to draw that much attention."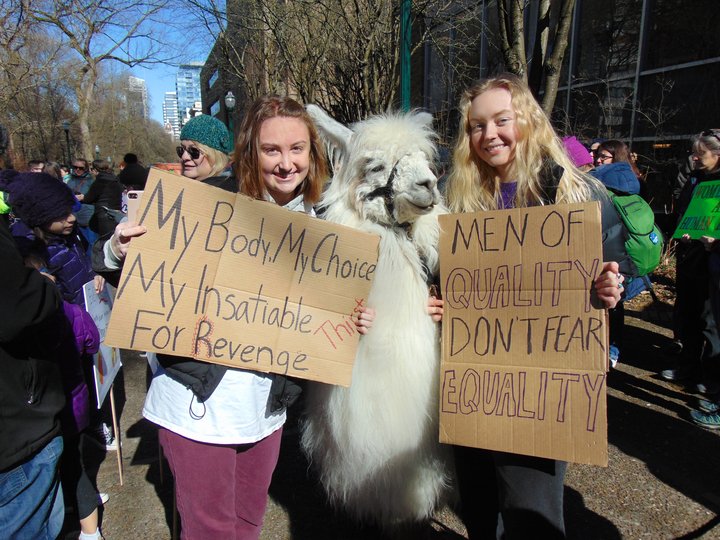 It wasn't until the next day that Knox and McCool found out that Caesar had become an international star. And while they're loving Cesar's new-found fame, they're also concerned that people might be spreading misinformation about their beloved llama.
"Our concern is that he's being billed as a rental llama, when in fact, we make no money," Knox said. "It's not for profit. We do a lot of charity events, we don't make any income from it at all. It all goes to charity."
Knox and McCool said they both hope to continue sharing Caesar with the world, using his soft fur and kind nature for good.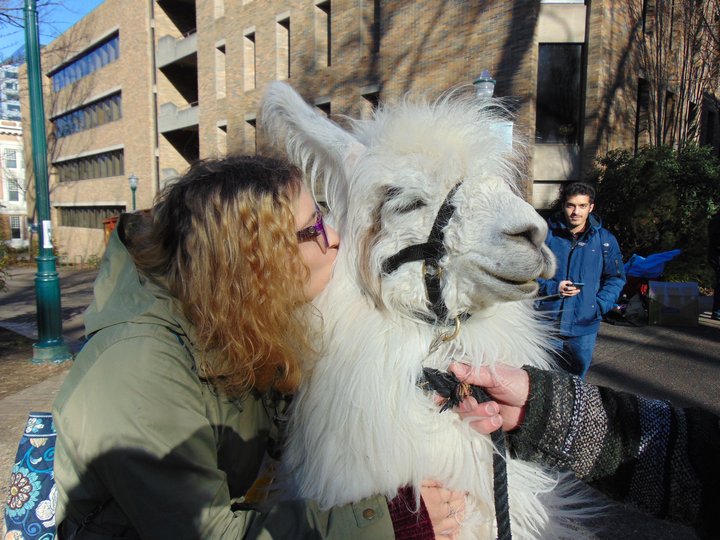 Just this week, Caesar was featured front and center for Portland's Women's March and spent time visiting children at the Oregon School for the Deaf. But Knox said that the llama's outreach doesn't have to be relegated to Oregon issues, and that if they can find a good cause, Caesar might even take a trip to Humboldt County.
"I'd love to share Cesar with Humboldt," Knox said. "I'm trying to convince Larry that we need a photo of Cesar on Clam Beach, and If we can find a great charity, we'll put in some time and effort to get him down there."