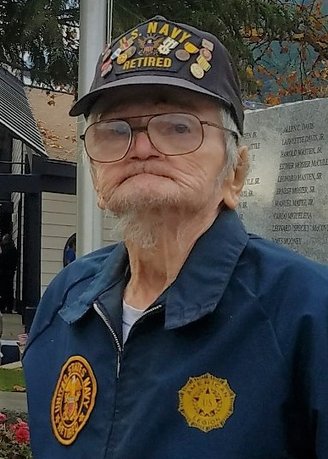 Henry Arnold Beck, Sr. passed on February 22, 2019, peacefully surrounded by loved ones in Eureka. He was born on August 9, 1929 to Henry E. and Charlotte (McLaughlin) Beck in Orleans.
He was a member of the Karuk Tribe and grew up on the Beck ranch above Dolans Bar with his siblings — Oren, Walt, Barbara, Ran, and Elsie — until he left to join the Navy in 1945 with his older brothers, later to be joined by his youngest brother, Ran. He proudly served for 20 years stationed in the Pacific. Henry served during the Korean conflict and the Vietnam war.
Henry became a widower when his first wife, and mother of his son, Katherine (Pearson) Beck, passed. He later remarried and upon retirement from the Navy, he moved back to Humboldt County with his wife Gwendolyn Ruth (Brown) Beck who was a Hupa Tribal Member. He began working in the lumber mills until he received his Class A license and moved onto being a logging truck driver. He worked for Paul Jackson Trucking, hauling logs from the mountains in Hoopa to the mills on the Coast for over 20 years. During his tenure, he helped train many others in the area learn to drive truck and was instrumental in many of them receiving their Class A licenses.

Henry was a proud veteran and a 52 year member of the American Legion. Many knew him by his CB handle, "Popeye," others knew him as "Butch." Regardless of the name he was called, he was known as a friend to all. He enjoyed watching the local sporting events, including summer league softball and high school basketball. He loved a cold Coors on a hot summer day. On Sundays in the fall he would be found watching the Dallas Cowboys by a warm fire. Most Saturday mornings were spent cutting wood for the Winter with a mouthful of Beechnut chew. He had a large collection of trucker caps and was rarely ever seen not wearing one. He loved western movies and watched every Clint Eastwood movie ever made. His favorite musician was Kenny Rogers, who he listened to on 8-track in his four-wheel drive pickup truck. He always had a smile on his face and a funny one-liner to share.
It is difficult to put into words how wonderful a soul Henry was. He was a loving father, uncle and grandfather. He was generous beyond compare and a hero to his children and grandchildren. His influence reached so many. He had service friends whom he maintained contact with over the years from across the country. He loved his family deeply and was deeply loved in return. He will be remembered and missed by many.
Henry was a father to Henry "Doomie" Beck, Jr. and Valerie (Beck) Tuey. He was a step father to Janice (Marshall) McCovey, Julius, Maxwell, Harold, Gerald, and Fred Marshall. Uncle to Oren Beck, Jr., Orrie and Trudy Beck; Billy, Randy, and Karen Pearson; Romney and Ranold Beck, Jr; Wayne King, Jr., Kristen and Charla King; Raldon, Sylvester, Douglas, Fred, Oscar, Arlen, Walter, and Deborah Brown, Katherine (Brown) Hescock. He was Grandfather to Barbara, Michael, Radenia, Ralenia, and William Beck; Henry and Thomas Frank; Phyllis (McCovey) Robbins, Howard, Floriene, and Juliene McCovey, Ruthie (McCovey) McCurdy; Selene and Robert Baldy, Lance Marshall, Harold Marshall, and Gwendolyn (Marshall) Rock. Great-Grandfather to Taylor, Joseph, and Tanner Johnson; Jennifer, Kayla, Karly, and Kelsey Beck; Sophia Lester, Charlee Frank, Evelyn, Kaiden, Carter and Talon Beck; Michelle McCovey-Good, Alice (Davis) Mabry, Janice (Davis) Nixon, Kimberly Davis, Jana and Jacob McCovey, Charlene O'Rourke, Erica (Lindsey) Saelee, Tonya Lindsey, Michael McCurdy, Levi, Bishop, and Kaweah Rivas; Lance Marshall, Jr.; and Klarissa Rock. Great-Great Grandfather to Dylan and Gavin Good; Clayton McCovey, Arielle and Jillian Mabry; Laynee, Georgie, Nick, Leland, and Gage Nixon; Cheryllynn and Phillip Pike; Katira Long Soldier, Tylee, Jillian, Sage, and Sinew Surber; Tesla O'Rourke, Destiny Saelee; Anthony and Alan Bennett; Luna Rivas, Lilly, Gwendolyn, and Benjamin Rivas; Kaeyah Garcia, Sidney Am, and Hayden Fairchild. Great-Great-Great Grandfather to Eliot Gurule. Henry also had many great nieces and nephews, cousins, and dear friends.
Henry is preceded in death by his parents, his brothers Oren and Walt, his wife, and his son.
A special thank-you to American Legion Commander, Kim Conrad who was a regular visitor and special friend to the family while Henry was in the nursing home. Kim never hesitated to insist that grandpa's needs were met while in the facility and the family is eternally grateful for the time spent over the last year and a half for his visits to Eureka.
A celebration of his life will be held on Father's Day weekend in June of 2019 in Henry's hometown of Orleans.
###
The obituary above was submitted on behalf of Henry Beck's family. The Lost Coast Outpost runs obituaries of Humboldt County residents at no charge. See guidelines here.