PREVIOUSLY:
###
From the Eureka Police Department: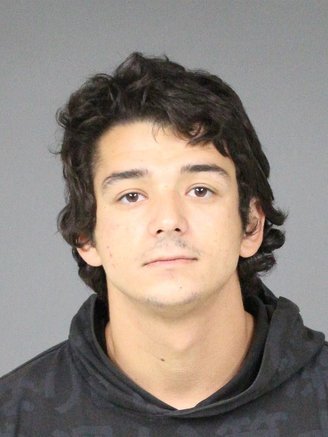 During the early morning hours of August 8th, 2015, officers of the Eureka Police Department (EPD) responded to a burglary report at a business at the 1600 block of 5th Street in Eureka.

Early into the investigation it was determined that a suspect breached a rooftop sky light on the business. The suspect entered the upstairs level of the building and disarmed the alarm. The suspect collected 55 handguns into several backpacks and then broke an alley door's locking system to escape.

Eureka Police Department Detectives developed probable cause that nineteen year old Eureka resident Jesse James Marquez was the suspect. Marquez had moved to Oregon about two weeks after the burglary. EPD Detectives requested the assistance of the Bureau of Alcohol, Tobacco and Firearms (ATF). ATF assumed the investigation and the Eureka Detectives assisted.

A Federal arrest warrant was issued for Marquez on May 10th, 2018. Marquez was arrested by ATF Special Agents on July 16th, 2018, in a home just outside of Eureka. He was charged with 18 U.S.C. 922(u) "Theft of firearms from a FFL dealer" and 18 U.S.C. 922(j), "sale of stolen firearms". On May 13th, 2019, Marquez pled guilty and was given a sentence of 33 months incarceration and 3 years of supervised probation, upon release from incarceration.

The Eureka Police Department would like to thank the Business' management for their cooperation. We would also like to thank the ATF and the Attorney General's office in San Francisco for their partnership in this investigation. If not for this team work, Marquez may not have been brought to justice and held accountable for his actions.