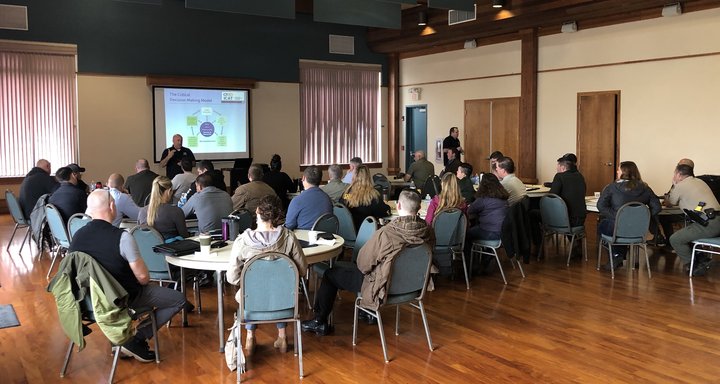 Eureka Police Department press release:

On May 14th and 15th, 2019, local law enforcement agencies participated in a one-and-half-day train-the-trainer course for defusing critical incidents which was hosted by the Eureka Police Department.

Thirty-six students from a dozen agencies participated including the Eureka Police Department, Humboldt County Sheriff's Office, Humboldt County Correctional Facility, Arcata Police Department, Fortuna Police Department, Humboldt State University Police Department, Ferndale Police Department, Rio Dell Police Department, Humboldt County Department of Health and Human Services (Welfare Fraud Unit), Humboldt County Probation Department, Ukiah Police Department, and Crescent City Police Department.

These included police officers, deputy-sheriffs, correctional officers, probation officers, supervising probation officer, dispatch supervisor, investigators, sergeants, Field Training Officers (FTO), police captain, and chief of police.

The course of instruction, ICAT (Integrating Communications, Assessment, and Tactics), is a new and innovative approach to de-escalation and use-of-force training. ICAT provides first responding law enforcement officers with the tools, skills, and options they need to successfully defuse a range of critical incidents.

The training focuses on situations involving persons in crisis and those who are armed or unarmed with weapons other than firearms, including individuals experiencing a mental health crisis.

Founded on research findings and best practices, ICAT was developed by the Police Executive Research Forum (PERF) with input from hundreds of law enforcement professionals nationwide.

During the training session, highly experienced ICAT trainers led an in-depth discussion and demonstration of how to implement the ICAT training program at your agency.

This hands-on exploration covered topics including:

Critical decision-making
Crisis recognition
Tactical communications
Operational tactics
Scenario-based training exercises and video case studies

On the second day, students participated in realistic scenarios requiring them to apply the tactics and communications skills they'd learned. Using the ICAT model, the Eureka Police Department will be planning additional training for its officers over the coming months and years. Several of the other participating agencies have indicated they plan to do the same.