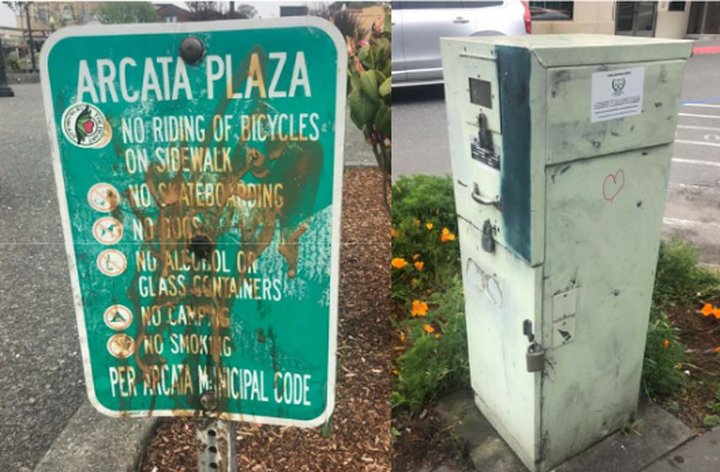 The Arcata Plaza is seen by many as the vibrant social center of the town. It is home to many of Humboldt's biggest events. It boasts many charming shops and restaurants. But some may also view it as a hang-out for the transient or homeless population and a breeding ground for crime.
That's why the Arcata Police Department is making some suggestions for how to clean up the town square. APD Senior Dispatcher Andrea Schutt will be giving a presentation to the Plaza Improvement Task Force today on Crime Prevention Through Environmental Design (CPTED) — an approach to reducing crime through making changes to an area's built environment.

"If the general public perceives that the Arcata Plaza is riddled with crime (whether data backs that up or not) and/or those intending to commit crime, the less likely they will use the space," Schutt states in the report.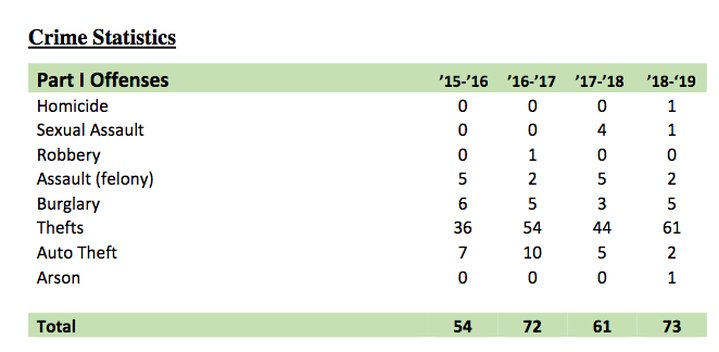 And it might not be so difficult to see why there is a perception of crime surrounding the Plaza. Included in the report are some statistics showing the felony offenses on the Plaza in the last few years, including several sexual assaults, violent assaults and one homicide.
Schutt conducted a site survey of the Plaza in April and identified some issues she thinks may increase crime or the perception of it. One such issue is what she refers to as "abnormal use of space," which basically seems to mean people (mostly the transient or houseless population) sleeping in the grass or on benches, smoking, drinking alcohol, or even gathering to receive the weekly free meal provided by Food Not Bombs.
Schutt points out that both drinking alcohol and smoking violate the Arcata Municipal Code and suggests that an APD officer should always be on patrol on the Plaza during the day to help enforce these codes.

Also, Schutt recommends in the report that Food Not Bombs should certainly "continue to serve the houseless population." But they should move their operation to "an area where services are typically provided," such as near the Annex/Arcata House Partnership.
Another issue is the older-style benches on the Plaza, which seem to offer an inviting place to take a snooze. Schutt suggests that replacing the benches with single seat versions which include a center armrest would make it more difficult for someone to lie down.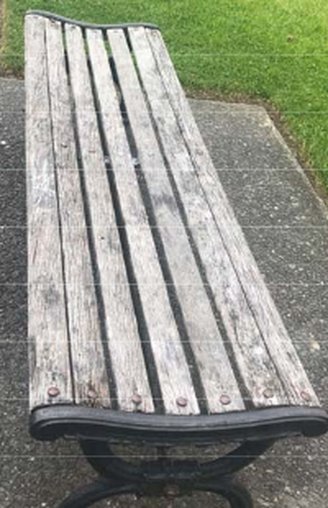 Schutt points out that many of the signs on the Plaza are looking a little shabby, covered with stickers or graffiti. She recommends replacing the signs and possibly including the Arcata Police Department phone number, so that people can call in to report any violations.
Some other funky plaza problems Schutt identified that need to be addressed include exposed electrical outlets, overgrown shrubbery (providing a place for potential criminals to hide before an ambush,) cracked and faded curbs, faded crosswalks and some rather ugly utility boxes. One recommendation she made is implementing a utility box art program to beautify these eyesores, similar to the box art program in Eureka.
Another issue is the Plaza's poor lighting at nighttime. According to the report, two of the Plaza's street lights were non-functional, while the others are "poor color rendering." The lights currently used are sodium bulbs, which are efficient, but apparently make it difficult for people to interpret color. Schutt suggests replacing the lights with International Dark-Sky Association recommended LED bulbs, to provide truer color rendering, which Schutt says is important for providing accurate descriptions of suspects and vehicles, should someone witness a crime.
If the Plaza Improvement Task Force agrees with any of these suggestions, it can make a recommendation to the Arcata City Council for implementation. And Schutt believes that these relatively simple changes could really make a difference for Arcata and the Plaza.
"Arcata can most definitely benefit from CPTED usage," Schutt told the Outpost. "A safer Arcata provides an opportunity for an increase in economic activity, safer neighborhoods, and safer parks and entertainment locations."
The Task Force will hear this and other presentations during its meeting today at 4:30 p.m. in the Senior Room of the Arcata Community Center.
You can view the full agenda here.