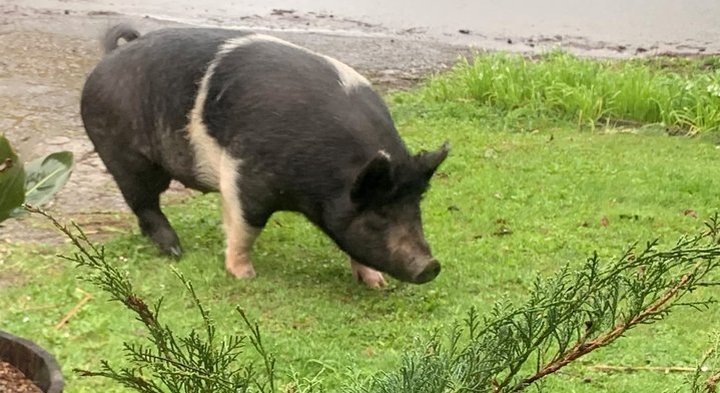 PREVIOUSLY:
###
The Arcata Police Department believes that it has the man who slaughtered Princess the Pig in custody.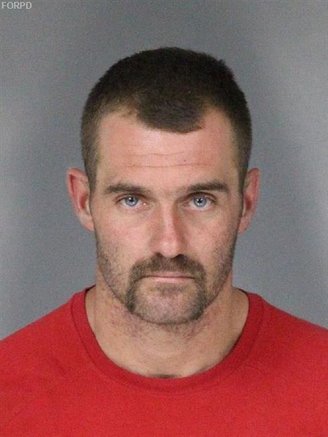 This afternoon Arcata Police Chief Brian Ahearn confirmed to the Outpost that Jeffrey Cody Miller, who was booked into the Humboldt County Correctional Facility on Thursday on drugs and firearms charges is suspected of being the person who slaughtered the pet pig who had escaped from its home in the neighborhood of Park Street and Fickle Hill Road on March 23, while its owners were away.
Police had responded when the 400-pound Hampshire cross sow got loose and started roaming the neighborhood. They secured it and left it in the care of a neighbor who promised to take care of it until its owners could claim it. Hours later, Princess had been slaughtered.
Records show that the Fortuna Police Department was called to assist county law enforcement officers on the 2300 block of Sandy Prarie Road on Thursday afternoon at about 1:45 p.m. There they arrested Miller on charges of narcotics possession, possession of narcotics for sale and on a felony bench warrant.

Current jail records show that Miller is being held on a number of additional charges, including felony vandalism and assault.

Ahearn didn't wish to speak much to the specifics of the case when the Outpost reached him this afternoon, but he did confirm that Miller is the suspect in Princess' slaughter.
The Arcata Police Department's Lt. Todd Dokweiler, who has been leading the case, could not be reached for comment this afternoon. We'll update when we know more.