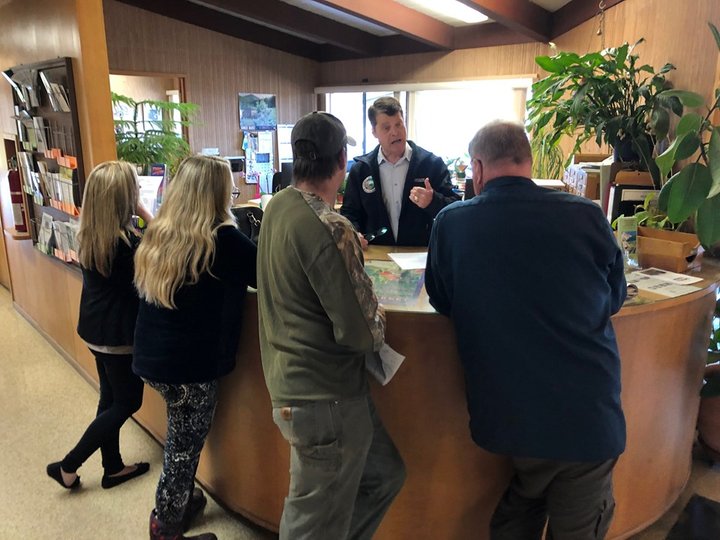 PREVIOUSLY:
# # #
Humboldt County Agricultural Commissioner Jeff Dolf was working the front desk himself this morning as county residents filed into the Ag Department office on Humboldt Hill looking to register to grow hemp.
By ten minutes after 8 a half-dozen people had gathered around the elbow-shaped counter and Dolf helped each one in turn.
"So, do you have a certified cultivar?" he asked a woman with blond hair and paisley stretch pants tucked into pink-and-purple rubber boots. "Or has it been produced by someone registered with a seed-certifying agency or a pilot program in another state?" he continued.
"Okay, no," she replied.
"Okay," Dolf said. "That's going to be — I'm telling you that will be an issue. Because there are requirements in here that require for the cultivar to be from one of those sources. It's described in the application packet."
Today was the first day in modern Humboldt County history that residents could file for a registration to grow hemp. And while the state's list of requirements is short and simple — consisting mainly of a $900 fee, GPS coordinates for the farm and a sanctioned seed variety, or "cultivar," for the hemp — there's a good chance that the county won't wind up issuing these registrations.
As Dolf explained to one of the applicants at the customer service counter, the county implemented a 45-day moratorium on hemp cultivation back on April 2. It expired on Friday, but the Board of Supervisors plans to revisit the matter at its meeting on Tuesday, and staff is recommending that the board issue a new 45-day moratorium so they have time to develop "adequate regulations" on hemp.
After years of prohibition, the 2018 federal farm bill legalized hemp to be grown just like any other agricultural product, be it corn, cotton, soybeans or hazelnuts. And while farmers in the Great Plains may grow the plant for its fiber or seeds, Humboldt County farmers see it as means of producing cannabidiol (CBD), a non-psychoactive compound in cannabis that's spawned a booming secondary market for the crop.
Proponents say CBD can do everything from alleviate pain and nausea to prevent seizures, treat depression, improve your complexion and even shrink cancerous tumors.
Dolf took a moment to explain the situation to one aspiring hemp grower this morning:
"Think about it in this context," he said. "The county did a tremendous amount of work to clean up the harm that cannabis was doing when it was being grown in environments where it was using the water resources; there were poor cultivation practices and things being done. The concern is that if there are no restrictions on hemp production, hemp may likely go right back in the same places that the county worked so hard to clean up."
The woman he was addressing nodded her head.
"And so the trick for the board is deciding, what is the appropriate amount of regulation to apply to this crop?" Dolf said. "It's a very unique situation."
But at least some of those who submitted their registrations forms this morning believe hemp shouldn't be treated the same way the county has treated cannabis, with extensive environmental regulations, taxes and fees.
"You gotta think of all the county's done to all the cannabis growers," said a Eureka man named David, a longtime cannabis farmer who declined to give his last name. "They've taxed 'em to the max, ran most of 'em off and ruined it," he said. "And the hemp, the $900 permit fee is a reasonable price to pay, you know? It shouldn't be any different than any other agricultural crop. You shouldn't have to pay crazy taxes, you know?"
David said he has farmer friends in Oregon who recently started growing hemp, and they've been calling him, asking for cultivation advice. For a simple $500 fee you can walk into an ag office in Oregon and walk out with a permit the same day, David said.
He submitted his paperwork and a $900 check this morning, though he knows that doesn't guarantee him permission to grow. Dolf is predicting a two-week turnaround to process each registration, and he told the Outpost that a new moratorium, should it pass tomorrow, would likely invalidate any applications still in the process of approval. (He'd want to confer with the county's legal counsel before dismissing them, he said.)
"Obviously we might not get this," David said, referring to his registration, "but it's worth a shot."
By 8:45 a dozen people had filed in to register. One of them — in fact, the second one through the door — was Blue Lake resident Kent Sawatzky, who attends nearly every Board of Supervisors meeting, often challenging or even threatening the supes from his spot at the public lectern.
He's taking a similarly aggressive stance with hemp. He planned to file his registration papers today, challenge the particulars of the county's staff report at the meeting tomorrow and possibly sue if the ag department doesn't follow through and issue his registration.
"I'm reserving my rights under local, state and federal law, should it be necessary, to assert my right to farm," he told the Outpost. And if he sues, he said, he'll do it in federal court.
But when Sawatkzy was at the counter with his fellow applicants he was all smiles and happy chatter. He spoke to a woman next to him, explaining the names of the two cultivars he'd included on his paperwork.
"You have T1, which is Trump, and the other one I'm putting on here is Stormy Daniels," he said with a smile.
Dolf overheard him and called out: "So, Kent, did you get Stormy Daniels from Washington State?" he asked. "Where are you sourcing your cultivars?"
Dolf has been keeping track of which seed varieties have been approved by the California Department of Food and Agriculture (CDFA). Many are being imported from Washington state, Oregon and Colorado. Dolf had heard about this cultivar named Stormy Daniels, which is usually imported from Colorado and, last he heard, had been approved by the CDFA.
The California Crop Improvement Association maintains a list of certified hemp varieties on its website.
To date Dolf has not processed any registrations to grow hemp, though he's closest with one submitted by an Arcata resident. Unlike the county, Humboldt's seven incorporated cities have not implemented any moratoriums or bans on hemp cultivation, and the county's moratorium doesn't apply to these cities. Nor does it apply on tribal land, and late last month the Yurok Tribe passed a hemp ordinance, which includes a plan to regulate cultivation on the reservation.
An Arcata resident recently submitted his paperwork, and after giving city officials there a heads-up Dolf has been working to process it. He expects to issue that registration — unless Arcata quickly decides to implement a moratorium or ban of its own.
"We sent a letter to each of the incorporated jurisdictions just letting them know what the county's position on this was, and to please let the county know if [any of] those jurisdictions did put in place a moratorium," Dolf said. "And thus far we haven't heard from any of the jurisdictions."
As Dolf continued to offer customer service at the counter, he reminded each person about Tuesday's Board of Supervisors meeting and encouraged them to show up and express their opinions.
# # #
DOCUMENT: Staff Report on "Adoption of an Urgency Ordinance Establishing a Temporary Moratorium on the Cultivation ofIndustrial Hemp"