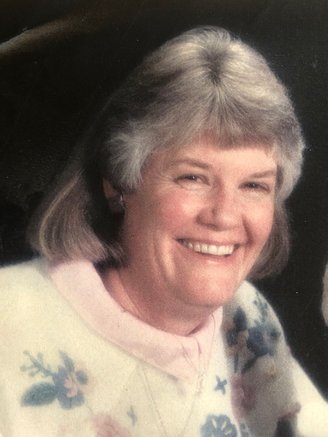 On the morning of November 10, 2019 Molly Lou Folkins Nichols passed away quietly at home, following an arduous two and a half year period of stroke-induced convalescence. At her moment of departure she was peaceful and surrounded by her devoted sons and husband.

Molly and her twin brother Michael were born March 9, 1944, in San Francisco to Patrick Joseph Folkins Sr and Norma Alberta Pratt Folkins. She spent her childhood and grew into adulthood in Santa Cruz, graduating from Santa Cruz High School in 1962. In 1948 her father passed away suddenly, precipitating a seven-year period of hardship in which her widowed mother simultaneously worked two full-time waitressing jobs while Molly, her three brothers, and a cousin, aged 3 to 16, did all they could do within the bounds of respectability to keep the family together and earn supplemental income. They never went to school a single day without shoes shined and clothing pressed. It is in this period that Molly developed her hallmark fastidious attention to cleanliness and organization and her lifelong devotion to the cleaning agent Clorox.
In 1955 her mother married George Miller, an officer at County Bank of Santa Cruz, and the family achieved a measure of security. In high school Molly was well known and well liked by her classmates, participating in women's athletics and student government. As a high school junior Molly began to work alongside several other friends and relatives at Santa's Village Theme Park of Scotts Valley, California. It was there, dressed head to toe in a Santa's Elf costume, that Molly met and fell in love with Larry Nichols. Larry and Molly were married September 10, 1966. Shortly thereafter Larry went on to become a California Highway Patrol Officer and Molly commenced what would become a lifelong career in the field of dentistry.
In 1975 Molly and Larry adopted their first son, Larry Charles Nichols Jr. Four years later they adopted a second son, Layne Michael Nichols. In 1977 the family moved from Santa Cruz to Eureka. Molly became a well known person in the dentistry community of Humboldt County, teaching at the College of the Redwoods Dental Academy and working, over the course of a nearly 40-year career, in eight different offices. Molly was also well known as a pitcher in Eureka Parks & Rec Women's Slow Pitch Softball League, playing continuously for over 30 seasons. It is on the mound, pitching a momentum shifting inning and rallying her team, that Molly's always big personality was on full display.
Molly met her dearest lifelong friend Lorraine Smith on the ball field within just a few weeks of moving to Eureka.
Molly's dream vacation was always Hawaii. Molly and Larry went to Hawaii for their honeymoon and in subsequent years they returned several times. Once they vacationed in Hawaii with both sons, staying at the same hotel in which they had honeymooned years earlier.
Molly was a prolific, accomplished, and generous quilter who served as an officer of the Redwood Empire Quilters Guild. Her body of work was extensive and can be found in the homes of generations of family members, friends, and their children.
Though Molly was never a person of great means she was generous in spirit, volunteering and donating for many causes. She was a committed blood, plasma, and platelet donor with a rare combination of blood characteristics most helpful to newborn babies. In 22 years she donated 67 times at the Humboldt County Community Blood Bank. Molly's lifelong tender fascination with babies never waned. Even in the diminishment of her final months, when a baby would appear on the TV screen her world would stop and she would be instantly glued to the image. Often preferring to express her generosity on a personal level rather than through large causes, she would occasionally create thoughtful themed gift packages for neighborhood children.
She is preceded in death by her father Patrick Joseph Folkins Sr, her mother Norma Alberta Pratt Folkins Miller, and her step-father George Edward Miller, all of Santa Cruz; her brother William "Bill" Folkins (Barbara/Myrna/Ellie) of Santa Cruz and her cousin Donna Vogel (Dutch) of Scotts Valley; her father-in-law Charles "Nick" Nichols and her mother-in-law Joy Rogers Nichols both of Felton; Her sister-in-law Linda McNair (David) of Little Rock; her aunts Erma Oeth of San Jose, June Pratt of San Francisco, Lorraine McGuinness of San Francisco, and Jennie of Portland. She is survived by her husband Larry Charles Nichols Sr, her sons Larry Charles Nichols Jr (Alyse) and Layne Michael Nichols, all of Eureka; her Brothers Patrick Folkins (Sheila) of Eureka and Michael Folkins (Bonnie/Anna) of San Diego; her sister-In-law Sharon Curtis (Johnny) of Mariposa; her step-mother-in-law Nancy Nichols of Felton; her cousin Leonard "Dutch" Vogel (Donna) of Scotts Valley; twelve loving nieces and nephews and their families; her dear friends Lorraine Smith and Lila Bollman and their families of Eureka; and many other friends and family.
The family would especially like to thank St. Joseph's nurse Deborah Tomkins and St. Joseph's social worker Gina Dusey for their professionalism and compassion at pivotal moments of need as well as St. Joseph's occupational therapist Jacob Libby and home health aide Laura Withers for their patient commitment to Molly's recovery and wellbeing.
In lieu of flowers, donations can be made in Molly's name to Project Linus, www.humprojectlinus.org. A celebration of life will be held Saturday, November 30, 11 a.m. at the Eureka Elk's Lodge on Herrick Avenue. All are welcome.
###
The obituary above was submitted on behalf of Molly Nichols' loved ones. The Lost Coast Outpost runs obituaries of Humboldt County residents at no charge. See guidelines here.