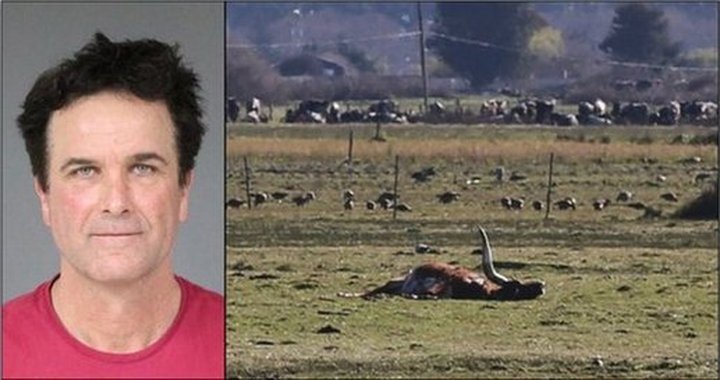 ###
Livestock Deputy Travis Mendes received a complaint on Dec. 13, 2017, about dead cows on the bank of the Mad River.
The next day, Mendes drove to the ranch at 1300 Anderson Ave. in McKinleyville and found a "large dirt opening" containing the carcasses of seven cows. One of the cows still had a strap attached to her hoof, indicating she had been dragged there.
"I began checking the nearby area," Mendes testified Thursday under questioning by Deputy District Attorney Adrian Kamada. "I saw seven other carcasses in various stages of decay."
Mendes said the dead animals were a maximum of 33 feet from the Mad River. Mendes was the first witness called by the prosecution in the trial of Arcata rancher Ray Christie, accused of animal cruelty and littering (with dead cows) within 150 feet of state waters.
After finding the 14 rotting carcasses on the river bank, Mendes drove to the ranch house and spoke with a woman named Katie. He asked her to show him any dead animals on the property.
"She directed me to a barn about 50 yards east of the residence," Mendes testified. "I observed three cows in the barn."
One of the cows was dead but not yet decomposing, another was alive and lying on a bed of straw. The third "had two hooves sticking out of its vaginal cavity."
Christie, who was leasing the property, wasn't there. But Mendes spoke to him by cellphone.
"I asked him if he had a plan in place to ensure the safety of the cow," Mendes said. Christie told him he couldn't give the animal medication because she was an "organic cow."
"He assured me he would do everything possible to maintain the cow's life," Mendes said.
Three months later, on March 29, 2018, officers from multiple agencies raided Christie's properties throughout the county. As part of that operation, Mendes revisited the Anderson Avenue ranch and the barn where he'd seen the three cows.
"There were all the same cows, located in the exact same location, and all three were deceased."
During cross-examination, defense attorney John Cogoran challenged Mendes on his version of the December 2017 event. Mendes had said both Katie and her boyfriend Brandon pulled on the calf's hooves.
"Isn't it a fact," Cogoran asked, "that you were the one who pulled on the calf's legs?"
"Not to my recollection."
If Mendes was the hoof-puller, that could cast doubt on his credibility as a witness. It remains to be seen, though, how important the puller's identity will be when the jury considers the big picture.
During the March 2018 raid, cow carcasses were found on most of Christie's properties, along with some live cows too weak to stand up. The prosecution maintains those animals were starving.
On a parcel off Park Avenue in Eureka, owned by "either Christie or his brother," Mendes said, there were about 100 head of cattle, five to 10 carcasses and scattered bones. Some of the remains were in Freshwater Slough, which surrounds the property.
At a Christie-owned property off South G Street in Arcata, officers saw at least 100 cows and "well over 10 carcasses; some were bone piles."
And at 1371 Clam Beach Road, another 100 cows and numerous carcasses "within waterways."
Christie lives on his ranch on Jackson Ranch Road in Arcata. Officers found cows in poor condition, and there were an estimated 160 carcasses stacked on the property. The defense disputes that number.
One dead calf was found in a corral, covered in mud and manure and crushed by the larger animals walking on it. Another small calf was "curled into a ball" in the corner of the corral.
Mendes acknowledged under cross-examination that he couldn't say whether the dead calf was an aborted fetus.
One cow on the ranch was down and unable to get up. Officers provided no assistance, but Mendes notified Christie about the animal's condition.
As Cogoran pointed out, Christie was under arrest at the time and couldn't do much about it.
"Don't you have a legal duty to assist that cow?" Cogoran asked Mendes.
"It's not our responsibility to care for that cow."
During his cross-examination, Cogoran repeatedly asked whether any samples were taken from the carcasses. None were taken. Therefore, neither cause of death nor time of death can be established. Cogoran has suggested the animals may have eaten poisonous plants.
Although state veterinarians were part of the operation and saw apparently starving animals, none were treated or removed from the property. The only creature seized was a caged goose.
Cogoran was particularly interested in why Mendes attended the livestock auction in Fortuna each Wednesday. Mendes said it was a "learning environment" for him, and a chance to speak with ranchers about any concerns they might have. The deputy sometimes helped with moving cattle, using an electric prod to keep them going in the right direction. Mendes said the cow would be briefly tapped on the rear-end.
Cogoran questioned why Mendes doesn't know that using an electric prod is "abuse" and damages the meat.
Christie buys a large number of cows at the auction, many of them in such bad shape that no one else would want them. His goal is to restore the cattle to health, then resell them.
Asked whether he had seen "sub-par" animals being sold, Mendes said "Sure."
Cogoran noted that at some point the auction owners told Mendes to "leave and not come back."
"They asked me to stay away from the actual sale," the deputy said, "because Mr. Christie stated that if I was at the sale he would refuse to buy any cattle."
Mendes was expected to continue testifying this morning. Judge Christopher Wilson is presiding over the trial.
###
PREVIOUSLY: