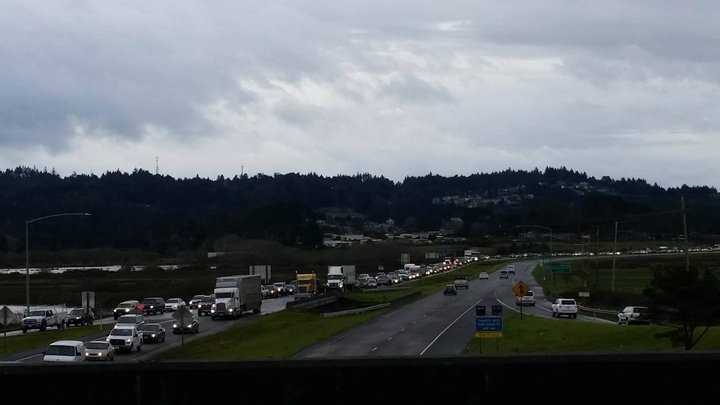 ###
Press release from Regional Government Services, a state agency leading the charge on the following initiative to fix or at least improve the traffic nightmare that is the Broadway/Highway 101 corridor through south Eureka:
Area residents, business owners, & community groups are invited to the Wharfinger Building, 1 Marina Way, Eureka on November 13, 2019, from 6:30pm- 8:30pm to help develop a plan for making Highway 101 through Eureka easier to travel. Attendees can talk to the planning team, view displays, and use interactive maps and other tools to provide direct feedback on issues in the Highway 101 corridor.

Participants will be asked to share their experiences and ideas for additional transportation choices and neighborhood improvement. Refreshments will be served.

Highway 101 is the most highly travelled and crowded roadway in Humboldt County. It is important for both quality of life and economic development that residents, commuters, and visitors be able travel easily whether they are choosing to walk, bike, drive or use transit to get around. The highway is important for businesses to move products efficiently to and from the area as well. The input of diverse communities and groups are vital to ensure that Highway 101 (Broadway) and the surrounding neighborhoods continue to provide value to local residents, visitors, and business owners.

The City of Eureka, the Humboldt County Association of Governments (HCAOG), and Caltrans are all working together on this plan to identify projects that will be competitive to receive funding and can ultimately be constructed.

The public outreach team for the project is available for presentations to community, civic, business and non-profit groups to provide information on the plan and to provide opportunities for input.

For additional information, see the website about the project at this link.