UPDATE, 12:32 p.m.: PG&E is of the opinion that this was an actual fraud job. Press release from PG&E:
There is a fraudulent PG&E letter alerting customers of an upcoming planned outage for maintenance work, starting on the 16th, which indicates it could impact several counties. This letter is a fake and there is no such outage or Public Safety Power Shutoff planned. This letter has been widely shared on social media and indicates an extended county-wide outage.

PG&E does routinely schedule planned power outages for maintenance. In order for crews to safety make repairs, we have to de-energize the line in targeted areas. Customers will receive a letter several days in advance directly to their address we have on file.

In addition, the letter in question has a return address of Fortuna. Again, there is not a planned outage scheduled for Fortuna for October 16-19.

We have our Corporate Security department looking into the origins of the letter. Thank you.
###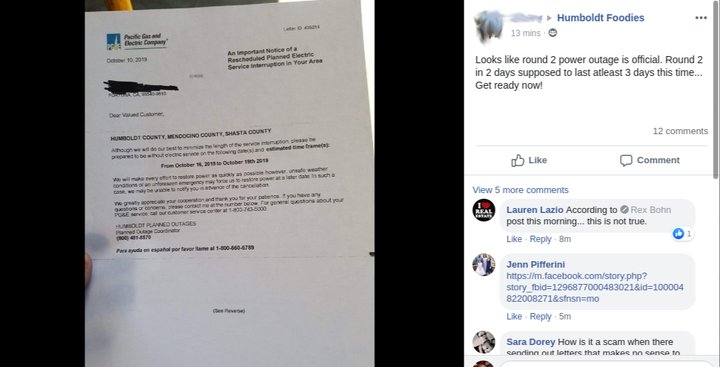 Hey, guys and girls: Have you seen the notice above warning you of another MASS POWER OUTAGE this week posted on approximately 77 of your favorite local Facebook groups this morning?
You know, the ones that say that another outage has been OFFICIALLY CONFIRMED, or something like that?
It is not true.
There is no mass public safety power shutdown planned this week in Humboldt or anywhere else.
What you've got here is someone — someone in Fortuna, apparently — who got a notice in the mail saying that their particular neighborhood will be shut down for maintenance. This happens every day. It's not unusual.
But Facebook is inclined to read this as HOLY HELL ANOTHER MASS OUTAGE INCOMING, AND THIS TIME FOR THREE DAYS CONFIRMED! and though more grounded people have gotten in there to try to reason with the alarmists, there's very little one can do to stop it. Thank you for trying, though. You're fighting the good fight.
To recap: No mass power outage this week. Supposed to rain Wednesday, actually. The person who originally posted this misread their notice. Yes, we spoke with PG&E to confirm this.
Back to work, everyone.
If you need to hear it from Rex Bohn, here's that: