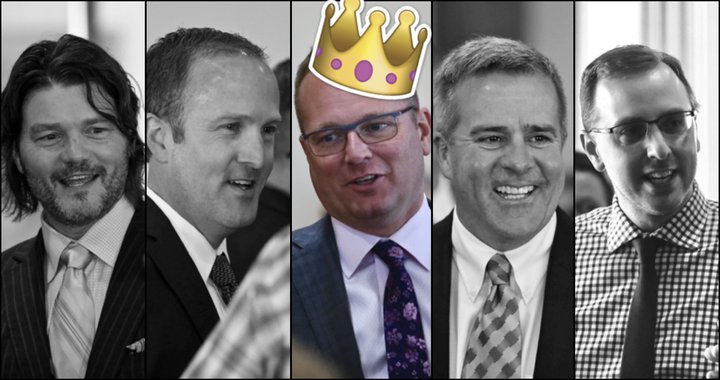 PREVIOUSLY: (PHOTOS/AUDIO) The Five Who Would Manage Eureka! Nice-Sized Crowd Meets Eureka City Manager Candidates at the Wharfinger Last Night
# # #
City of Eureka release:
The Mayor and Council are pleased to announce that Dean Lotter of New Brighton, Minnesota has accepted the position of City Manager with the City of Eureka. Dean comes to the City of Eureka with 23 years of experience and knowledge as a City Manager. Mr. Lotter is currently employed by the City of New Brighton, MN as their City Manager and oversees $16.8 M General Fund, $73.3 M CIP and $10 Million Utility Funds.

Previous experience: Dean served as the City Administrator of Minnetrista, MN. Minnetrista is a developing, third ring Twin Cities Metro suburb of 6,500 people surrounded by many nearby lakes. He managed a $6 million City Budget and developed relationships with many nearby agencies and districts. Prior to Minnetrista, Dean was the City Administrator in the City of Janesville, MN. Janesville is a rural, stand-alone community that provides a nursing home as well as electrical generation and distribution service along with all other public services to its residents. While there, Dean developed and managed a 4-million-dollar budget.

Dean Lotter received his Bachelor of Arts from the University of Wisconsin at Stevens Point with majors in Public Administration & Policy Analysis, Political Science and History in 1993. Dean earned a Masters of Arts in Urban Studies – Local Government from Mankato State University (MSU) in March of 1996.

In a statement to the City, Dean stated, "I am truly honored to be selected as the next City Manager of Eureka. My wife, Wendy, and I are very much looking forward to moving to Eureka and embracing the area and all of its people, opportunities and challenges. Growing up in Green Bay, Wisconsin and close to the water, I raced on a 24-foot sloop out on Green Bay with my dad and his best friend, I look forward to embracing a life by the water again. As a couple, Wendy and I are active people. We love hiking, camping and walking our rescue dog Queso."

We're anticipating a smooth transition and a real opportunity to move Eureka forward with Dean, who is coming to us with a wealth of City Manager experience and an excellent record of success in his current position, commented Mayor Susan Seaman. Final approval of Mr. Lotter's employment agreement will be at the November 5, 2019 Council meeting. Dean Lotter will start with the City of Eureka upon Greg Sparks' retirement at the end of the year.