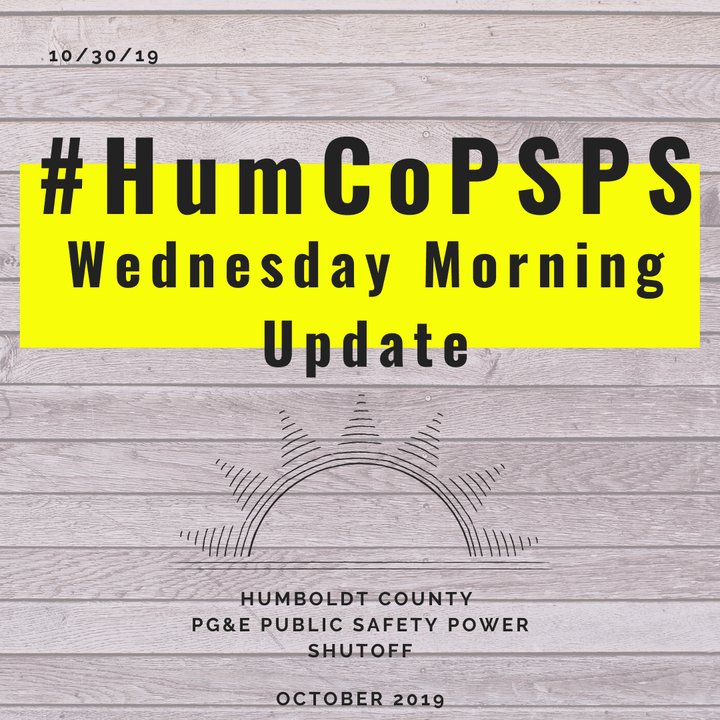 # # #
From the Humboldt County Office of Emergency Services:
PG&E is reporting that power to all customers in Humboldt County has been restored from the recent Public Safety Power Shutoff (PSPS). This planned outage lasted more than 36 hours, beginning at approximately 10:30 p.m. on Saturday, Oct. 26, with restoration starting around 10 a.m. on Monday, Oct. 28.

PG&E repairs

Please be courteous to PG&E crews as they inspect and repair power lines damaged by the recent wind event. Many of these workers are our friends and neighbors, and they are working hard to help our community recover from the power shutoff. These crews and their families have been impacted as well, and it is never acceptable to use intimidation or violence with anyone in our community.

EOC deactivation

Representatives from local law enforcement agencies, first responder agencies, hospitals, county government, tribes and other community partners have been coordinating the county's response in the Emergency Operations Center (EOC) to minimize impacts to the county. Now that power has been restored, the Humboldt County Sheriff's Office of Emergency Services is deactivating the EOC today. City- and agency-operated Community Resource Centers will also close today.

Weather forecast

The National Weather Service has not forecast any weather patterns that would result in another PSPS event in the near future. However, the decision to shut down power, the duration of any outage, and restoration timelines are solely managed by PG&E. To learn more about PSPS and to sign up for alerts, visit pge.com/psps or call 1-877-9000-PGE.

Shop local to help Humboldt County recover

The entire community has been negatively impacted by PG&E's power shutoff, including local businesses. You can help with economic recovery after adverse community events by shopping local. In addition to supporting businesses and our community, shopping local will help fund programs that help residents prepare and recover from disasters. You can learn more about ways to help economies recover, and businesses can learn more about how to prepare for a disaster by visiting restoreyoureconomy.org.

Take time now to prepare

Residents are also urged to restock emergency supplies and make arrangements for medical needs that may be impacted by a planned PSPS or another disaster or emergency. Given Humboldt County's rural location, emergency supplies including food and water should last up to two weeks.

Thanks to all residents of Humboldt County for your patience and understanding during this incident. For up-to-date information and location-specific emergency information, sign up for Humboldt ALERTs at humboldtgov.org/alerts. You can also go to humboldtgov.org/notifyme to sign up to receive text or email alerts when news releases are issued by the county.