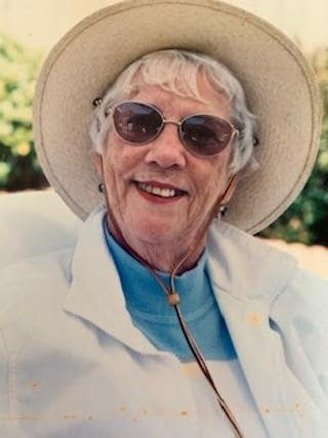 Joy Lorraine Bessellieu died September 18, 2019, at her home, of natural causes. She was 94 years old.
Mom was born on March 31, 1925 in Hudson Wisconsin to Alfred Simonson and Lucille Dobkins Simonson.
Mom grew up in Hudson until she was 18 years old, when she moved to San Rafael, CA to join her mom and dad. She began work at the Bank of America. Lorraine met her future husband, Burt Bessellieu, while working at the bank. After a whirlwind courtship, two months to be exact, they married on July 14, 1949.
In 1953, Burt and Lorraine had their first daughter Cindy. Their second daughter, Mardi, arrived in 1958. In 1968, the whole family moved to Humboldt, where Burt became a Humboldt Bay Bar Pilot.
Burt and Lorraine traveled the world several times during their almost 65 years of marriage. Lorraine was actively involved in the Nile Club and the Women's Club and cherished the long time friendships she developed within these clubs. She also worked for a period of time at the Brass Shop in old town and was the Foreman of the Grand Jury. First and foremost mom took care of her family. She was a fabulous cook and made the best pie crust ever!
When dad passed away on April 1, 2014 Lorraine's sadness was palpable. Thanks to Michelle, her kind and loving caregiver, mom continued to have a good quality of life after dads passing. Michelle helped mom to the Nile and Women's Club meetings, went to lunch discovering new restaurants, and out shopping for the great grandkids. This brought a lot of joy and pleasure to mom during the last few years.
Mom had a life well lived and even when her physical pain became a daily struggle, she remained headstrong and positive. She attributed this strength to her "strong Norwegian heritage". She instilled this strength and perseverance to her family as well. Mom was a remarkable woman!
Lorraine was much loved and respected and will be missed terribly by her family and friends. She was the glue that held the family after dads passing. It is hard to imagine holidays and celebrations without mom and dad. Lorraine was preceded in death by her loving husband Burt, by her father Alfred, her mother Lucille, her sister Margaret and sadly, on October 1, 2019, her older brother Bobby. Also her dear friend Edie Lewis, who passed recently.
Lorraine is survived by her daughters Cindy and Mardi. She leaves behind her granddaughter Sara Biondini(Justin) and Sara's children Jarren and Jace. Also, her granddaughter Cori Crofts(Brett) and Cori's children Cameron and Harper. Granddaughter Shelby Harris and her fur baby Marooka. Grandson Antony Bessellieu-Hill and fiancé Teresa Glidewell and their fur babies Butters and Honey. Lorraine loved her grandchildren and her great-grandchildren with all her heart. She was proud of each and every one of them. Lorraine also leaves her Nieces Lucy and Pom and her Nephews Carl and Bobby. Lorraine also leaves dear family friend, Gene Hanson, who was always there to help and was a comfort to mom and the family. Gene is our "brother from another mother". Also her "adopted" daughter Michelle Murphy and "adopted" grandson Coso. They were very special to mom and the family and will always remain members of the family.
Much love and appreciation to Hospice for their excellent care of mom during her final months. Huge hugs to Nurse Molly who took care of mom and provided comfort and care to not only mom but to the family as well. You all were a godsend and we thank you so much.
Thank you and much appreciation also goes to Lorraine's caregivers until the end: Michelle, Melissa and Robin. Thank you for the love and care you gave to mom. You are all very special people.
Thank you to Doug and Jewel for remaining true friends with mom and dad for so many years and bringing her laughter and joy just a few weeks before she passed.
Rest easy and rest in peace mom. You deserve it. We will love, honor and miss you every day of our lives.
# # #
The obituary above was submitted by Joy's loved ones. The Lost Coast Outpost runs obituaries of Humboldt County residents at no charge. See guidelines here.