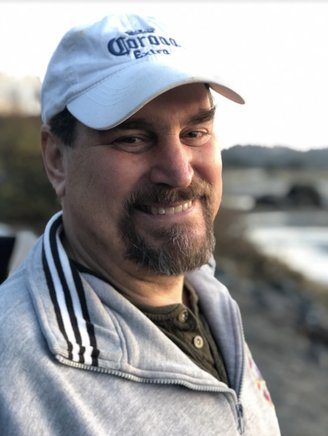 "The nicest most giving guy in the world," Michael Fred Backman, took the "Long Ride" this month. After 11 years, prostate cancer finally caught up to him. He was a young, curious and playful 62.
Michael was born in Chehalis, Washington. His family moved to Arcata. when he was a kid. As a teen, he worked cows, cut grass, and baled hay before and after school. He loved driving a tractor. If he wasn't working, he was under the hood of his latest project; a car, a truck or a motorcycle he had rescued. One of his favorite projects was his 1926 Ford Roadster.
Michael treasured summers on Trinity Lake, camping, and, hunting with his "brothers from another mother"; Keith, Scott, Mark, Craig, and Tim. He was in awe of nature's beauty and while the rest of us could see objects in the clouds, he said he could see them in the shadows of the trees.
Michael regretted having never gone to college; he felt he would have been one heck of an engineering designer and he was right. He considered automobiles, motorcycles, and all sorts of machinery, an art form. He loved the solitude of his shop, his only company, rock 'n' roll, big band music, the blues, and his imagination. If he could imagine it, he could fix, fabricate or build it. His children called him "mom's MacGyver."
The summer after his high school freshman year, he'd saved enough money to stay with his uncle's family in France; this experience changed his view of the world in so many ways. Years later he and his partner went to Europe where he visited one of the largest car collections in the world, one of the highlights of his life.
In 1975, after graduation from Arcata High School, he went to work as a millwright for the Arcata Redwood Company, (Simpson Timber Company/Green Diamond). He worked there for nearly 33 years. He was also the maintenance supervisor at STCO Korbel. In addition to his full time work, his entrepreneurial spirit led him to create; Mike's Overdrive, Pacific Powder Coating with Tim Lorenzo, R&L Distributing with his former wife, (1977), Renee Goddard (Willis) and with his former wife (1993) Deb Forbes, Ancient Oak Ranch, raising alpacas. After moving to Salyer in 1996, he found himself with an 80 mile commute to the mill, but never complained, he seemed to love the drive. He also loved the 1950s cabin retreat on the Trinity River from which he created a magnificent home.
Retiring from the mill in 2008, he went to work as the project manager for the new Willow Creek Ace Hardware store, becoming the store manager when it opened, retiring in the spring of 2018.
He was the most thoughtful, kind, considerate, giving, helpful, resilient person you would ever want to know. He always had time and a great big beautiful smile with a twinkle in his eye for just about everyone he came across. He was very civic minded and was an active volunteer for many organizations.
Michael treasured his children; he loved his role as papa, embracing every moment with his grandchildren. He leaves behind, cherished life partner Lezley Troxell; daughter, Jennifer Lynn Backman Stone, son Joshua Michael Backman; step daughters, Julia Blanc Moulton, (Mick), Renee Blanc Flynn (James), and Zoe Troxell Whitman; grandchildren, Cameron , Invy , Kieran Naya, and Jack; brothers Kenneth and Mark; his "brother from another mother", Keith Forbes, and many aunts, uncles and cousins, too many to name here. He was the loving son of Sally Ann Backman Riker (nee Blum), and the late Axel Olaf Backman.
A celebration of Michael's life is planned for 2 o'clock October 12, 2019 at the Willow Creek VFW, 20 Kimtu Road, followed by a potluck reception. In lieu of flowers please consider donating in Michael's name, to Dream Quest of Willow Creek, https://www.dqwc.org/, PO Box 609 Willow Creek, CA 95573.
# # #
The obituary above was submitted by Michael's loved ones. The Lost Coast Outpost runs obituaries of Humboldt County residents at no charge. See guidelines here.