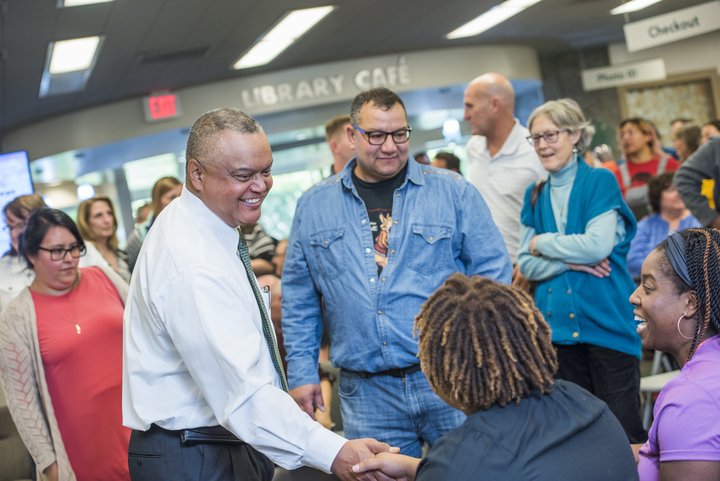 On Thursday Sept. 12, the Outpost sat down with Tom Jackson Jr., the new president of Humboldt State University. Jackson came to HSU from Black Hills State University in South Dakota, where he was the university president at that institution since 2014. Jackson, 59, is no stranger to administrative roles in higher education. He was the vice-president of student affairs at both Texas A&M University-Kingsville and the University of Louisville. He is a veteran, having served in the Army National Guard, the U.S. Coast Guard Reserves as well as the Indiana and Texas State Guards. He has a wife and two children, all of whom are still back in South Dakota.

At times during the interview, Jackson refers directly to the interviewer for his opinion on issues surrounding HSU, so here is a bit of clarity for that. My name is Freddy Brewster and I am still a student at HSU. I am pursuing a degree in journalism and work part-time for the Outpost.
If you like, you can listen to the entire interview here:
HSU President Tom Jackson speaks to the Lost Coast Outpost. Sept. 12, 2019.
What follows is a transcript from our conversation. It has been slightly edited for clarity.
###
Why did you decide to come to HSU? What was it about this place that you decided to move all the way from South Dakota?
I'm originally from Seattle, Washington. And so there are certainly similarities between the Washington Coast and Northern California. So, the idea that this is a very foreign or strange place — it isn't. It was as if I was returning home to a climate that I was very familiar with. But that's about the climate. As far as the university goes, it's a very strong university. As I looked at the strength Humboldt State, I saw all these amazing opportunities,
What were some of the strengths that you honed in on for your decision to come here?
So when we're along the coast, we have these natural things like natural resources and oceanography, that are very unique — not only to the region, but very unique to California. And the way that we approach them are different than the rest of California, because of where we are, along with the fisheries and the research that is tied to oceanography and trees.
I also saw the attribute of education. Now, this may sound odd, but education being our foundational roots as a university, being patented as a teacher's college, to actually help create teachers for this region is also very important to me as someone who has an educational degree. And so when I looked at that opportunity, I realized that this was, at one point in time, the most important thing for us as a university, and somewhere along the way it's found itself in the middle. But from what I could read, the communities — from Crescent City down to Petrolia, maybe even further south than that — are asking the university to help us produce more teachers, so that we can build this workforce and this educated citizenry.
Do you hope to have more students stay in the area once they graduate?
That's not on me. I think that's something that the community would like to have. And I share that with the community. In my role, I can produce graduates as a university — not me, Tom Jackson, but as a university. We bring students into the pipeline, like yourself, and ask you to do all the things you should do. At the end, all that you're rewarded with a degree. You go where the market takes you. We would like to help this area create the market to enable people to stay. But the bigger goal for university is for you to find work. And so I'm happy when you're employed. Let's put it that way. (laughs)
Of course, of course. And so kind of going back to some of the reasons on why you came, you still have family back in the Black Hills, right?
Mm hmm.
So is it hard to be away from your family?
Yeah. Oh, yeah. It's a time in all of our lives in which some of that may have happened anyway. We have a daughter going to college. And we were encouraging her to go anywhere she wanted to go. She looked at a number of different universities and decided that she wanted to stay home and stay at Black Hills State University, which I think is a fantastic university. Who I hear had a really good past president too.
Yeah, I heard he's really good (laughs).
And so I actually believe in that university, and I believe it's a good match for her. Of all the places we looked, that may have been the right choice. And she made it, we didn't.
What year is she there?
A brand-new freshman.
How does she feel about her dad moving out of state?
Oh, she misses her dad, and I miss her. I miss my son — he's working in the community — and miss the wife, who's trying to wrap up some business things. She's been out here and she'll get out here when some of those other projects are wrapped up.
It's got to be kind of hard being away from family and in a new area. You're used to the climate and the region, like you said, but it's got to be hard being away from your family also.
I'll put it this way. It's not the first time we've moved, but it's the first time I've moved without the children. The last few moves, I went ahead with the children and she wrapped up things behind us. And this time, we're both moving ahead and the children are essentially remaining behind, but they're young adults, with their own lives that they're forming. So we'll always be connected.
Do you think your current experience — having family elsewhere and how that kind of pairs up with the students here at this university — do you think you can kind of use your background experience with that, to try to get more student enrollment here? Because I understand that HSU is down in enrollment?
No, I don't (laughs). I empathize with the families having their sons and daughters somewhere else, just like any parent who has a son or daughter go off to the military, or go to another university, or get married and moved away, or something like that. I can empathize with that. I'm not sure there's a strategy to particularly use it.
What is the role of the new incoming president to address the low enrollment here at HSU?
That's probably the question of the hour, and let me reframe it in one subtle way. There are many forces that are influencing enrollment on this campus. The biggest is the decline of high school graduates across the region. And we're the only regional institution in the area that provides four-year degrees. That's the biggest indicator that is marked … don't want to say the word "against," but that has been a challenge for us in such a way.
So is there a decline in regional enrollment here? What I understand is that a lot of students used to come from the LA area and the Bay Area and recruiting there has gone down, thus lowering enrollment here at HSU.
California is growing. So think of it this way: California will always produce individuals who want to come to Humboldt State, but the base is where you are. And when you only pull 15 percent from your county, that ought to tell most of us that we have to get more students from the county.
So are you going to have more focus to recruit students from Humboldt and the regional area to come to HSU?
Yeah, that was in place in the years past, though, as well. If I were to or if you were to ask, let's say, the superintendents that happen to be out there, there's not a single person in the educational sector that wouldn't want more students to pursue higher education either at the College of the Redwoods or Humboldt State or anywhere, for that matter.
But those are also family choices, so as much as we may want that, we need families to say this is where and what they want their sons and daughters to do. And it requires an investment. Pell Grants are fantastic, and they cover the bases for many individuals, they really do in a positive way. But those are still family decisions, and part of our recruiting strategy is encouraging families to pursue higher education, whether it's at a community college or at a four year institution.
With some of those cuts to some of the programs that the community really liked like KHSU, the football program, the Third Street gallery, what are some of the things that you can do as a president to try to regain that balance between the "town and gown" aspect of the university?
You know students didn't come here because of KHSU, or the Third Street, or the football team. They didn't. (laughs)
I believe that and I understand that (laughs). But you'd mentioned that you want to recruit some more people from the local area, and those were some of the programs that the local area cared about. And so what would be the draw to get people from the local area to come here, when some of those beloved programs got cut?
There's not a single 18-year-old who cared about KHSU. I mean you were 18, were you on Instagram or listening to KHSU? (laughs). Yeah, you know what I mean?
Yeah.
And so when I hear that, I actually have this narrative. We have challenges with enrollment that are driven by many things, and while KHSU is very important to the community it wasn't part of what an 18-year-old was listening to. Nor were they reading the paper, per se, as much as we may want them to. They're buried on Instagram and Twitter and with their friends, on what they're going to do through the weekend and stuff. How do I know that? Because I have them (laughs).
And you are basically in the same place. I mean, you have a career in a different way. Now, having said that, I think the other piece to your question was, there are things that our community thought, but it's not shared across the entire region. As someone who came new to this community, how we view those topics are different. Whether you're in Crescent City or Petrolia, Weaverville or even Eureka. Arcata has a particular voice and Eureka is subtly different. And so we're trying to balance all those as we go forward as a university.
Do you feel like the the murder of Josiah Lawson and the Murder Mountain documentary hurt the image of HSU and Humboldt in general, and has that hindered recruiting efforts?
No, no. I actually feel horrible that it occurred and I look forward to when justice is resolved. But I think all in all, as difficult as it is for me to say this, that enrollment is driven by so many other things. And we're essentially saying that something on Netflix impacted Humboldt County. And I watch LA TV shows and Chicago TV shows every day, and it doesn't stop people from moving to LA or Chicago. And so I think our students are more sophisticated than that. They're looking at places they want to go and degrees they want to study. And I'll use you as a subtle example — would you have not come here if you watched Murder Mountain?
I'm not in the demographic that's affected by some of those messages that are in that. And so within that documentary, they talked about people of color being affected. And you know, the NAACP in April 2018 released a statement asking HSU to quit recruiting students of color. And so I guess, is that hard in the recruiting process to kind of overcome some of those messages and images that are out there?
I would say that there are bigger messages and images that impact students of color every single day. What's on Netflix is very viewable. I can walk into Walmart in another place and any particular point in time and I'm not a president, I'm a man of color. There are bigger issues that are out there that are impacting our society.
There are also different narratives that are impacting Humboldt County. In Humboldt County we think sometimes that these are the topics that people are talking about. Outside of Humboldt County, they're not. Now, maybe in a year I might be saying the same things. But these were not topics for me coming into Humboldt County.
What were some of the images and connotations that you had of Humboldt County before you came here? Have you heard of it and its reputation with marijuana before you moved here?
I'll give you another good example of that one, because I've heard marijuana come up more than a few times. Humboldt County, if we go back 40 years, was a bastion of marijuana. But you know, you can get marijuana on any corner at any place in the United States. It doesn't matter how big the town is, or how small the town is. So to our students, or even the parents, who are 30-somethings and 40-somethings, marijuana is not new. This is the fourth-generation coming through the door of the 60s. And so Humboldt County, as a marijuana capital, in some respects is very different to the student body — it's never been part of that conversation.
Back to my point: They could have gotten it anywhere, at any time. And so for us here, we view it as particularly maybe a black eye — but that's a long piece of history long ago. Very long ago. Our students are looking at other things. So if we think our students are coming here or not coming here because of what we used to be, I don't see that way. It's a very different place.
So we have the Humboldt Institute for Interdisciplinary Marijuana Research here. Would you like to see Humboldt take on more of a role in researching marijuana?
Yeah, I've heard that more than a few times and I think there's viability in having that conversation. There are folks who believe that this is a strength of this university, and we should consider it from our research points of view. It's not a bad idea. Something we'll consider.
When it comes to the federal government … or I guess that'd be a conversation to have with the chancellor, right? Or how do you incorporate more marijuana research here on this campus? Or would you be directly speaking with some sort of federal authority that says maybe you shouldn't be doing that?
Institutions across the United States are driven by their faculty. And it will be a faculty conversation on how and what they might want to do in a particular arena. That's where it starts. One hundred percent of the time, it starts with the faculty.
Also, another big issue here in Humboldt County — or what it is known for — is housing, or lack of housing. There's been issues with student housing in the past. What are some of the plans that you have to address some of the student housing needs here?
I think I we have to categorize what we mean by "housing," because I hear that, and you've heard it. But what are we really talking about? Are we talking about a student can't find any place to live? Or are we talking about students across the board can't afford to live in the places we have? And I think it's a combination of both.
We have to answer that question two different ways. If it's a matter of affordability … well, that affect students in every place across the United States, and I think that's a big part of that narrative — finding affordable housing, not only on campus but off the campus. So it is also encouraging students to reduce the cost of that housing and encouraging our landlords to help us create affordable housing in the community.
As the leader of this institution, how would you go about trying to encourage landlords to keep their housing affordable? And how would you encourage affordable housing in the area?
I actually need you to do that. I need you to write stories about how expensive housing is and how it's impacting our economy and our students. I can get students here, but I need individuals like you to talk about what they go through when they get here and the cost that they have to have. Because I can't tell a landlord what to charge. But I can get a student here, and the first place they're going to look is not only campus housing, but some place in the community. So the more that you can talk about it, the better.
The budget here at HSU: We're in a budget deficit. And so as the leader of the institution, how do you plan to combat the budget deficit here, without making further cuts? Or should people expect further cuts to programs and service here?
I'm going to reframe that also, because we use the word "cut" and "deficit" as if they're bad. The way I would describe it is, we have to get what we're earning in alignment with what we're spending, given the amount of students coming through the door. So if we were 10,000 students big, we can spend the equivalent of 10,000 students big. We're not 10,000 students big, but we're spending as if — not we as if we were, but as if we were bigger.
It's the same as if I had a certain income last year, and now I have less this year. I have to adjust my spending. So it doesn't necessarily mean we cut. What it means is we refocus and realign our resources towards those things that are actually growing, or we want to grow. So in a way, it's a very good strategic time as an institution to reflect upon itself and ask, "Where do we really want to put our resources so that we can be innovative, and grow and be more marketable to students that happened to be out there and wanting to come to this campus?" It's a good conversation to have.
And when we drop in students it forces a campus to have those kinds of conversations. The flip side is when you're growing, like Cal State LA, or San Diego State or other campuses, you have to have that same conversation, because now you don't have enough resources to accommodate all the students coming through. So you have to put them into a place that will fulfill the needs and the mission on that particular campus at that particular time.
Do you think that the CSU system should also help with smaller schools? Because I understand some of those institutions in Southern California are very overenrolled. Do you feel like the CSU system should help to spread out where students should go?
No, why would we do that? (laughs). No, we wouldn't do that. That would be like me saying to you "get on the bus and go to another university." That has forced education written all over it. That's just not the American way. It's just not how higher education is set up. We're basically saying the families choose the institution you want to go to where you can, and where there's availability. Yeah, to tinker with that would be very poor move on anyone's part.
So some of those institutions that are overenrolled — obviously, they're bringing in more money than HSU is. Do you feel like the CSU system should understand that smaller institutions aren't going to be able to operate in the black all the time? With these bigger institutions, do you think the funds should be delegated in a way that understands more rural institutions are going to need more money than they can make?
That's an interesting question, because it basically is shoving off our responsibility to somebody else. What I mean by that is: We have a responsibility to this community to operate our university efficiently. And when we don't, we're asking someone else to subsidize us. It would be no different than you saying — well, I want to get paid for stories I haven't written. And that is not what we do. We have a responsibility to make the books whole and to use the resources that the public has provided to us in a very efficient way. It's the public good in what we do, and so I don't see any other way around that.
A couple of fun questions. What are your favorite restaurants you've visited around town so far?
Oh, what's the hamburger place? Roman's? Is it Roman's? The food truck?
Oh, yeah. Yeah, Roman's. Over by the dispensary (Heart of Humboldt in Arcata on I Street).
Oh yeah, that's my favorite.
How do you like to spend your time? I read that you like you like horses and flying airplanes and stuff like that. Have you visited very many of the beaches?
I've tried to get around to all of them up and down the coast so far. And this weekend, I'm fly fishing for the first time. I took a class to learn how to fly fish.
Oh nice, where are you going?
I'm told it's a secret.
Told it's a secret? (laughs) Nice! So, North Humboldt? South Humboldt?
I can't say! It's a secret place that they don't want anyone else to know, because they don't want everyone else fishing there (laughs).
Yeah. Makes sense, makes sense.
And you can quote that (laughs).
How long do you plan on staying here at HSU?
Until I'm run out of town (laughs).
What does that mean? (laughs)
I'm saying that jokingly. Presidents have a wonderful responsibility and role in a university setting. And we get to influence the minds of many, many students who will go off and do really wonderful things. But there's a lot of work, and there's a lot of dynamics that go into that. So we try to do the best we can given, what we're given at that point in time, until such time new leadership is needed. We don't get to decide when that is. We just try to do the best we can every single day. And I think one of the slides that I gave during a different speech was "I wake up every day realizing the gift that I've been given to not only lead a university, but to help influence people to earn a degree," and I'll continue to do that.
As the new incoming president, what do you feel like your role is to the student body? [And] also to the community?
Well, there's the faculty in there as well.
Yes.
There's many, many ways to answer that question and I'm going to answer it this way. I get to be a university president today. And there are many groups that look to a university president for different things. The faculty guides the students inside the classroom, the staff influence what happens inside the classroom and outside, and our student body wants to have access to their president as well, along with all the other folks they see in leadership roles.
The community and communities vary depending upon where they happen to be. And I come back to: What Arcata may want and what Eureka may want are very different, but Arcata gets the institution, because of its location, and Eureka wants more from the university, because it's just a few miles away. So my intention is to try and spread myself out as often and as far as I can, so that there are some connecting points between the President and the different communities. So that they realize they have some access — maybe not the best in all circles, but they have some access — where they know that this community is still thinking about them. And that would apply to anybody.