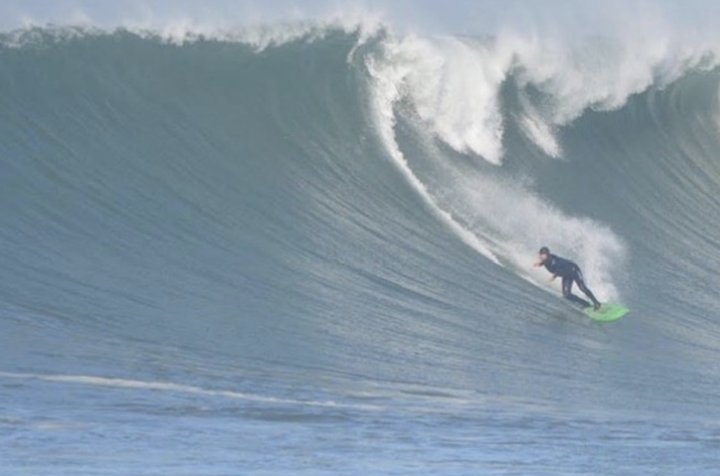 The Humboldt surf world is mourning the untimely loss of Dave Hargrave — a long-admired presence in local waters known to many as "Big Wave Dave" — who died yesterday while surfing near the North Jetty.

Friends have established a GoFundMe page to raise funds for Hargrave's memorial and cremation expenses. They have already exceeded their initial goal.
News travels fast in the surf community. Within hours of Hargrave's death a crowd gathered at the North Jetty to honor their fallen friend. Delia Bense-Kang, Northern California Campaign Coordinator with Surfrider Foundation, attended the impromptu sunset memorial and said Hargrave was "like an uncle or father to all of us."

"You always felt safe when [Dave] was around," Bense-Kang wrote on Facebook. "Late 60s and still charging harder than anyone, always posted up in a lawn chair on the dunes with a smile on his face. I think last night was just what he would have wanted. The whole family hanging out, talking story, and surfing. It was a beautiful sunset and everyone got a wave for Dave."
Benjamin Rose was one of the surfers who valiantly attempted to revive Hargrave after discovering him unconscious in the water. Rose said he's known "Big Wave Dave" since around the time he moved to Humboldt back in 2007 and that his passing is a major loss to locals.
"He's kinda been a pillar of the surf community out here and a really beloved character," Rose said. "We all loved him a lot."
"He's a great surfer. We don't call him 'Big Wave Dave' for nothing," said Jim Merryfield, another one of the surfers who spent time providing life-saving efforts to Hargrave.
Merryfield had just arrived at the North Jetty for a surf Monday afternoon and was still in his clothes when he saw other surfers attending to Hargrave out in the water. Thinking quickly, Merryfield first called 9-1-1 before changing into his wetsuit. He then ran halfway down the jetty, jumped into the water and swam out to join the others in rotation either providing Hargrave CPR or steadying him on his surfboard. Merryfield estimates they were in the water for about half an hour before the Coast Guard arrived and transported Hargrave back to the station to a waiting ambulance.
Despite the role he played in connecting Hargrave to emergency services, Merryfield downplayed his efforts.
"We're not the fucking heroes, dude," Merryfield said.
(AUDIO) Jim Merryfield at the North Jetty
[After exiting the water at the North Jetty Monday, Merryfield spoke to reporters at the scene. Hear his account above.]
According the organizer of Big Wave Dave's GoFundMe page, there is talk of holding a memorial paddle out in a few weeks. The Outpost will update this post when we know more.