Dylon Liakos was trying to be a knight in shining armor when he went to Brian John Leiteritz's house in McKinleyville to retrieve property belonging to Leiteritz's former girlfriend, a prosecution witness testified Monday.
Terance Ford, who drove Liakos to Leiteritz's McKinleyville home the night of Aug. 10, said Lieteritz's ex-girlfriend Alicia Rose asked him to take Liakos to the Boss Road residence. He did, and the 30-year-old Liakos ended up dead.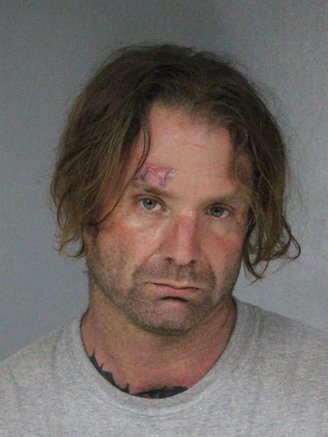 Leiteritz's attorney Michael Robinson says Leiteritz stabbed Liakos in self-defense during a home-invasion robbery set up by Rose. Leiteritz is accused of murder with personal use of a knife and has been in custody since the night of the fatal incident.
The preliminary hearing started Monday afternoon with an arrest warrant being issued for Rose, a no-show prosecution witness, then proceeded to testimony from Ford. He yelled, rambled, pounded on the witness stand and spent much of his time back-tracking, side-tracking and contradicting himself.
One example of a question that required a short answer: "(Liakos) fell on the sidewalk, I think face-first or something. I don't know. I wasn't watching … I never seen him fall to the ground."
Ford went back and forth between calling Leiteritz "Brian" and "the man in the driveway." After the stabbing he talked to either Brian or the man in the driveway, asking him "What the hell happened" and "What's going on."
He said he received no answer.
Ford said he met up with Rose, his girlfriend from long ago, earlier that day. She introduced him to her friend Liakos.
"She told me he was kind of goofy but I thought he was a pretty cool dude," Ford said under questioning by Deputy District Attorney Steven Steward.
In later testimony, Ford said Liakos seemed infatuated with Rose and she was bossing him around. Ford thought Rose was taking advantage of Liakos, using him. He didn't think Rose was interested in a relationship with Liakos, "at least not out in the open."
But Liakos "wanted to be her knight in shining armor, Prince Charming."
Leiteritz and Rose had a long history of domestic problems, with Leiteritz applying more than once for a restraining order. He finally got one signed, but by then he was in jail and charged with murder.
Ford testified that he, Rose and Liakos went to Leiteritz's house earlier in the evening. At Rose's instruction, Ford parked his car in front of the house, where they could be seen on the home's security camera. Ford thinks Rose knocked on the door, maybe looked in a window, and got no response.
About 20 minutes later, outside Denny's in McKinleyville, Rose asked Ford to take Liakos back to Leiteritz's place. Ford said he didn't know why, but he assumed it was to try to get Rose's property from the house.
This time Ford parked about five houses down from Leiteritz's residence. He had no clear explanation why.
He sat in his Audi and Liakos got out of the car. After some time Ford got out of his vehicle to get a jacket from the back. He heard "some kind of scuffle" up the street.
Ford said he walked up and saw Liakos walking in the driveway. He was gasping for breath. He asked Leiteritz (or the man in the driveway) what happened, then went to check on Liakos. He wasn't gasping anymore. Ford said he called 911, asked for an ambulance and waited until it arrived
Then he went back to Denny's and told Rose her "little friend" was on his way to the hospital.
During cross examination by Robinson, Ford denied he accused Leiteritz after the stabbing of being a "cop caller." He also denied telling Leiteritz he had a gun and "I'm going to take you out."
"Ha ha, that's a good one," Ford said, continuing to chuckle. He said he's never owned a firearm.
Ford also told Robinson he wasn't the man videotaped turning off the power to Leiteritz's home before the fatal incident.
Several friends or family members of Liakos were in the courtroom yesterday, as were supporters of Leiteritz. Two wore T-shirts reading "Free Brian."
The preliminary hearing is expected to continue Tuesday before visiting Judge Marilyn Miles.
###
PREVIOUSLY: