UPDATE, 9/17: Memorial Fund Established For 'Big Wave' Dave Hargrave, Surfer Who Died at North Jetty Yesterday
###
UPDATE, 3:16 p.m.: Some of the surfers at the scene who had participated in the rescue tell a foreboding story. They say that they believe the surfer was knocked on the head by his board. They performed mouth-to-mouth resuscitation and chest compressions on the man for about half an hour, they said, but estimate that he was face-down in the water for several minutes.
"We tried the best we could," said one.
###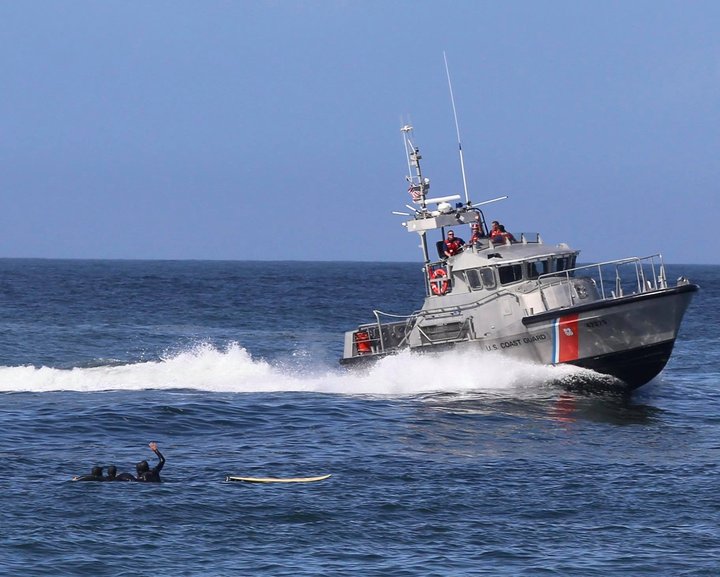 ###
UPDATE, 3:05 p.m.: Humboldt Bay Fire's Chris Emmons tells the Outpost's Andrew Goff at the scene that good Samaritans were the first to reach the disabled surfer this afternoon; a HBF rescue swimmer was able to get to that spot in the water from the shore just as the Coast Guard arrived.
###
At 2:15 p.m. today, Humboldt Bay Fire dispatchers received report of a surfer attempting to tow in another surfer who had apparently lost consciousness in the water near the North Jetty.
According to scanner traffic, numerous agencies were dispatched to the site, including Humboldt Bay Fire, Samoa Fire, City Ambulance and the Coast Guard. For several minutes conflicting reports came in — that the surfers had made it out of the water, that they had not.
Paramedics arrived and found the scene, just north of the jetty. Fellow surfers were spotted doing chest compressions on the disabled surfer in the water. Finally the surfer was picked up by a Coast Guard boat, which is transporting him or her to the Coast Guard station.
There's no word on the surfer's condition at this time. We'll update when we know more.