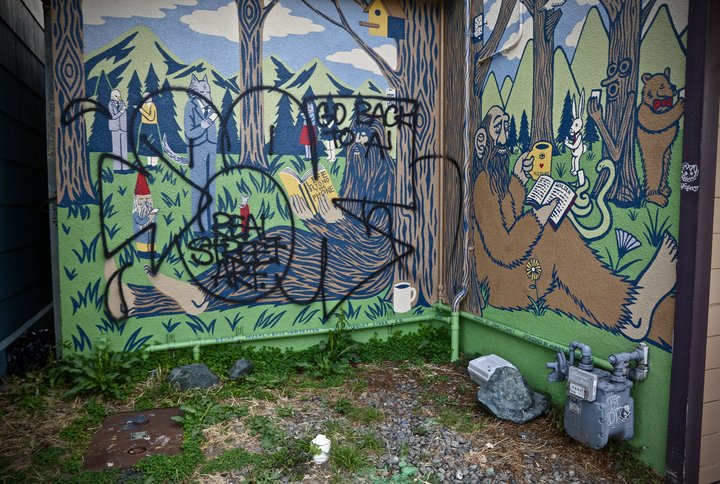 Sometime in the last few days someone sprayed some lines over a peaceful, lounging Bigfoot featured in one of the recently completed Eureka Street Art Festival murals located on F Street next to the Redwood Art Association.
"Go Back to LA," the as-yet unidentified tagger demands — a sentiment, one would assume, directed at the now-defaced mural's artist, Dave Van Patten of Long Beach.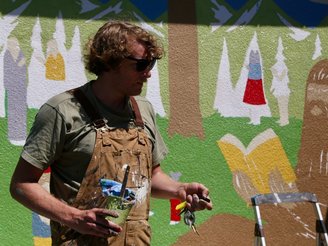 Van Patten, for his part, has participated in both editions of the Eureka Street Art Festival. In addition to his RAA piece, his work can be seen adorning various local businesses including The Shanty and The Local Cider Bar.
Eureka Street Art Festival organizer Jenna Catsos told the Outpost that she and her fellow organizers are obviously upset that someone would disrespect the hard work Van Patten put into his mural. But she added that her team is already in contact with the artist and the property owner to rectify the situation. Despite this unfortunate incident, Catsos still believes in the murals she helped bring to Eureka.
"The addition of public art generally inspires increased respect for public spaces and mitigates the instances of graffiti," Catsos said. "We saw a significant drop in the amount of graffiti on walls that were painted in last year's festival, and we expect that will be the case with this year's murals as well. We hope and expect this is just a stand-alone incident."
The Eureka Police Department told the Outpost that the act of vandalism was first reported to them on Saturday afternoon. A nearby business offered to provide the department with surveillance images.