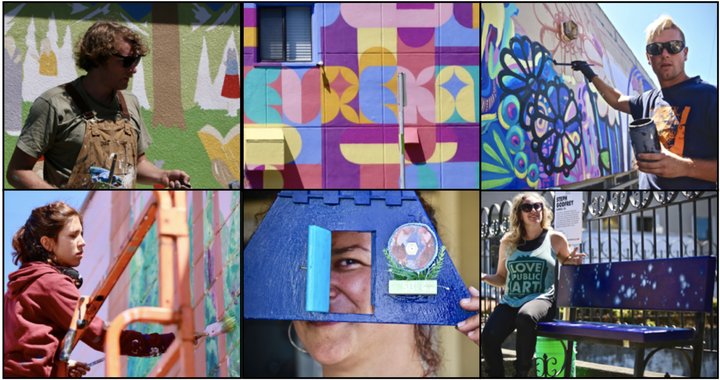 Hopefully you've already had your retinas manipulated by some of the new colors applied to Sixth Street this week courtesy the artists participating in the second annual Eureka Street Art Festival. Maybe you're one of the hundreds of people who took advantage of the daily afternoon art walks and were granted some face time with this year's class of muralists. What did we learn? Art is good. Thank you, art.
If you're reading this and thinking, "Wait, what?" don't you fear, now. You haven't missed this thing. Just note that ESAF 2019 culminates Saturday with a big ol' block party on Sixth Street between C and H streets from noon to 6 p.m. For your trek you will be rewarded with live music, food, a "huge beer garden," and, of course, fresh street art for you to critique. (Looking your direction, Thunderdomers. Time for some different air.)
Your Lost Coast Outpost made a few trips down Eureka's improved corridor this week to check on the paint drying progress and was lucky enough to, at least, glimpse all 20 of this year's wall reinvisionaries at work. Hey, some of them even talked to us. Thus, we offer up a brief 2019 ESAF artist yearbook of sorts, below.
# # #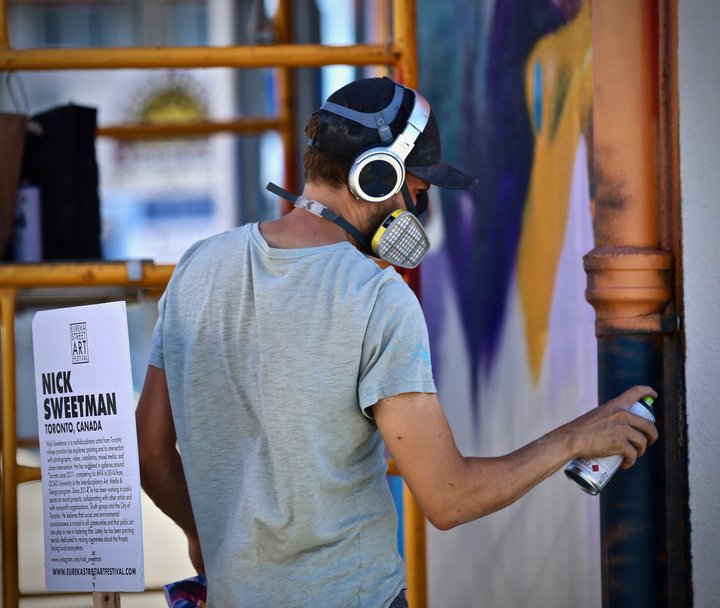 For someone from another country, Nick sure impressed LoCO with his grasp of local wildlife and history. And he put that knowledge to use in his bright mural on the side of Eureka Stove & Fireside Shop which features Tuluwat Island and numerous familiar fowl. Nick explains further in the clip below.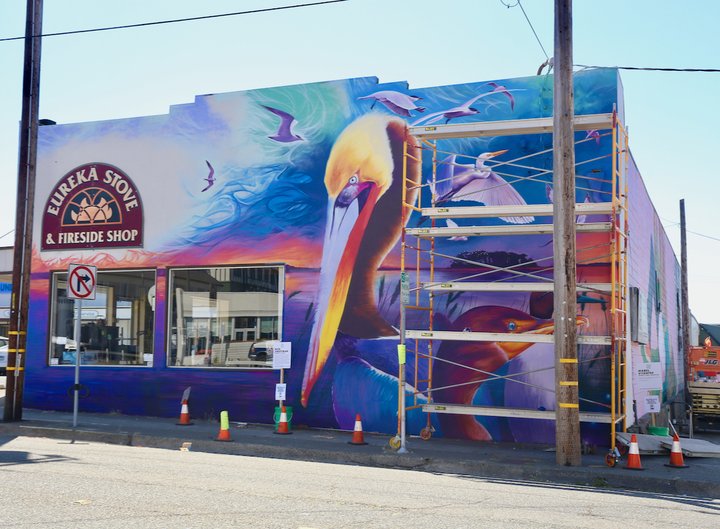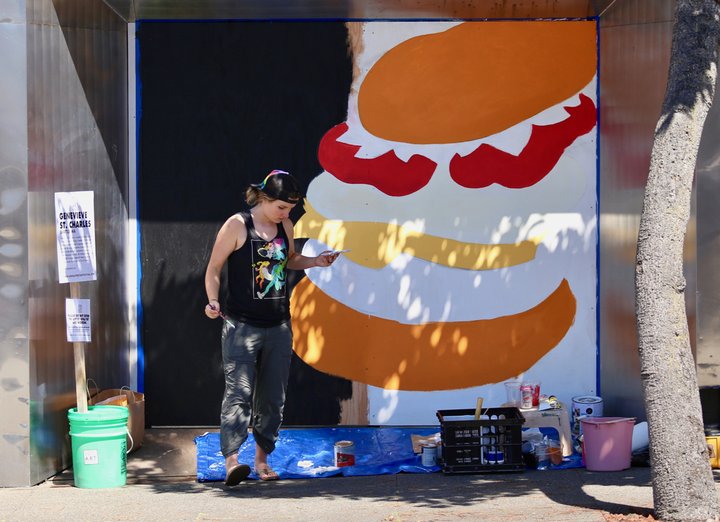 Some deliciousness from a former Humboldter. Genevieve's mural outside Sixth and E Neighborhood Eatery is actually the second mega-burger she's cooked up for Eureka — her first meal adorns one of Eureka's many utility boxes.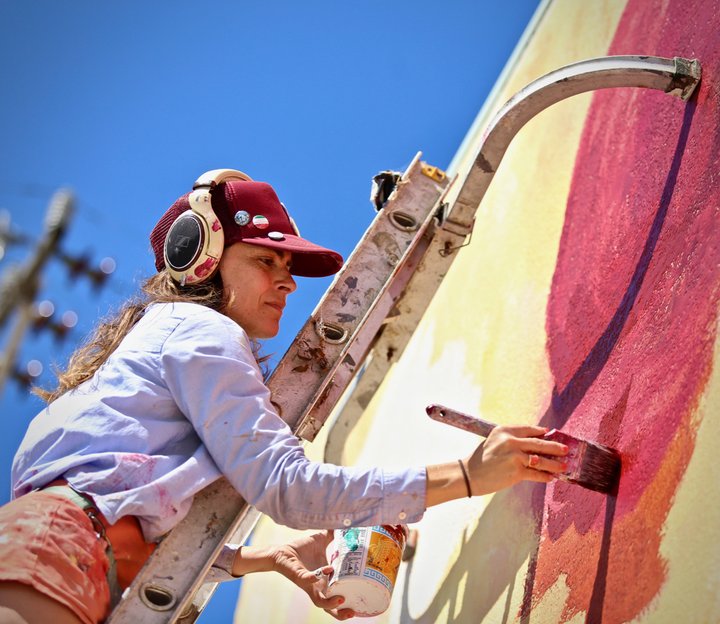 Now in her second straight year as an ESAF featured muralist, Anna says she's grateful we have such a great showcase for local artists. "I think it's making people in the community so much more aware of the artists in the community," she told us. Learn more about Anna's artistic process in the clip below.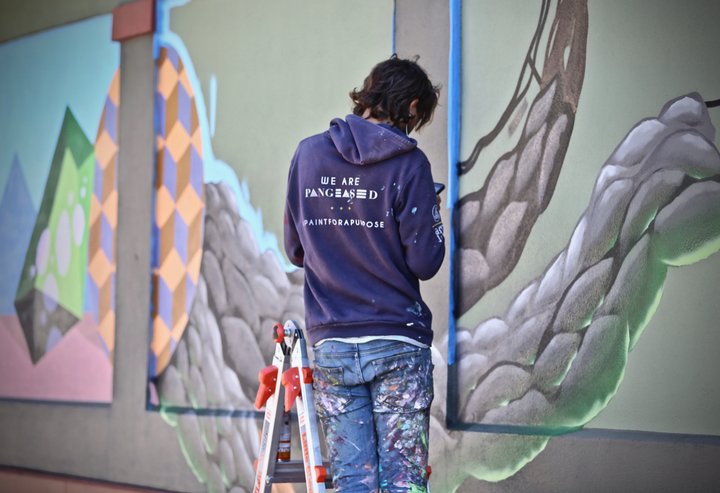 A sign next to Jerry Rugg AKA birdO's work space on the wall outside Paul's Live From New York Pizza kindly asked admirers to not take photos of the artist's face. So the internet will need to settle for his back (but the gorilla mug from his piece, below, is fair game).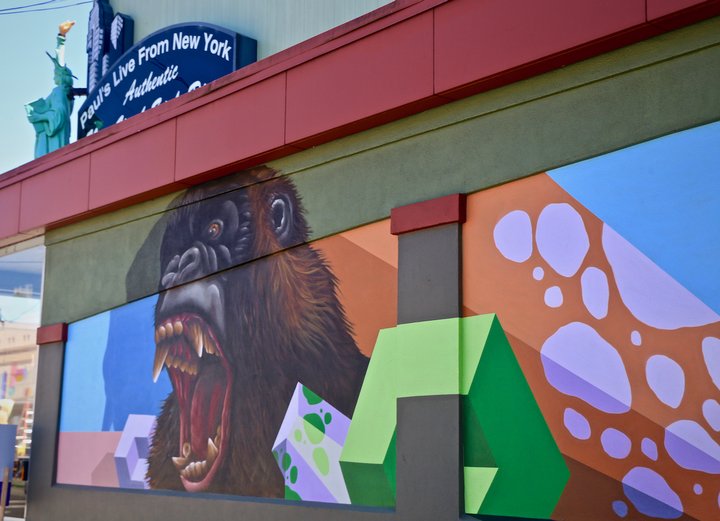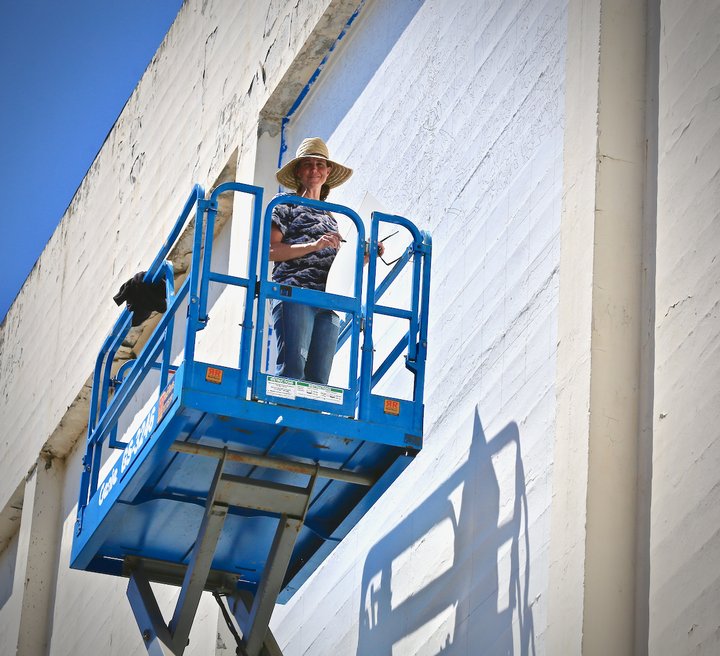 If you're going to attempt your first mural, why not go big? Lynn — who also owns Just My Type Letterpress in Old Town — is tackling the tallest mural of the fest, a two-tone redwood forest scene which will henceforth adorn the courtyard-facing wall behind the Morris Graves Museum. In the clip below Lynn kindly invites LoCO onto her shaky lift.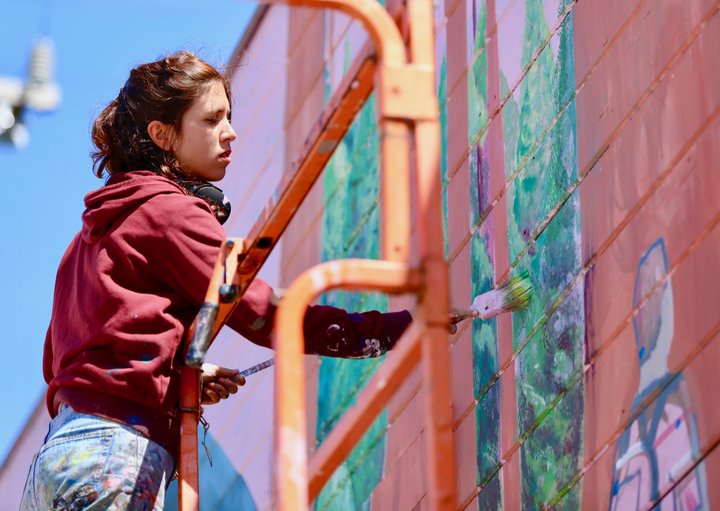 Who would've thunk the Picky Picky Picky parking lot would ever be a dreamy space to occupy? Mabel did that.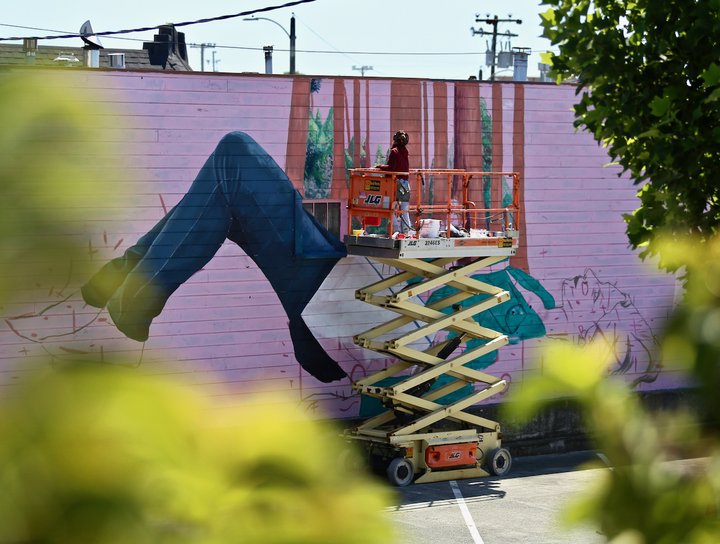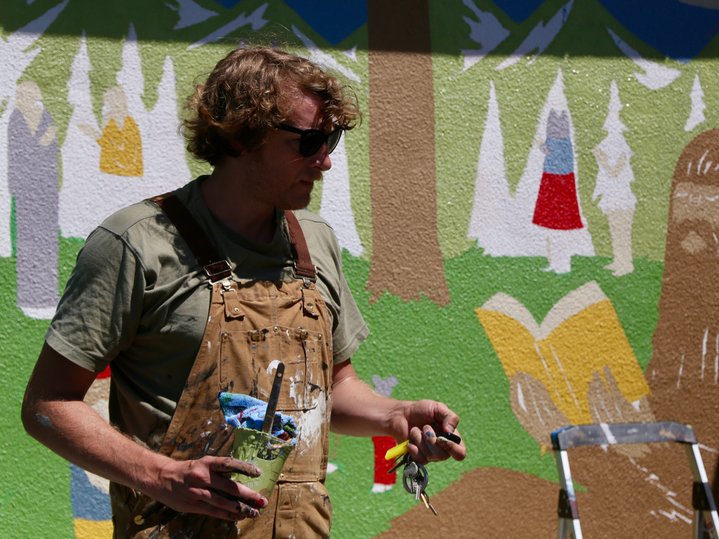 Another returning artist, you may already be familiar with Dave's designs from his work with Humboldt Cider Co. and/or the outer wall of The Shanty. This year he's giving you a reason to pause and notice a weird little alcove behind A&J Ichiban Japanese Restaurant.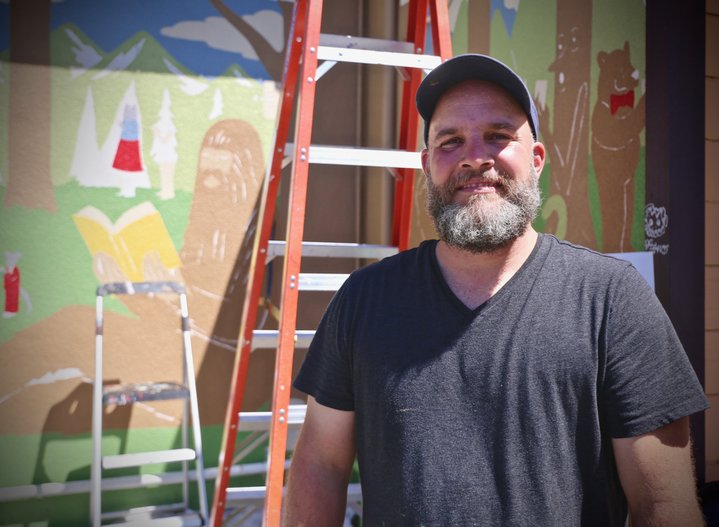 JAMES CAREY

Huntington Beach, California


Two-timer! James was pulling double duty during the week of the fest. He's collaborating with Dave on a mural while also laboring to beautify a bench on G Street. Work.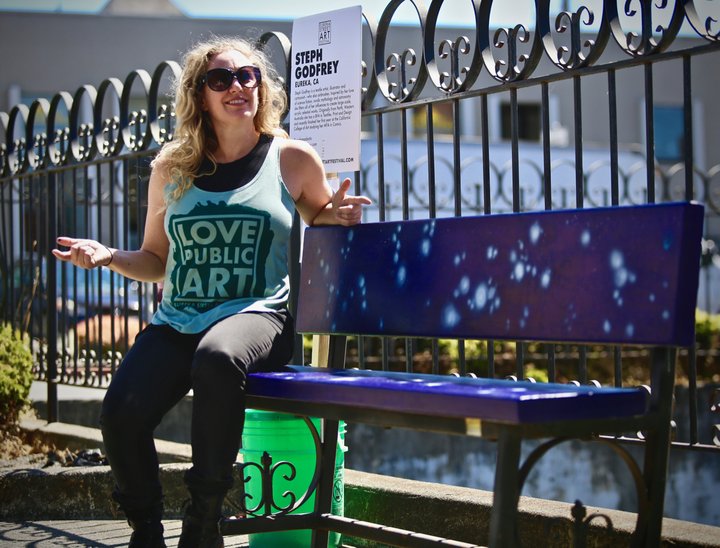 Speaking of benches… don't think for a second that those are just random stars on Steph's bench canvas. No, no, no. That would be too easy. Allow Steph to blow your mind in the clip below.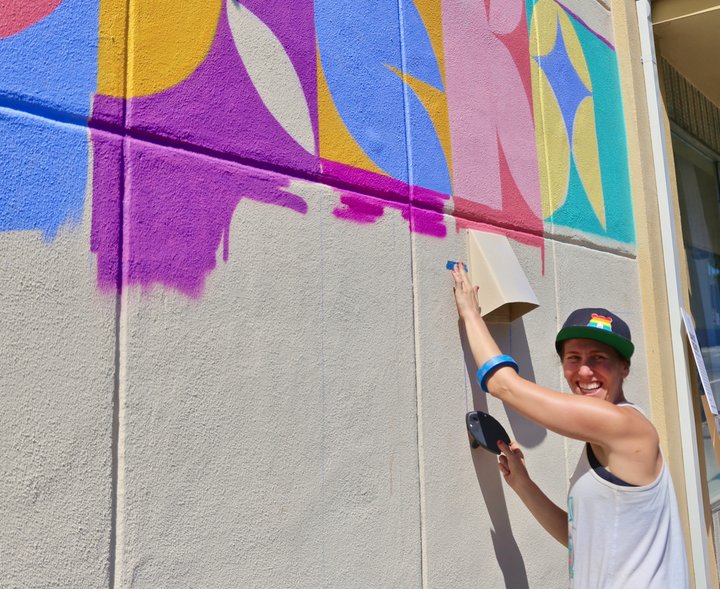 Who wants candy? Let's assume at least a few more people will thanks to Bareket's sweet piece on the wall outside Partrick's Candy on F Street. Learn a bit more about how Bareket ended up in Eureka in the clip below.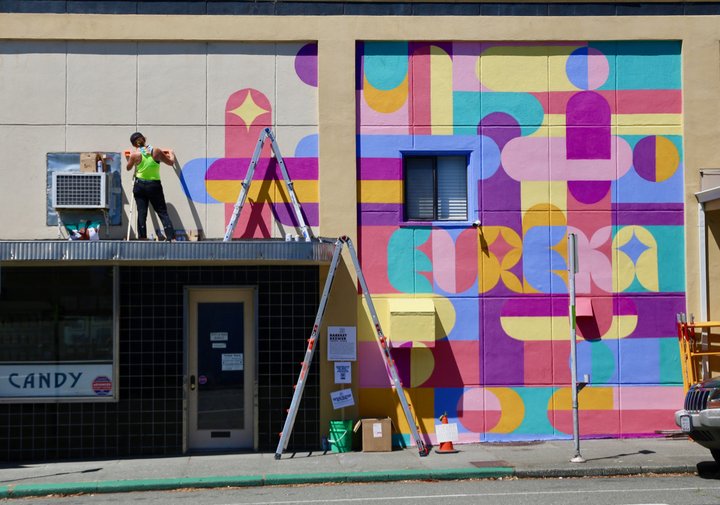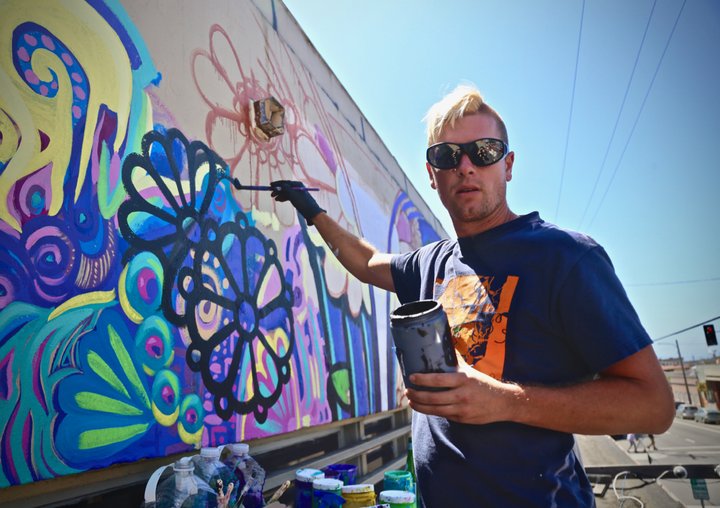 He's up! After jazzing up The Speakeasy during last year's fest, Blake set out this year to somehow make Stuff 'n' Things even more psychedelic. Anything's possible with paint. E-hang out with Blake on a roof in the clip below.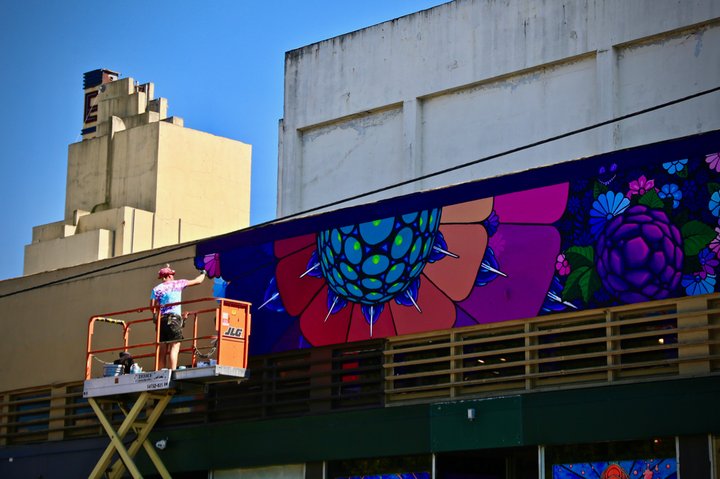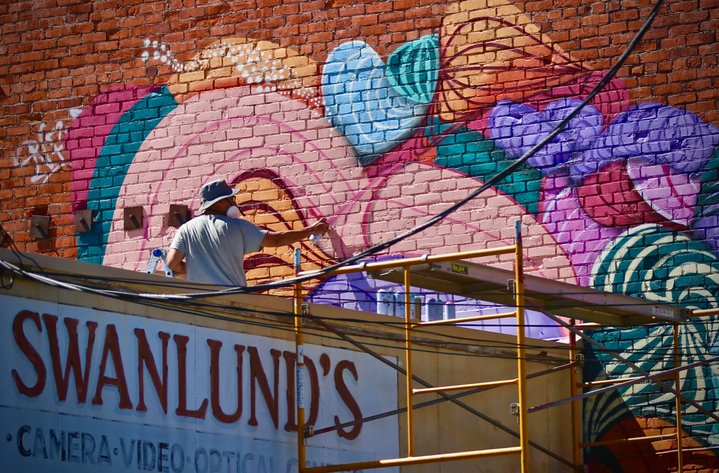 This mural moves like a knight in chess. As for Gabriel, he "draw[s] inspiration from pre-Hispanic concepts and other indigenous and spiritual traditions of his northern Mexican lineage." He's also a little camera shy.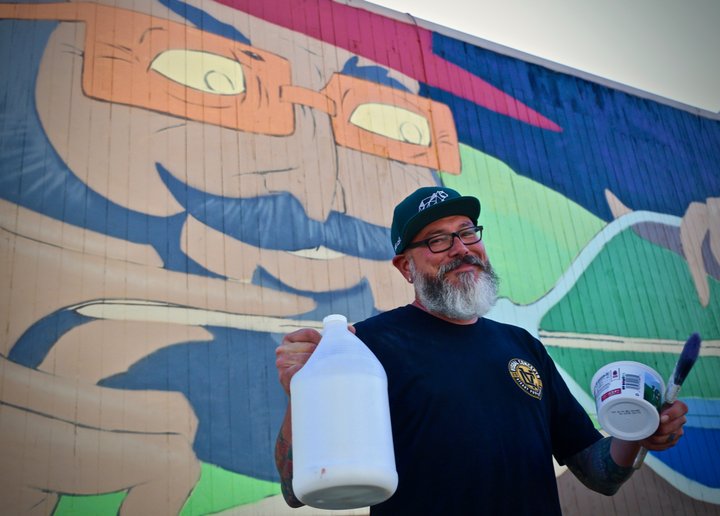 For nearly a decade Sonny's cartoon-ish characters graced the covers of 101 editions of Savage Henry Independent Times. This mural is bigger. Physically, at least.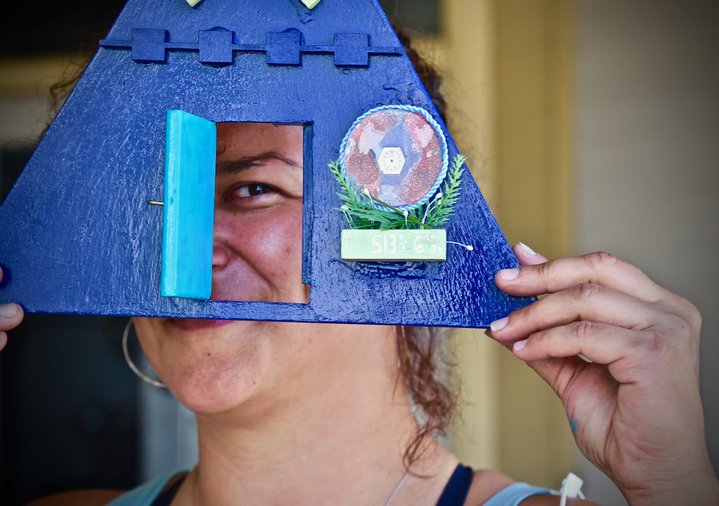 As you're walking up and down Sixth Street gawking at big art, be sure to cast your gaze downward on occasion for a potential bonus bite. If the universe favors you, you might just glimpse one of Tibora's mice-sized #TinyDoorsHumboldt displays. Learn more via this LoCO piece published earlier this week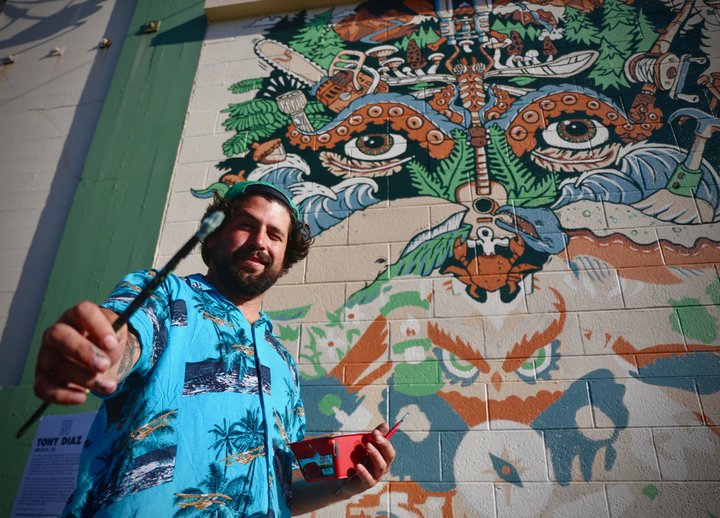 A prolific local graphic artist, Tony's work can be found at Kayak Zak's, Blondies Food + Drink, The Local Cider Bar and The Neighborhood Surf Shop. Oh, and as of this week, a Sixth Street-facing wall of Picky Picky Picky.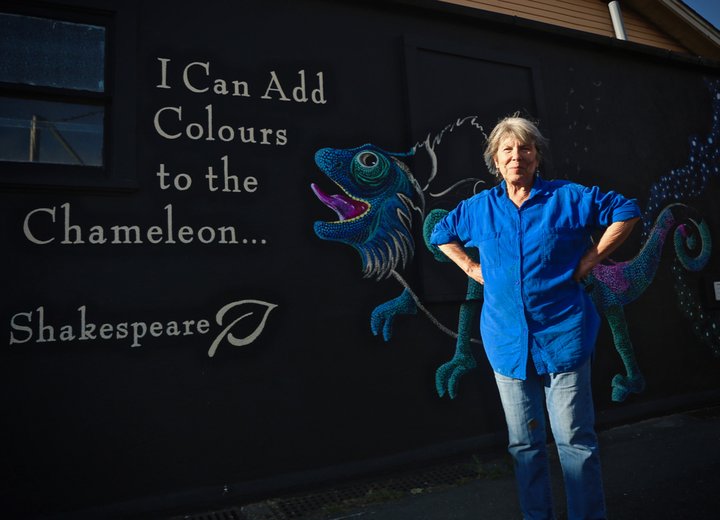 The stretch of wall behind North Coast Repertory Theatre where Diana painted this chameleon is where the actors often gather for a breath of fresh air between scenes and at intermission. Actors are kind of like chameleons, see? And Shakespeare was kind enough to tie it all together. Thanks, Bill!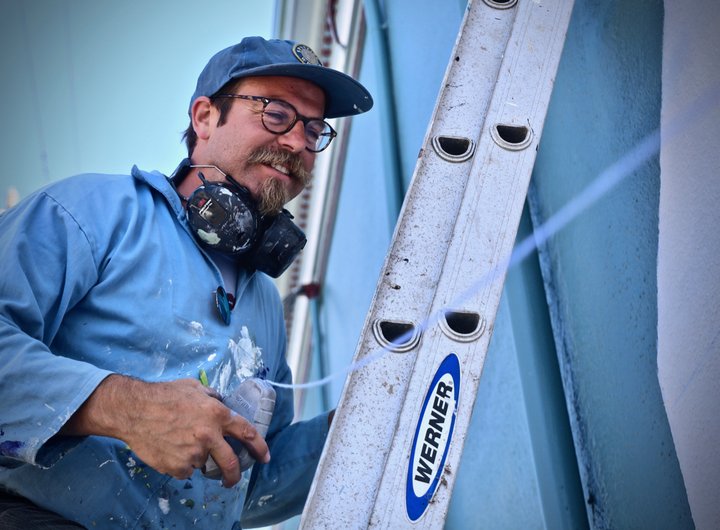 Well, it's not going to be done by the end of the fest, but Lucas is framing up his next ambitious piece which will soon grace the Sixth Street wall of the Redwood Art Association building. LoCO regulars will likely recall last year when Lucas completed arguably Humboldt's largest mural in Arcata.
# # #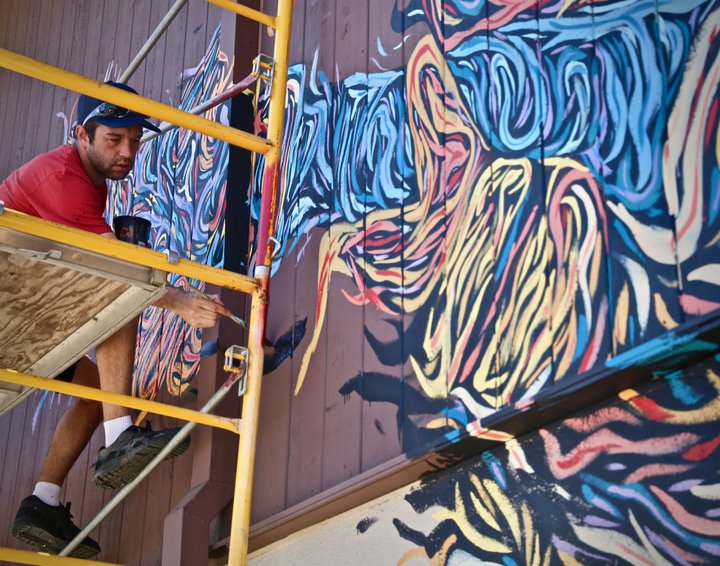 Humboldt Bay Fire scored big and, thanks to Eric, their station now features a unique "squiggly" fireman. Learn more about the artist in question in this LoCO piece from earlier this week.
# # #