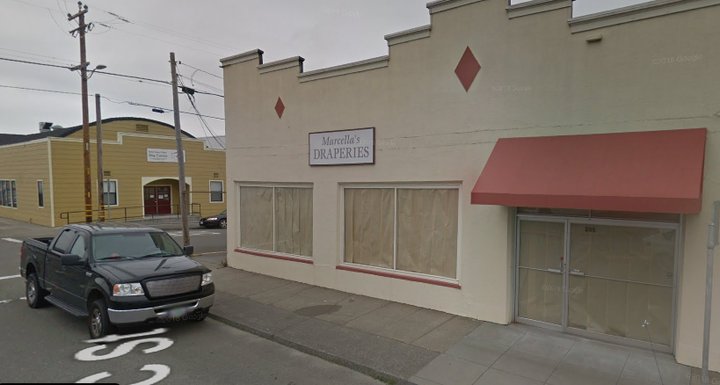 ###
Amid the COVID-19 emergency, the Eureka City Council is taking steps to help shelter the city's homeless population. On Tuesday the council will vote on a resolution which would amend Eureka's 2016 Shelter Crisis Declaration, authorizing the Betty Kwann Chinn Foundation to operate an emergency homeless shelter out of a vacant commercial building on Seventh and C Streets.

The building — which was most recently used for a cannabis laboratory and was previously Marcella's Draperies — would be used to house approximately 20 homeless individuals. Betty Chinn told the Outpost that the space is ideal for a shelter because it is large and is very conveniently located right across the street from the Betty Chinn Day Center.
"My neighbor asked me if I want it," Chinn said in a phone interview today. "So I talked to the city. I'm looking for people to partner with me because it costs money."

According to the city staff report, the City of Eureka would lease the property on Chinn's behalf for an amount "not to exceed $15,000." The emergency shelter declaration also allows the city to waive building, health and safety codes to permit sheltering people in the commercial building, the report states.

The shelter would primarily be used to house families and would include other support services, including food. Chinn said that with the shelter so close to the day center, it would be easy for staff to deliver meals to the people staying there.

With the COVID-19 emergency and shelter-in-place orders causing people to lose their jobs, Chinn said she sees and increase in the need for the foundation's services.

"A lot of families live in their car[s]," Chinn said. "It's really hard for people out there. Who knows how long this virus will go on. I want to help any way I can."

The Eureka City Council will discuss this and other important issues via a teleconference meeting on Tuesday, April 21 at 6 p.m. You can view the meeting live on the City Of Eureka's website.
Public comments can be emailed to cityclerk@ci.eureka.ca.gov by 5 p.m. on Tuesday and will be presented to the council by the City Clerk. You can view the full agenda here.