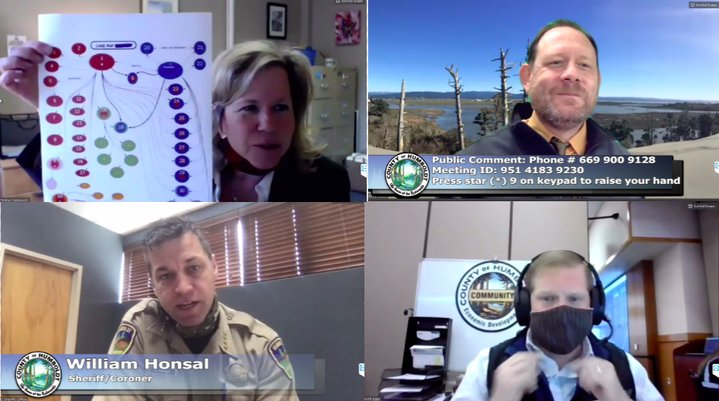 # # #
The Humboldt County Board of Supervisors held their second-ever virtual meeting on Tuesday, with board members and other county personnel participating via Zoom videoconferencing. The agenda, as you might expect, was packed with items related to the ongoing coronavirus pandemic, including modifications to a local business loan program and an eviction moratorium designed to protect tenants struggling with financial losses caused by the virus.
The meeting began with updates from a panel of county officials on local conditions surrounding COVID-19. Dr. Teresa Frankovich, whose face has become familiar over the past couple of months, touted the arrival of a new testing facility provided by the state.
"I think we're the first in the state to open [such a facility]," Frankovich said. It's currently being used to screen some of the highest-risk folks in the community, including health care workers and skilled nursing staff, while also providing surveillance testing for people in high-risk categories who might feel ill.
The facility has increased the county's testing capabilities to roughly 100 per day, but Frankovich said that's still not enough. "We're calculating we need to screen about 200 people a day to have a really good sense of the burden of disease in our community," she said.
Citing recent statements from Governor Gavin Newsom, Frankovich warned that the local community, along with the rest of the state, will likely be dealing with COVID-19 for the next two years at least — though she said restrictions like the shelter-in-place orders will be eased over time.
First District Supervisor Rex Bohn said such comments are alarming. "You're literally freaking out the masses over here," he told her.
Frankovich explained that the governor has said California is "weeks, not months away" from making meaningful changes in current restrictions. He has outlined a four-phase plan for ending the shutdown: We're currently in phase one, establishing economic safety nets and implementing health safety measures such as social distancing and face coverings. Phase two will allow certain lower-risk businesses, and possibly some school campuses, to reopen. Phase three will allow more businesses to open, and phase four will effectively serve as a green light to return to life as it used to be, including large public gatherings.
Board Chair and Second District Supervisor Estelle Fennell said of the pandemic, "It's thrown our whole world for a loop, and it has required huge sacrifices from everybody."
Sheriff William Honsal said phased reopening of businesses can probably happen a bit differently here than in more urban parts of the state, with decisions based on the relative level of risk rather than determinations of "essential" versus "non-essential." He also spoke to the frustration many people are experiencing.
"I just want to recognize that there's a lot of fear in our county and in our state and our country," he said, "and with fear, a lot of people turn that to anger." Honsal asked people to understand that there are state and federal rules in place preventing Humboldt from loosening restrictions unilaterally. But county staff has sent surveys to leaders of local cities, and the board may issue them to the public, asking for advice about how to implement a phased reopening.
"Believe me, we all are looking forward to this next phase," he said.
Frankovich also highlighted the 100-bed alternative care site provided by the state, saying the county has been working with health care partners to figure out how the facility will be used to serve patients who need a lower level of care but aren't yet ready to go home.
Even as restrictions get lifted, local health officials will still be asking the most vulnerable to stay out of the social sector as much as possible, Frankovich said. When will they be able to fully rejoin society? "Either when we have darn good therapeutics or a vaccine," she said.
Scott Adair, the county's director of economic development, ran through some of the latest numbers from the ongoing survey of local business owners. reiterating that COVID-19 is an economic crisis as well as a health crisis. Business owners have self-reported nearly $30 million in economic losses and 2,130 job losses.
At one point during the COVID updates, Bohn remarked testily, "Our messaging really sucks, because a lot of people are not hearing it." He later backpedaled a bit, praising the county's Joint Information Center on its work but saying not enough people are getting the information, at least judging by the volume of ill-informed phone calls and texts he receives.
Fennell suggested that it's not so much a matter of insufficient messaging from the county. "There's just a lot [of messaging] out there that's frankly political that people are hearing," and some people currently have a lot of time on their hands, she said.
Responding to a question from the public about antibody testing, Frankovich said there are "a lot of schlocky tests" on the market that can produce false positives, and even with reliable testing, health experts still don't know whether people who have produced antibodies for COVID-19 are immune from the disease, or if so, for how long.
The county's public health director, Michelle Stephens, said she sympathizes with the fears and struggles of small business owners. "This is a pandemic," she said. "This is what one does to a community." Yes, restrictions are hurting people economically. "We also have a virus that's killing people and could really overwhelm our rural community very easily," she said. And she said people should be prepared for a long journey. "I hope people understand, our normal is going to look different," she said, explaining that we can expect to be wearing facial coverings for months.
Fennell agreed that the virus should be treated seriously, and she mentioned that a young member of her family who lives in Europe was "very, very badly infected" by COVID-19, though he's doing okay now.
Third District Supervisor Mike Wilson said business owners aren't the only ones worried, and not everyone is clamoring to loosen restrictions. "I get plenty of constituents worried about opening up," he said. "We should be recognizing them, too."
# # #
In other business, the board approved a list of measures aimed at helping local business owners quickly secure business loans through the Headwaters Fund.
Kenny Spain, executive director of the Headwaters Fund's board of directors, asked the Board of Supervisors to beef up his organization's revolving loan fund by streamlining the approval process and increasing the money available to its two funding partner agencies — the Arcata Economic Development Corporation (AEDC) and the Redwood Region Economic Development Commission (RREDC).
Spain also asked the board to authorize an emergency advance of $1 million to AEDC for loans made via the federal government's Paycheck Protection Program (PPP).
The emergency measures taken by these local economic development organizations have had a positive impact on local businesses, according to Spain. "It's been a whirlwind process, and it's been successful already," he said.
The board unanimously approved the changes to the Headwaters Fund's procedures. The new measures will remain in place for six months from the start of the county's shelter-in-place order, enacted on March 20, and can be extended with county approval.
# # #
The board then embarked on a lengthy discussion about whether to enact an eviction moratorium — and if so, what it should entail.
The topic came up during the board's April 6 meeting, and today Deputy County Counsel Jefferson Billingsley presented a proposed urgency ordinance that would prevent landlords from evicting residential tenants who've suffered economic hardships due to COVID-19. The eviction moratorium would last for 90 days after the local state of emergency is lifted.
Billingsley told the board that most of the public comments the county has received on the topic came from landlords, who don't much like the proposal. The Humboldt County Association of Realtors is fine with establishing a 90-day period for tenants and landlords to work out a late rent repayment plan, but they don't support a moratorium on evictions.
On the other side, Legal Services of Northern California, a firm that provides free legal advice to renters, requested an even longer eviction moratorium — 180 days.
Supervisor Wilson said he supports the longer moratorium and would like to broaden it to include a ban on "no fault" evictions, meaning those where tenants didn't do anything wrong — they paid their rent on time and followed the rules but the landlord wants them out for some other reason.
Fifth District Supervisor Steve Madrone also supported a 180-day moratorium, though he suggested that the order should require tenants to provide evidence of their inability to pay rent due to loss of income or medical costs.
"[I]f they don't do that, why should they have the protections of an evictions defense?" he asked.
Bohn suggested simply using the state's eviction moratorium as a model, despite his aversion to the governor's orders in general, and he said he'd rather stick with the 90-day period than extend it to 180.
"I fully believe, if they are a good tenant and they're making a good effort [to pay their rent], the landlord will work with 'em," Bohn said.
Fennell and Fourth District Supervisor Virginia Bass said they weren't sold on the 180-day proposal. The debate went back and forth for quite a while as the supervisors tried to craft a motion that captured some sort of consensus.
Ultimately, the board unanimously approved the ordinance as written and directed staff to come back at the next Board of Supervisors meeting with options for fine-tuning it by addressing no-fault evictions, offering a possible extension from 90 days to 180 and including verbiage from the state's eviction moratorium that defines what kind of proof tenants need in order to take advantage of the moratorium.
The county's eviction moratorium, which you can download and read by clicking here, went into effect immediately upon today's vote.